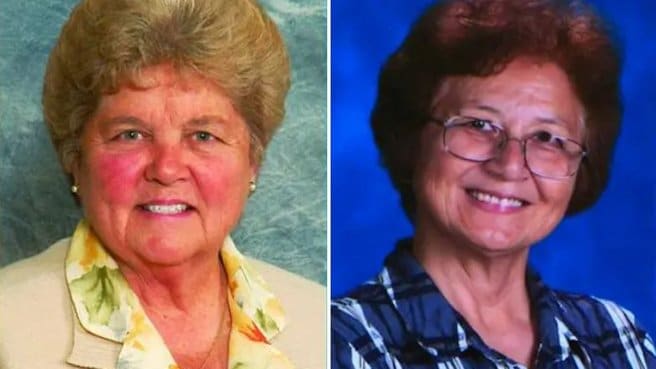 Sister Mary Margaret Kreuper and Sister Lana Chang of 

St.James Catholic School caught embezzling $500K for personal use, including gambling as church declines to press charges. 
Southern California authorities have revealed two nuns allegedly embezzling up to $500K which was parlayed into gambling jaunts in Las Vegas.
Local 10 News reported Sister Mary Margaret Kreuper and Sister Lana Chang of St.James Catholic School (both retiring earlier this year) using money from the school's funds to live a life of luxury over the last ten years.
Kreuper as the school's principal, handled all tuition payments, with the sister depositing checks into a separate account that she and Chang had access to.
The Torrance pair used the money for vacations and gambling at the casino while telling parents that the school was on a tight budget.
The two 'holy' women were eventually caught out after a recent audit.
Despite the ongoing thefts, financial statements revealed the church continuing to operate in the black as the two sisters clandestinely plowed through church funds. 
Investigators described a system in which Kreuper handled all checks made out to the school for tuition and fees before handing them over to bookkeeping staff for processing. The principal allegedly withheld some of the checks and deposited them into the other account, endorsing the back with a stamp that read, 'St. James Convent' instead of 'St. James School.'
Sister Mary Margaret Kreuper and Sister Lana Chang: 'We had a rich relative'. 
News of the 'indiscretions' led to the archdiocese and the church announcing they wouldn't file criminal charges against the nuns after 'apologizing' for their actions.
The Archdiocese appears to have now changed course- with ABC News reporting a criminal case may now be in the works following 'deepening' investigations.
Many parents were outraged with the initial decision not to press charges, with some remarking that if the nuns were lay people, they would certainly be in jail according to the presstelegram.
Told one parent, 'We were an ATM, and people know it and they won't ask for justice.' 
The embezzlement and the church's seeming reluctance to act has led to some locals saying the scandal underscores a failure of church leadership- while also noting that 'only a police investigation can be trusted.'
Other parents remarked it was well-known that Kreuper and Chang traveled often and went gambling, with the two women claiming they were gifted the trips by a rich relative.
'These nuns took a vow of poverty and said, 'Oh no, we've got a rich uncle,'' parent Jack Alexander said. 'The rich uncle was the parents of the St. James students.'
The school monsignor has since sent out a letter in which the nuns 'asked that i convey to you the deep remorse they each feel for their actions and ask for your forgiveness and prayers.'
The nuns order says the woman are cooperating and intend to pay all of the money back in full.