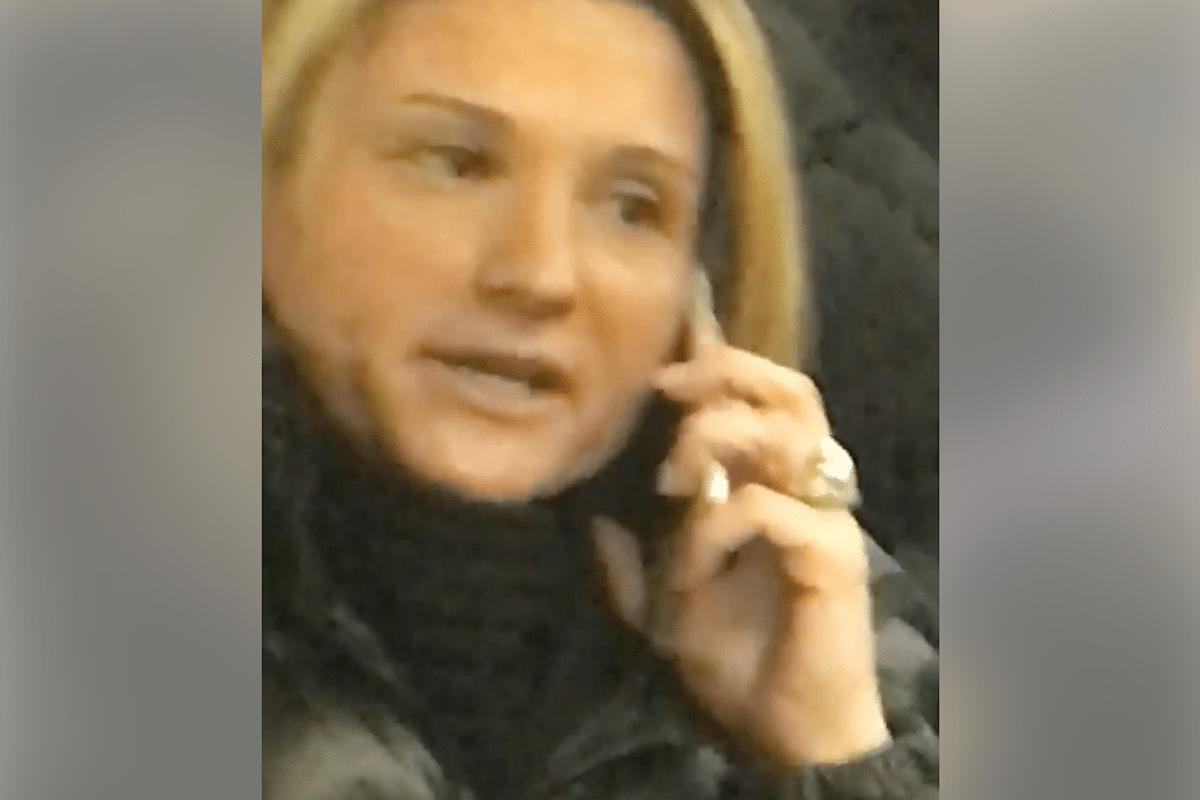 Subway Susan: White woman caught on camera going on racist-physical attack on female Asian subway rider during Tuesday morning commute. 
###Update: Anna Lushchinskaya, 40, a Gravesend, Brooklyn resident, was charged with menacing in the second degree, criminal possession of a weapon, attempted assault, menacing, and harassment, all misdemeanors, according to a criminal complaint from the Brooklyn DA's office.
The complaint notes that the victim suffered scratches on her face and hands, and that Ayala corroborates the victim's account.
### Original post: A disturbing scene on NYC's subway has been posted on social media showing an unknown white woman verbally and physically assaulting an Asian woman, who at one point after repeatedly kicking her calls the woman, 'Fxcking chink!'
The video which has since been viewed 244K times and seemingly first shared on Juan Platono Man Ayala's Facebook page late Wednesday evening, shows an irritated white woman with blonde hair taking exception with a fellow subway rider during Wednesday morning's commute.
For reasons not necessarily clear, the woman, seen wearing sunglasses and standing in front of subway doors begins to scream at an Asian female passenger- seemingly in her early 20's.
Rants the white woman repeatedly, 'Fxck off!'
But that's just the beginning, the woman then begins to physically assault the Asian female subway rider, first striking her with her hand, and then repeatedly kicking her with her boot clad feet. 
Anna Lushchinskaya: A history of prior NYC subway assaults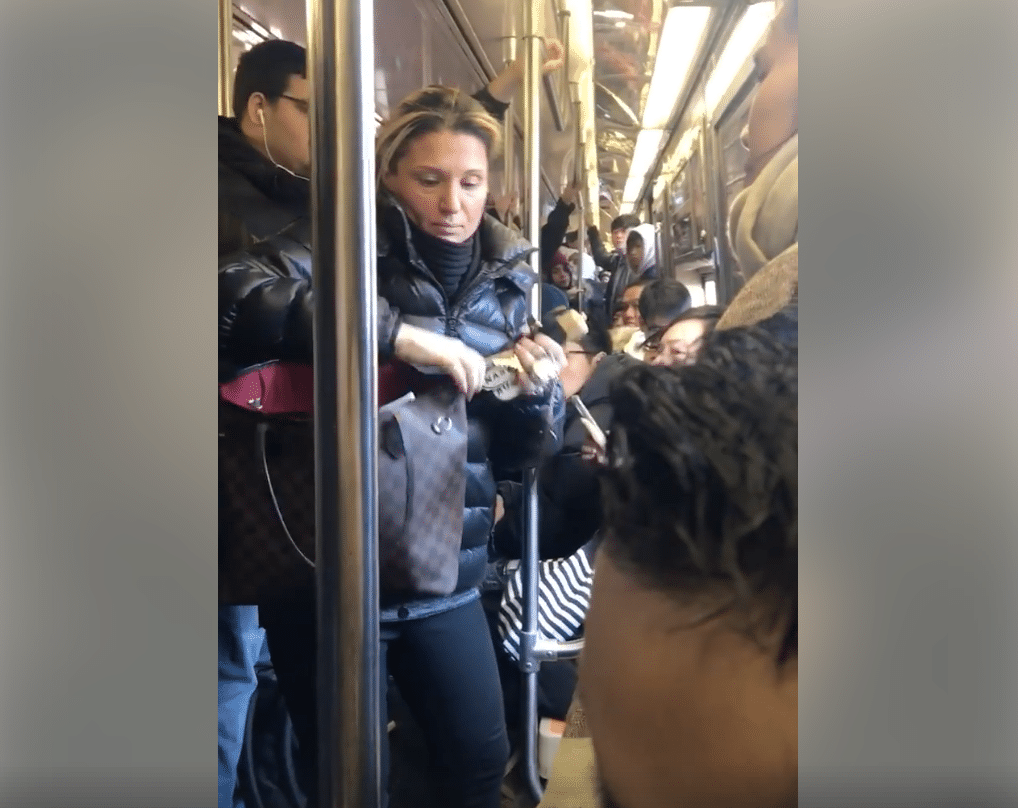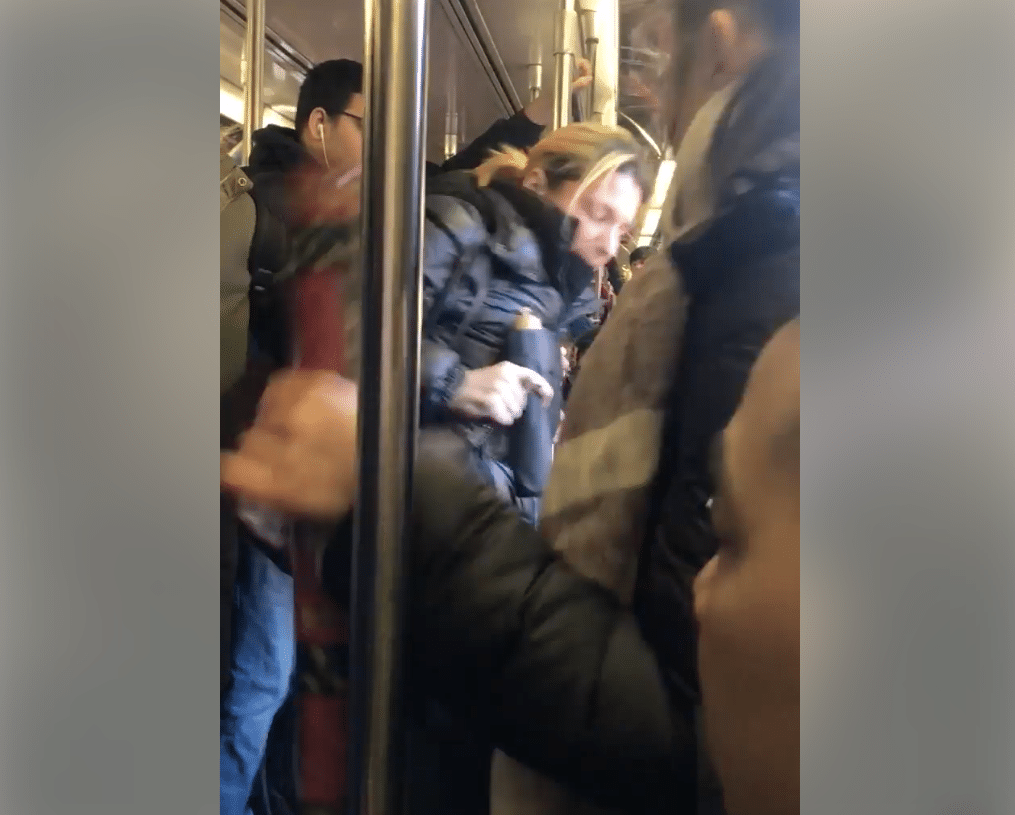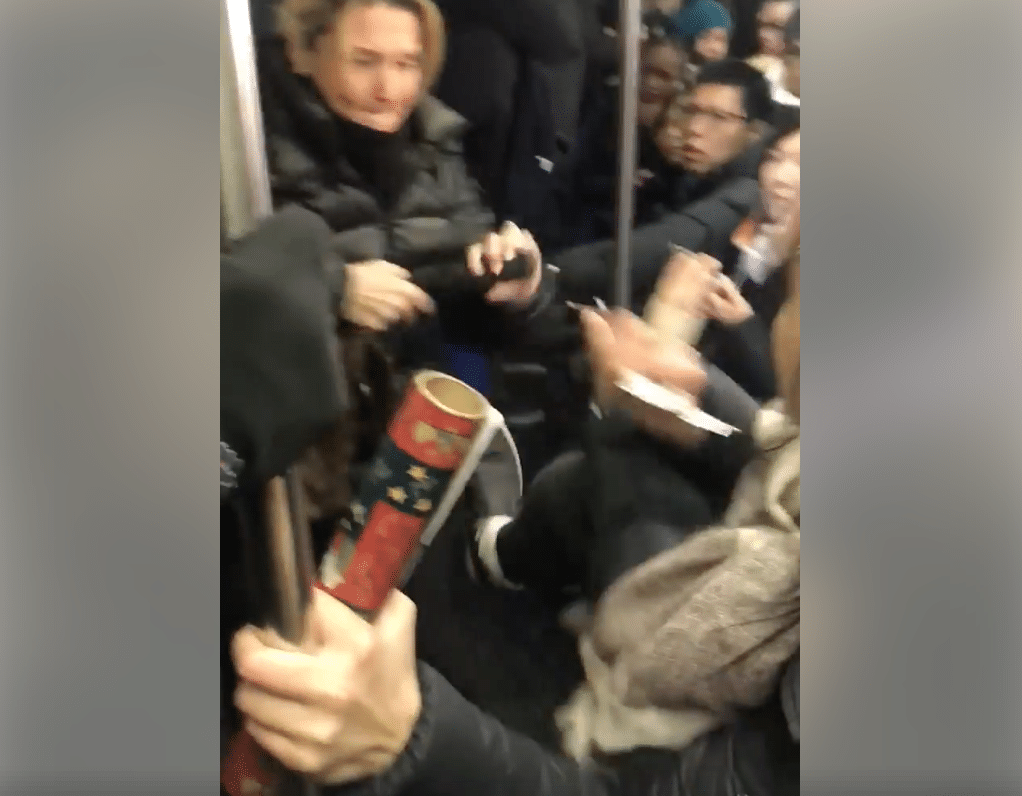 Subway Susan: 'You're not letting me hit her back!'
Things appear to stop with the white subway rider, since dubbed 'Subway Susan' by social media users- taking off her glasses, pulling back her hair before once again verbally and physically assaulting the Asian female subway rider.
The white woman once again begins kicking at the Asian female- with fellow subway riders attempting to intercede and hold the woman back- but to no avail as she continues to aggressively pursue her target.
'You're not letting me hit her back,' Subway Susan at one point screams. 'You're fxcking retarded.'
As an Asian man attempts to stand between the two women, the white woman screams at him, 'Don't fxcking touch me!'
At one point Subway Susan motions towards the Asian woman who in turn retorts, 'You come touch me, I will punch you right back.' Adding, 'I don't care who the fxck you are.'
Needless to say, Subway Susan goes on to once again kick the Asian woman, with fellow passengers increasingly flummoxed as the disparaging scene continues to unfold.
Other passengers implore the white, 'to please stop.'
Instead Subway Susan only goes on to hit the Asian woman once again, with what appears to be an umbrella along with kicking her several times as well.
A nearby subway rider can now be heard demanding, 'what are you doing?'
Another asks, 'what's your problem?' Only for Subway Susan to continue screaming profanities and continuing to strike her victim.
Screams another passenger, 'It's too early for this shit.' Adding, 'She's not even fighting you back.'
Subway Susan undaunted continues to kick at the Asian female passenger along with repeatedly striking her with her umbrella.
Attempts to subside the white woman leads to her remonstrating, 'What the fxck are you doing! Fxck off! Back off!'
Moments later the voice of a train dispatcher can be heard announcing a delay, presumably referencing the unfolding scene in the subway car.
Subway Susan or Key jangling Kathy… Either way this white supremacist needs to be charged with assault and a hate crime. https://t.co/zXjyPoO6K4

— ⬛️⬛️⬛️ (@ConjureBlk) December 13, 2018
By now all mobile phones are trained on the commotion as fellow riders take in the distressing mayhem.
At one point- Subway Susan takes out her cellphone to call 911 – only to now spit at the Asian female subway rider.
Appeals a nearby passenger, 'please stop being disgusting.'
It's while on the phone- that Subway Susan is heard extolling, 'Fxcking Chink'
In turn fellow subway riders are appalled, with one responding, 'Whaaat???!!' You're white privilege ain't working over here!'
Continuing, 'Get the fxck out of here with that racist shit.'
A few moments later, 'You already know she voted for Trump!'.
It's then the video cuts as a vexed Subway Susan attempts to get back on the phone.
Unclear was whether an arrest was made and what eventuated with social media users since demanding to out the identity of the white woman. That said, Platano man later posted a tweet indicating him making a citizen's arrest, 'Then she tried me so I had to detain her until the cops showed up.'
Then she tried me so I had to detain her until the cops showed up 🤦🏾‍♂️ pic.twitter.com/C3UybusAxa

— PL∆T∆NO M∆N™ (@PlatanoMan) December 12, 2018
spot the difference pic.twitter.com/xanWRhVrvn

— cristiano. (@rodz_cristiano) December 13, 2018
And here were a sample of comments made that caught this author's attention:
'Damn this racist Gucci Girl need some time out in the mental hospital!'
'She literally had over a min and a half to create assault weapons while everyone watched her. The second she went in her bag to pull something out she should have been tackled to the floor'
'Thank god she didn't mess with a black woman .it would've been over for her.'