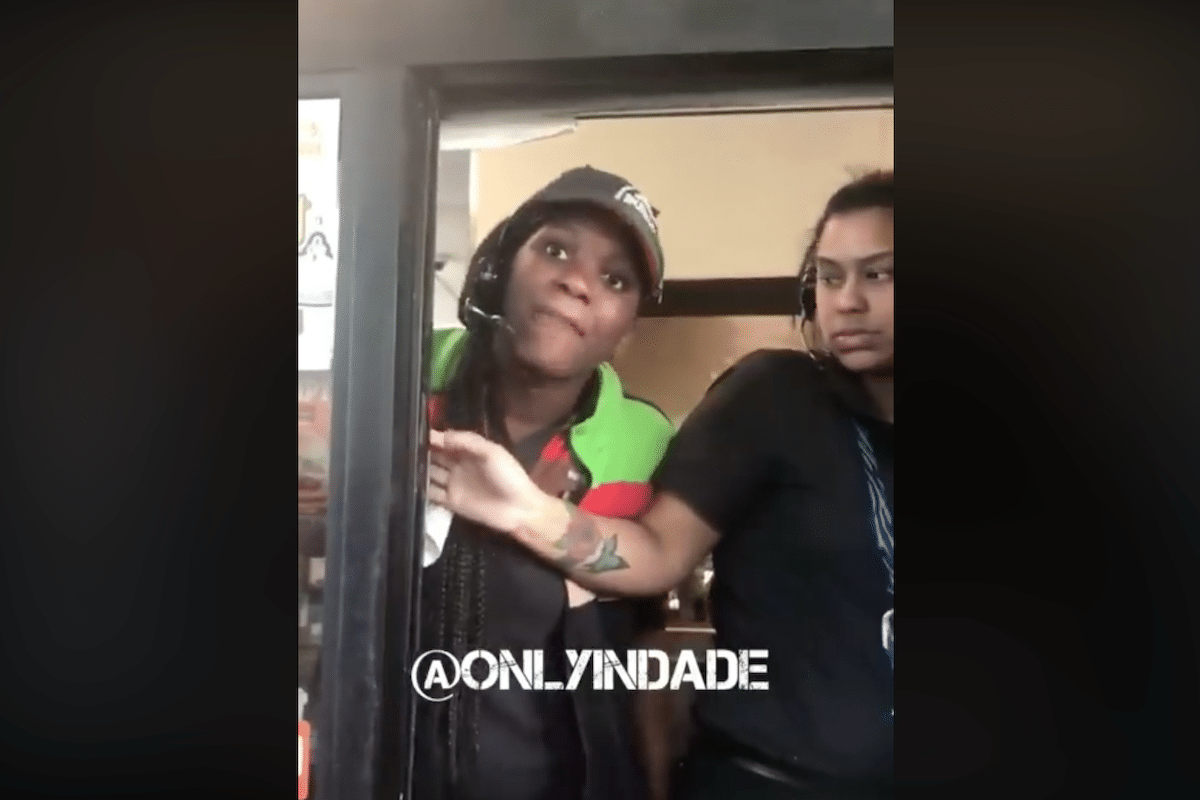 Miami Burger King worker fired video. How a black Dade County, Florida fast food employee found herself out of a job after racist tirade. 
America's ongoing love hate affair with each other has led to a yet another video going viral– this time involving a Burger King worker in Miami who was caught screaming racist profanities at customers – whom they took for being, 'white piece of sh*ts'. 
The latest episode as uploaded by one of the lambasted customers, features a black fast food worker at a local fast food drive thru venue taking exception when customers demand a refund.
Needless to say, the unfolding scene didn't go down too well, with the 'flustered' worker telling two individuals in a car, 'Put it on Snapchat…You white piece of s–t!'
You know where this is going- don't you?
'We're not even white,' the customers are heard responding. 'We're Hispanic! Get it right!'
The incident which was filmed the Oct. 3 eventually led to the 'black' employee being fired.
'The actions of this team member do not reflect the values of the Burger King brand,' explained a company spokeswoman via The Miami Herald. 'We have a zero tolerance policy for this type of behavior, and the individual is no longer with the company.'
Miami Burger King worker fired: Hatred, intolerance, bigotry and a vast divide.
The footage of the confrontation was posted on the "Only in Dade" Facebook page last week, and has since clocked up over 100K views. 
'We're asking for a refund because your manager was touching her cellphone,' one of the customers on video says to the employee. 'It has nothing to do with you.'
The drive-thru worker for reasons which aren't clear, ignores the request- telling the pair repeatedly to 'post' the video they are taking of her cursing on social media.
'White, fat bitch!' the staffer yells at one point.
'At least I'm not working at Burger King,' replies the female customer.
(Yes kids- surely you've heard this all before during your daily routine of living in divided America?).
'Bitch, I have two parents. I go to school,' the worker continues. 'This job, the money I make, is to blow up — so it don't matter!'
Blow up? Do you suppose? On minimum $7 an hour wages?
At no point is the employee retributed by the customers during her racist tirade. Which is to suggest there is a lot of pent up anger and hostility.
Another worker eventually gives the customers their money back and tells them to 'have a nice day.'
The Miami Burger King episode follows a Taco Bell drive thru worker in Hialeah, Florida being fired for refusing to speak English to a patron.
Isn' it time Americans learned to get along? Then again that may have much to do with structural and systemic paradigms- only to eagerly reinforced by talking heads and the occasional president…..
Watch: Jack in the Box customer threatens employee deportation after free burger denial.