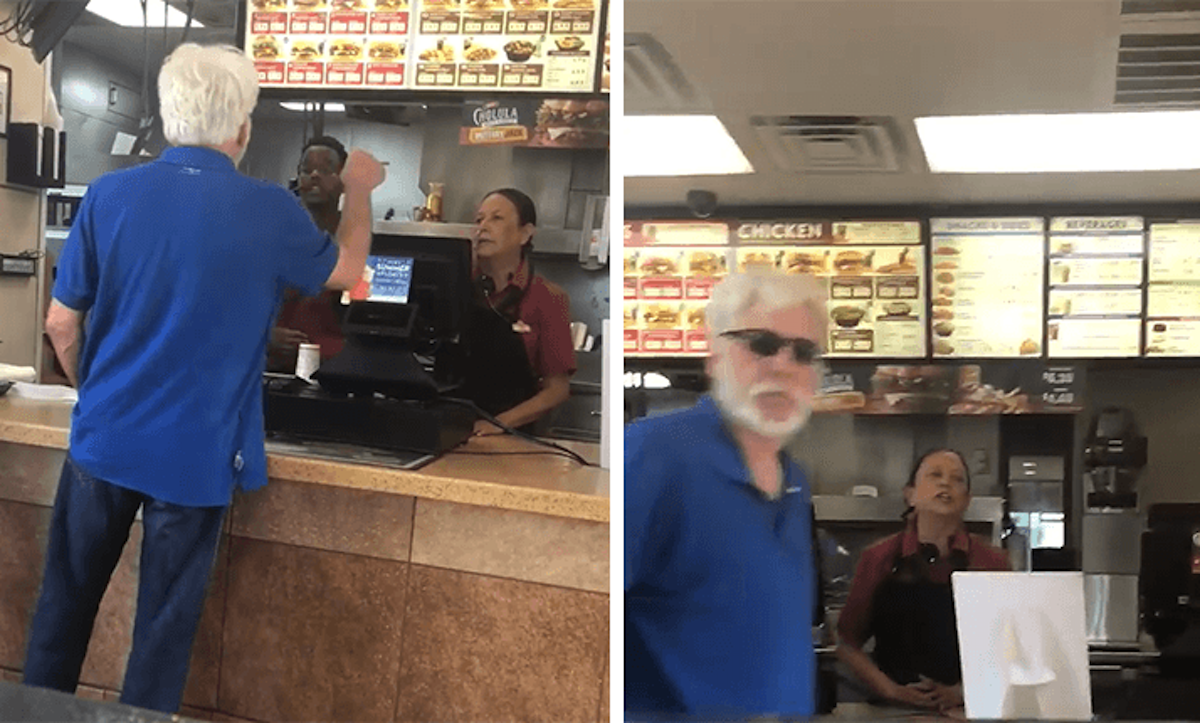 Jack in the Box 

employee threatened deportation by racist customer: A female cashier, Maria is berated by a Houston, Texas area man who believes the employee is illegal and hailing from Mexico. Video as filmed by Lupita Rangel goes viral. 
In what continues to be America's unrelenting past-time, the singling out of others unlike themselves, alarming video has surfaced showing a Texas, Jack in the Box cashier being berated by a customer after she declines to honor a free coupon burger meal.
Incensed, the customer is caught on video telling the employee to get ready to buy a ticket to Mexico (presumably this is because where all illegal Hispanics and Latino's all hail from). 
KTRK-TV reported the incident taking place Saturday night, with a fellow customer, Lupita Rangel filming the ensuing scene as the customer, an elderly man in a blue shirt takes exception with the cashier, identified in the clip as Maria, threatening her with deportation. 
Despite attempts to cash in a burger coupon, the cashier declines the customer's demands to redeem the coupon leading to the man snapping. 
Retorts the disgruntled customer, 'She told my son no. She lied her a** off. She thought she could get away with it,' telling another employee.
Shouts the customer at the cashier now, 'Hey, you are going to get fired.'
The un-identified man then asks the worker her name before storming away from the counter at a Houston location.
'What's your name?' the customer stops to ask the employee.
Responds the female cashier, 'Marie'. 
'Goodbye, Maria. Buy you a ticket back to Mexico,' the customer finally says before now stomping away.
Jack in the Box employee threatened deportation by racist customer: Omg ! Never thought I'd experience Racism so close.'
Of note, the customer, had no clear indication that the cashier was even from Mexico, much less in the United States without proper documentation., choosing instead to parlay into hackneyed derogatory stereotype narratives.
Posted Rangel after sharing the video on Facebook, 'Omg ! Never thought I'd experience Racism so close.'
Not surprisingly, the video, since viewed more than 77K times as of early Tuesday morning, EST, has led to wide dissent, with many blaming Donald Trump who'd campaigned on tough immigration reform for the current racial flavor in the US (when has America never been racist?).
Others meanwhile correctly pointed out that Texas was once part of Mexico while others wondered why customers in the background declined to put the racist customer in his place (sometimes there's simply nothing anything you can say…)
The incident has yet to elicit a response from fast food vendor, Jack in the Box.
The episode follows NYC lawyer Aaron Schlossberg threatened to call immigration agents on Spanish-speaking workers at a Midtown eatery. He has since apologized for his remarks.