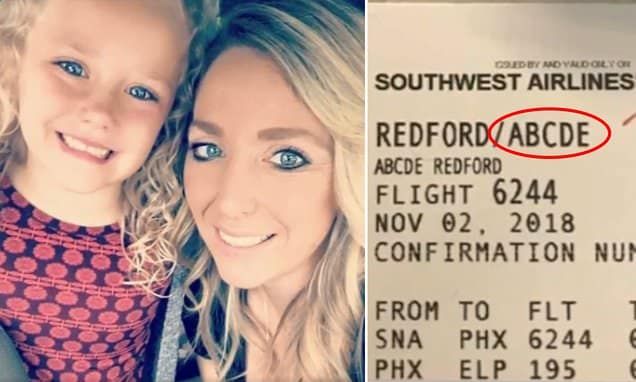 Southwest Airlines agent reprimanded after mocking five year old epileptic girl, Abcde Redford as mom, Traci publicly relays her frustration. 
A Southwest Airlines agent has been shamed after publicly ridiculing a five-year-old epileptic girl who is called Abcde (pronounced ab-city) after sharing her boarding details on Facebook.
The incident has since led to the girl's mother, Traci Redford, speaking out about their experience with the airline- which has since been vetted with demands to axe the agent.
Speaking to ABC 7– Redford described how the unidentified Southwest agent ridiculed her daughter as they boarded a flight at John Wayne Airport in Orange County, California, on November 4 upon handing over their boarding pass.
At the time, mother and daughter were flying home to El Paso, Texas.
According to the mom, not only did the agent laugh loudly at the gate, the agent went the extra distance of uploading a photograph of Redford's daughter boarding pass onto Facebook to share with friends.
Name shaming? This Texas woman claims a @SouthwestAir agent made fun of her 5-year-old daughter's name as they were preparing to board their flight at @JohnWayneAir in Orange County.

Her daughter's name is Abcde (pronounced Ab-city). @ABC7 pic.twitter.com/iHpBPoakYI

— Veronica Miracle (@ABC7Veronica) November 28, 2018
Abcde Redford epileptic girl left upset and confused: 
The episode according to Redford led to the five year old girl, Abcde being upset and confused.
'She said "Mom, why is she laughing at my name? And I said not everyone is nice and not everyone is going to be nice and it's unfortunate,' Redford told ABC7.
Redford said she was horrified enough when the agent laughed in their faces at the gate.
'The gate agent started laughing, pointing at me and my daughter, talking to other employees. So I turned around and said, "Hey if I can hear you, my daughter can hear you, so I'd appreciate if you'd just stop,"' she said.
When she was later told about the post on Facebook, Redford's disgust worsened.
Told the mother, 'While I was sitting there, she took a picture of my boarding pass and chose to post it on social media, mocking my daughter.
'It was actually brought to my attention by somebody who had seen it on Facebook and reported it to Southwest Airlines. 
'And after two weeks of doing a formal complaint, Southwest hadn't done anything'.
Southwest Airlines refuses to say whether agent was fired or not: 
Southwest Airlines has since issued Redford an apology but refused to reveal whether or not the agent has been fired or faced any other kind of disciplinary action.
Told the airline in a released statement: 'We extend our sincere apology to the family. We take great pride in extending our Southwest Hospitality to all of our Customers, which includes living by the Golden Rule and treating every individual with respect, in person or online. 
'The post is not indicative of the care, respect, and civility we expect from all of our Employees. 
'We have followed up with the Employee involved, and while we do not disclose personnel actions publicly, we are using this as an opportunity to reinforce our policies and emphasize our expectations for all Employees,'
The episode has led to social media users castigating both Traci Reynolds and the airliner, with one commentator posting, 'The real question is… What is that employee doing posting a minor child's full name on social media? Isn't there some kind of law against that?'
And then there were these reactions on the web that caught this author's attention. See what you think?
Feel bad for the child – but this is 100% the parent's fault. You had to know your kid would get picked on/laughed at with a name like that. This isn't saving a Word file on your desktop, be a little smarter with naming your kid.

— Casey Cambre (@cdcambre) November 29, 2018
im pretty sure you knew when you named her.. that she was going to get alot of flack for the name.. you did it anyway.. dont act surprised when people react to the oddness of it.. besides you and her are smiling & beautiful in the picture..i dont think it was malicious

— *Bl4kk4t (@m3bl4kk4t) November 29, 2018
This kid is definitely changing her name when she gets older this mom is a moron for that name.

— -Pluto- (@KyleUngerer) November 29, 2018
I mean, yeah. Southwest agent shouldn't have done that. That was stupid and insensitive. But when you name your daughter Abcde…

— Albert DiCosta (@AlbertDiCosta1) November 29, 2018