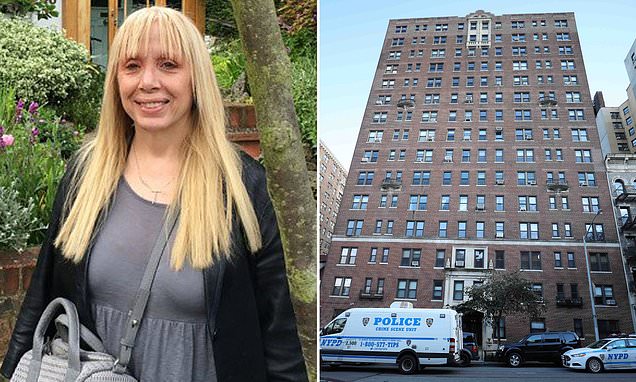 Anya Johnston a mentally unhinged woman is charged with the murder of UWS ad copywriter, Susan Trott who recently found herself fielding resentment and calls to be evicted.
NYC authorities on Wednesday arrested an Upper West Side woman who allegedly slashed the throat of her ad copywriter neighbor- leaving her for dead.
Anya Johnston, 24, was charged with killing 70-year-old Susan Trott inside her apartment on West End Avenue near 95th Street on Oct. 21, cops said.
Trott's murder follows the nypost citing police sources saying Johnston having a history of mental illness and previously committed to hospitals in 2014 and 2016. 
Just days before Trott's body was found, Johnston's mother called police on Oct. 17 to report her daughter was missing and acting irrationally, the sources said.
Police don't have a motive in the slaying, but have pointed to Johnston's mental issues.
'She's an EDP. That's the motive,' a source told the tabloid, referring to the police acronym for an emotionally disturbed person. 'She was crazy talking about harming herself and harming other people,'  another source added.
The New York Times, citing law enforcement official, reported that the woman was undergoing a psychiatric evaluation.
Susan Trott had become a recent object of scorn at her UWS apartment: 
Police responded to Trott's home early that day when her business partner called authorities because he had not heard from her in several days.
Cops followed a trail of blood on Trott's 14th floor apartment to the bedroom, where they found the ad copywriter's body.
ABC reported responding police finding no signs of forced entry, no murder weapon at the scene, and Trott's apartment not ransacked at the luxury doorman building.
'I'm pleased to announce an arrest has been made in the murder of Susan Trott,' NYPD Chief of Detectives Dermot Shea posted on twitter Wednesday afternoon.
A day after Trott's murder, Shea revealed at a press conference police having a person of who was being held at a hospital for a psych evaluation. He added that all the answers in the killing would be inside the tower at 710 West End Ave.
Police believe Trott and Johnston had problems with each other previously, but it's unclear what those fights were about.
Trott's friends and neighbors revelaed the 'eccentric' ad copywriter constantly harassed in the building for a number of reasons — including her habit of feeding birds on the sidewalks outside. The woman also maintained an interest in rescue dogs and animals.
Friends said Trott had been married twice but single at the time of her death and had no children.
According to her linkdn profile, the highly sought after ad consultant split her time between London and New York and owned an apartment in Manhattan as well as a home upstate.
Neighbors revealed Trott having lived in the luxury building for more than a decade and that she was generally well liked. Neighbor Amy Apicella told WCBS-TV, 'She was very nice, a good neighbor to have. We'd see her around all the time throwing bird seed for the birds.'
But it appears Trott wasn't universally liked either.
Perhaps offering a clue as to what may have set off the mentally ill neighbor, residents revealed Trott recently acquiring a vacant apartment next to her own and having friends stay there. The purchase led to some neighbors complaining that she was illegally renting the apartment out, in turn spurring the board's anger and alleged moves to evict Susan Trott- before she was murdered.
With recognition to the skill & tireless efforts of the @NYPD24Pct Detective Sqd, Manhattan North Homicide Sqd, the NYPD Crime Scene Unit & the @manhattanDA, I'm pleased to announce an arrest has been made in the murder of Susan Trott (victim shown below). #YourCityYourDetectives pic.twitter.com/N9IW2HZvXS

— Chief Dermot F. Shea (@NYPDDetectives) October 31, 2018