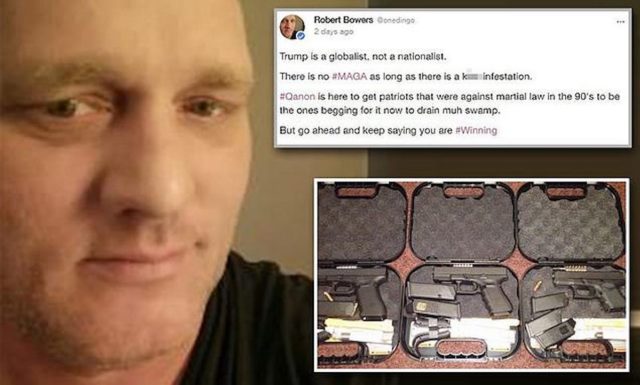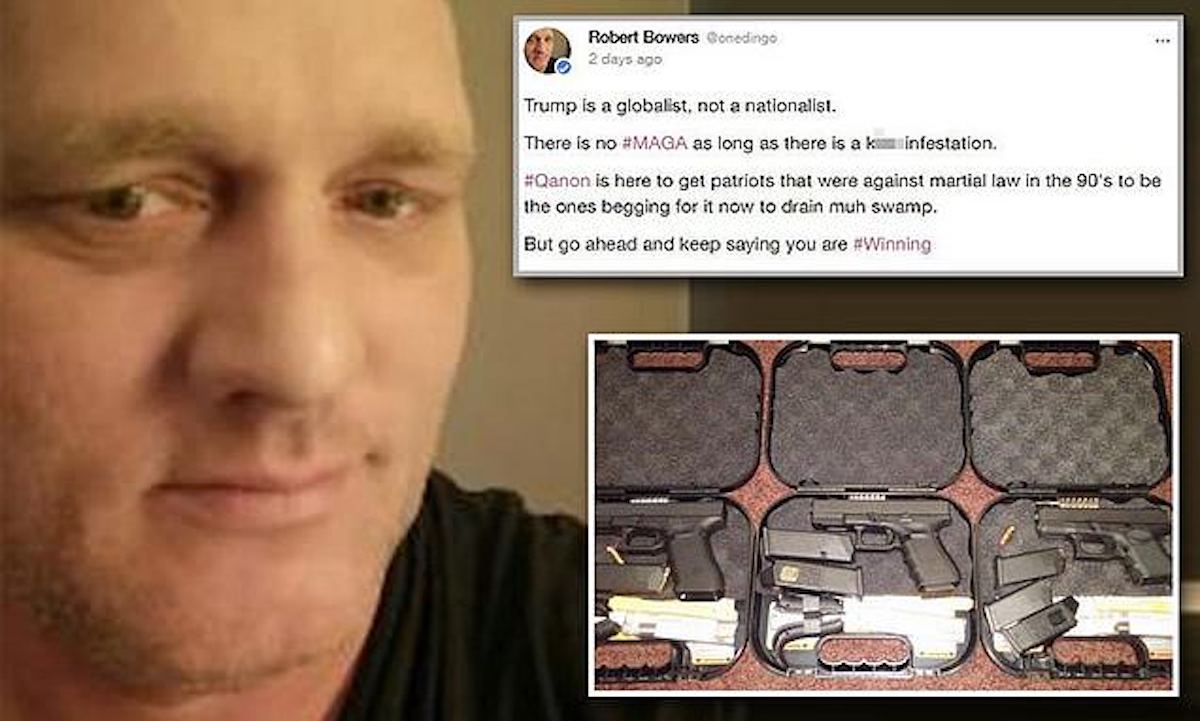 Squirrel Hill synagogue shooter social media profile of Robert Bowers reveals disquieting portrait of simmering right wing zealot who took his animosity on Pittsburgh, Tree of Life Congregation Synagogue worshippers. 
The Pittsburgh, Squirrel Hill synagogue shooting suspect accused of killing 11 people during Saturday morning services has been revealed to be a Trump-hating white supremacist who openly shared his anti-Semitic views online.
Robert Bowers, 46, is accused of opening fire at the Tree of Life Congregation Synagogue in the Squirrel Hill area of Pittsburgh shortly before 10am Saturday.
After the killing spree, he allegedly exchanged gunfire with police and surrendered after being injured. He was taken to the hospital under police guard and remains there.
The hate crime inspired shooting left 11 dead, six injured along with four responding police officers.
Posts from the suspected Pittsburgh shooter Robert Bowers. He hated Trump and thought Trump was controlled by Jews. This monster is an unhinged anti-Semitic terrorist. pic.twitter.com/sjb2k6ucwb

— Robby Starbuck (@robbystarbuck) October 27, 2018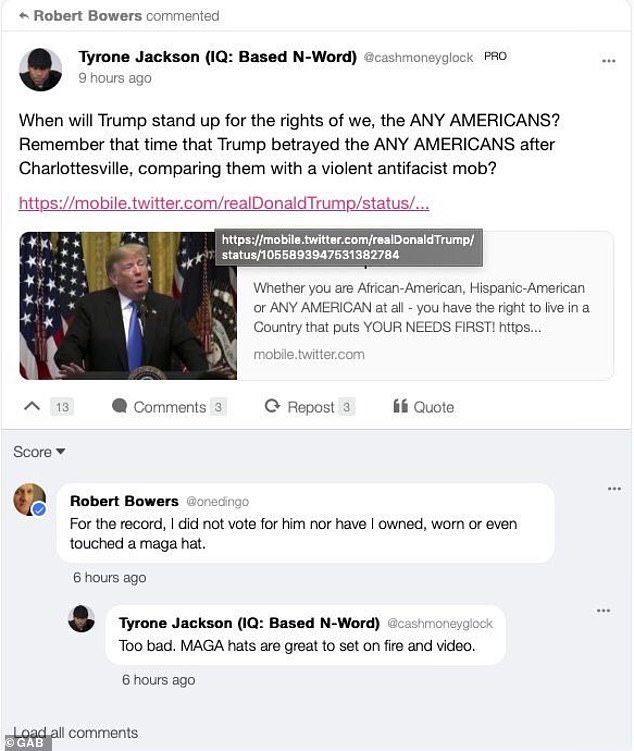 Robert Bowers social media profile: 'Jews are the children of Satan.'
In the hours following the shooting, information about Bowers' social media posts have come to light.
The most revealing are on the social media network Gab, beloved by users because it promises never to censor them or hinder their free speech.
The bio section of his profile, which was quickly deleted after the shooting, reads: 'jews are the children of satan. (john 8:44) — —- the lord jesus christ is come in the flesh.'
An hour prior to Saturday's morning massacre, Bower posted: 'HIAS likes to bring invaders in that kill our people. I can't sit by and watch my people get slaughtered. Screw your optics, I'm going in.'
HAIS is a Jewish organization which works with refugees and was founded in 1881, originally to assist Jews fleeing pogroms in Russia and Eastern Europe.
It appears the final three words, 'I'm going in', was a warning about the attack.
Within the last two days, Bowers reposted an article from HAIS' website about National Refugee Shabbat last week, described as 'a moment for congregations, organizations, and individuals around the country to create a Shabbat experience dedicated to refugees'.
Bowers initially wrote alongside the article 17 days ago: 'Why hello there HIAS! You like to bring in hostile invaders to dwell among us? We appreciate the list of friends you have provided.'
He then provided a link, however the Tree of Life Congregation Synagogue in Pittsburgh is not on that list.
Told a HAIS spokesman via the dailymail: 'I can say definitively: No one at HIAS ever heard of the alleged shooter before today.'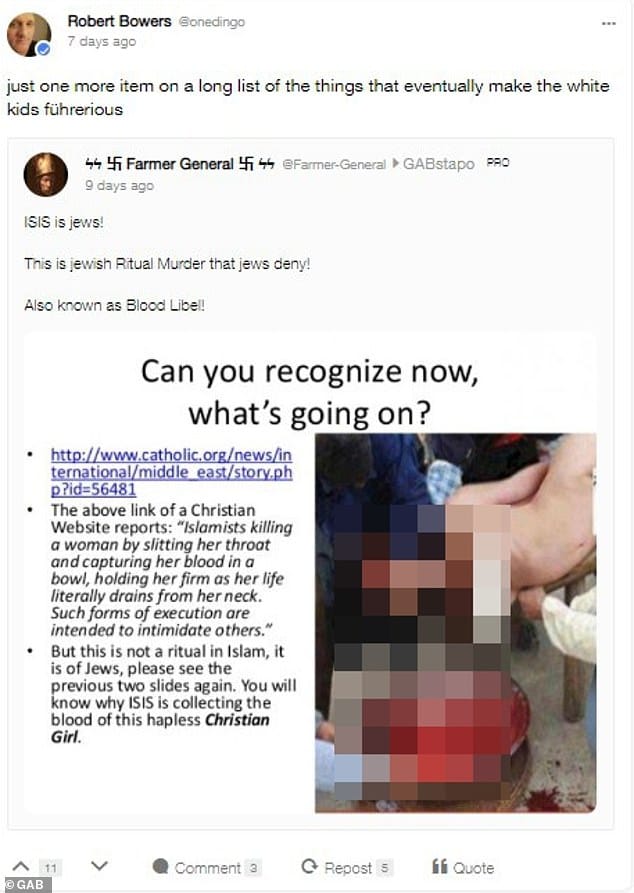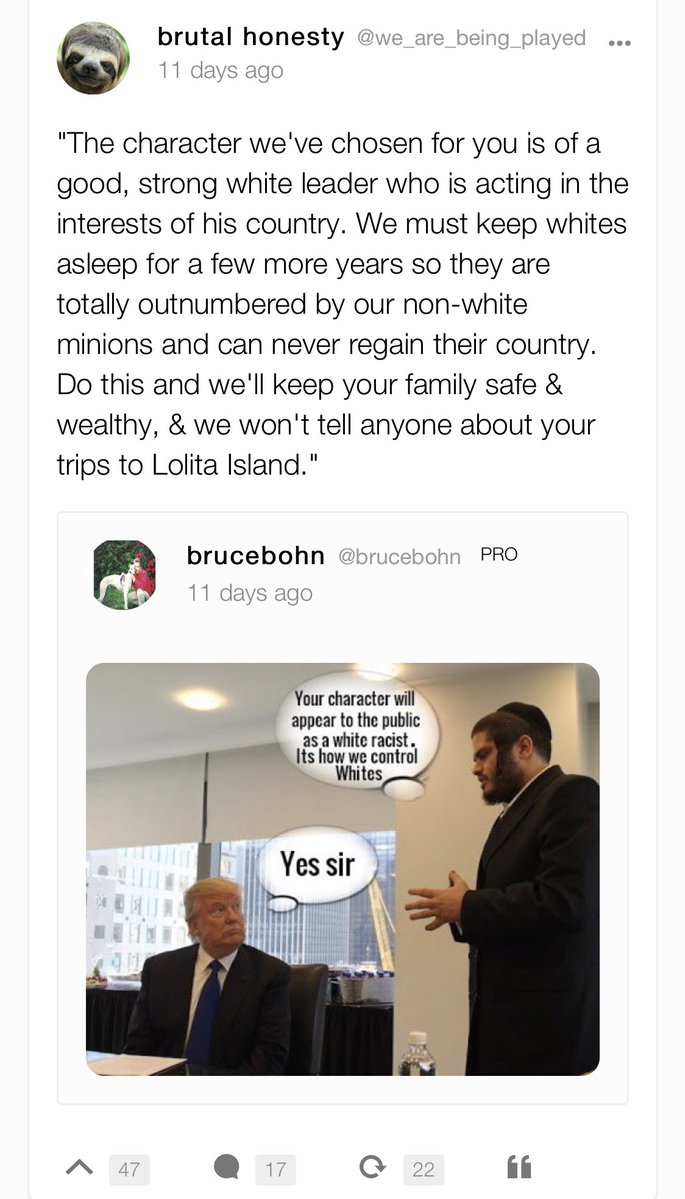 Robert Bowers social media profile: Pro-nationalist. 
Bower's Gab profile reposted multiple anti-Semitic messages and revealed his disdain for President Donald Trump, who he accused of serving Jewish interests.
A photograph at the top of Bowers' profile shows a ballistic chronograph used in shooting with the numbers 1488 on it. 1488 is a white supremacist symbol.
Three days ago he wrote: 'Daily Reminder: Diversity means chasing down the last white person.'
Bowers revealed on social media that he did not vote for Donald Trump, 'nor have I owned, worn or even touched a maga hat'.
He also wrote: 'Trump is a globalist, not a nationalist.
'There is no #MAGA as long as there is a k*** [slur for a Jewish person] infestation. #Qanon is here to get patriot that were against martial in the 90's to be the ones begging for it now to drain muh swamp.
'But go ahead and keep saying you are #Winning.'
As news of the shooting spread, Gab separated itself from him.
In a statement, the company said it had reported his profile to the FBI and deactivated it.
Of disconcert, CNN reported Bowers has an active license to carry a firearm and has made at least six firearms purchases since 1996, a law enforcement official told CNN. He boasted of having a 'glock family' online, as depicted in disturbing images below:
Tree of Life Synagogue victims identified.
Ex FBI agent calls Pittsburgh synagogue shooting more distressing than plane crash.
Squirrel Hill shooter posted hour before, 'I can't sit by and watch my people get slaughtered.'
'All Jews must die' Pittsburg synagogue shooting leaves 11 dead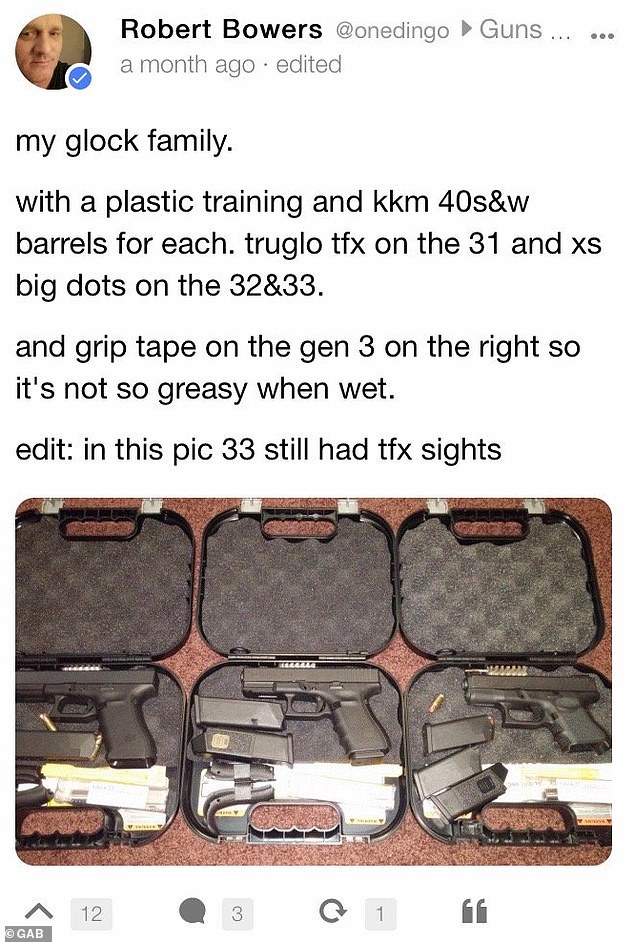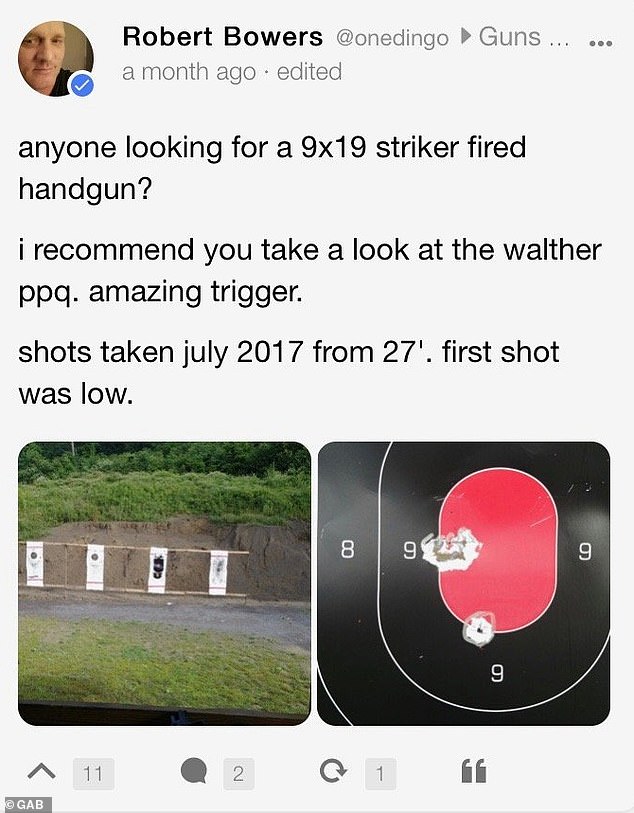 And then there were these responses on social media as well which were trending….
It does not matter if Robert Bowers voted for Trump or not – Bowers like Trump viewed himself as a nationalist, disliked globalists, was very anti-immigrant, slammed diversity and was very hostile to minority religions. Bowers is Trump's #MAGA defined

— (((DeanObeidallah))) (@DeanObeidallah) October 27, 2018
Hey Trumpers:
Trying to say Robert Bowers had no connection to Trump even though Bowers was a right wing, white supremacist who was anti-immigrant and described himself as a nationalist isn't really working. You need a Plan B.
Signed,
America

— (((DeanObeidallah))) (@DeanObeidallah) October 27, 2018
Social media accounts suggest shooting suspect Robert Bowers was a neo-Nazi/white nationalist who loathed Jews, migrants and refugees. He also said he strongly disliked Trump because he thought Trump was too soft on Jews.

— Daniel Dale (@ddale8) October 27, 2018
Robert Bowers killed Jews in their place of worship because HIAS was helping refugees, only Trump and the GOP have stood against refugees.

— Aye Aye CAPT (@AyeAye_CAPT) October 27, 2018