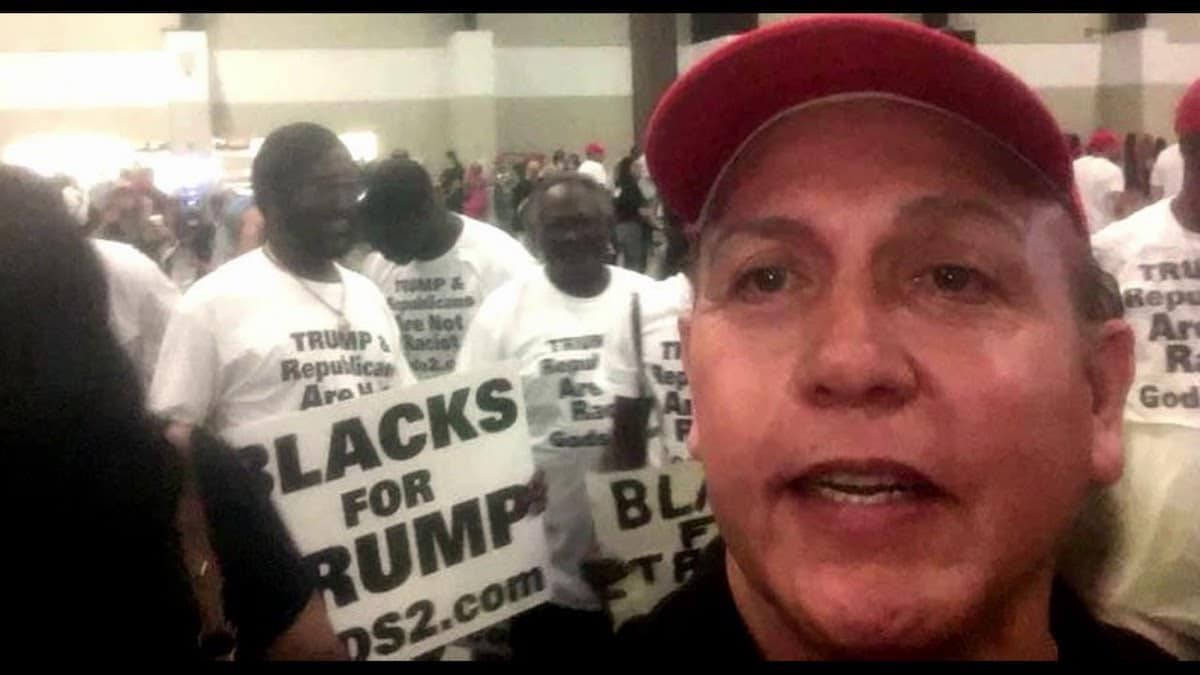 Cesar Altieri Sayoc Jr: MAGA bomber arrested as motive sought after series of threats against Democrats. Prolific criminal history and political rhetoric of Aventura, Florida resident.
The FBI on Friday arrested who they believe to be the suspect responsible for a cache of mail bombing threats targeted at critics of President Donald Trump.
Cesar Altieri Sayoc Jr, 56, was taken into custody on Friday morning in Plantation, Florida in connection with the 14 'suspicious' packages that have been discovered this week.  
Federal investigators tied Cesar Sayoc to the bomb spree through a fingerprint on the package addressed to US Rep. Maxine Waters, a California Democrat.
During a Friday afternoon press conference, FBI Director Chris Wray said investigators recovering DNA from two other packages, which they linked to a sample taken from Sayoc in a prior arrest.
Ominously, Sayoc was convicted of a threat to 'throw, place, project or discharge any destructive device' in 2002 in Dade County, Florida, after threatening to blow up a utility company over a customer service complaint.
Details on Bombing suspect arrested in Plantation Florida, Cesar Sayoc Jr.

Cesar Altieri Sayoc Jr.

He has been arrested in the past for Larceny, Grand Theft, Battery, and Bomb Threats.

He is a Trump Supporter who has attend rallies.
He wears a MAGA hat (see photo) #MAGABomber pic.twitter.com/9XV4kMKxB5

— Ed Krassenstein (@EdKrassen) October 26, 2018
Cesar Altieri Sayoc Jr known to Florida authorities:
The Sun Sentinel reported the 'MAGA bomber' as the suspect has come to be known given their staunch republican allegiance- as having prior convictions on felony charges including grand theft and drug possession with intent to distribute.
His later arrests included several other theft-related charges in Dade and Palm Beach counties in 1992 and 2015.
According to an arrest report from the Miami Police Department, Sayoc called a representative from Florida Power and Light and 'threatened to blow up FPL and that 'it would be worse than September 11.'
Of note, Sayoc has never served prison time. 
Cesar Altieri Sayoc has a decent rap sheet. Must have some friends in pretty high places to have avoided serious jail time. Maybe he owes some one a favor too? pic.twitter.com/TrGEw6bvca

— TheSharpEdge (@TheSharpEdge1) October 26, 2018
Video has emerged of Cesar Altieri Sayoc, the package bomb suspect, at a 2016 rally for President Trump, wearing a "Make America Great Again" hat https://t.co/IJU73YDWzz pic.twitter.com/BGxqcbqxny

— CBS Evening News (@CBSEveningNews) October 26, 2018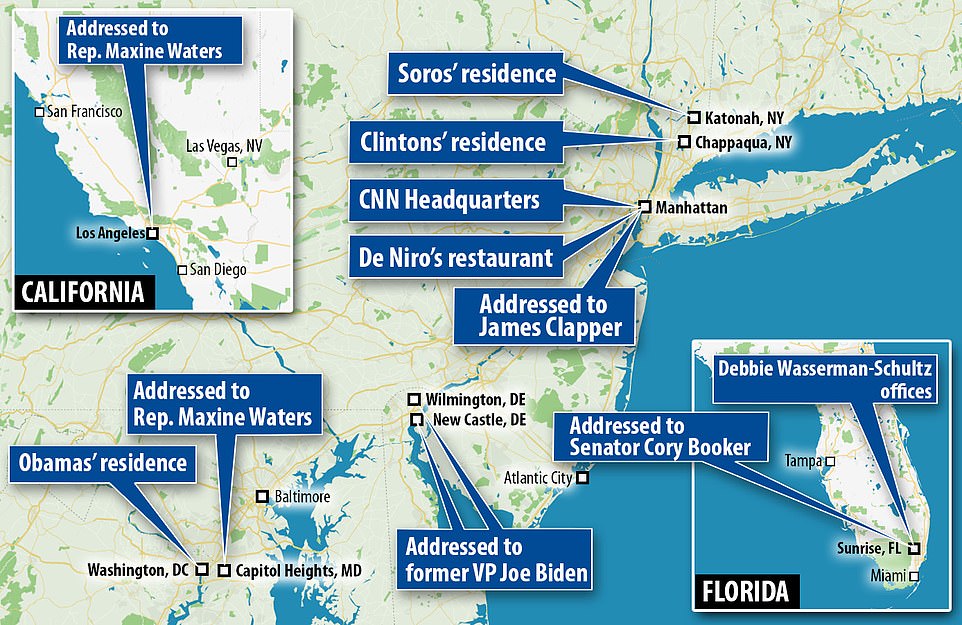 Cesar Altieri Sayoc Jr facing 58 years jail:
The packages sent to prominent Democrats, including Hillary Clinton, former President Barack Obama along with staunch Democrat supporters, Robert DeNiro, George Soros, – contained pipe bombs, none of which detonated. Law enforcement sources believe they were where either ineptly constructed or not intended to detonate. 
Wray emphasized in a press conference that they were 'not hoax devices' and contained actual explosive material, however.
Sayoc is charged with five federal crimes, including interstate transportation of an explosive, illegal mailing of explosives, threats against a former president, threatening interstate communications, and assaulting current and former federal officers.
Cesar Altieri faces up to 58 years in prison if convicted. 
According to Sayoc's Facebook page, he is a Trump fan who posted pictures and videos of himself at one of the President's rallies in October 2016.
He posted a photograph of himself wearing a MAGA hat in front of the US Capitol in 2017. 
Florida records indicate the man being a registered Republican voter.
A lawyer who previously represented Sayoc said he was obsessed with looking young and asked about having his age changed in court documents.
Picture of the van owned by Cesar Altieri Sayoc who was apprehended earlier after sending 12 bombs. pic.twitter.com/oFD7HOhlYH

— AllTogetherNow (@AllTogetherNows) October 26, 2018
Just so we are all on the same page, Elizabeth Warren is a Cherokee but Cesar Altieri Sayoc is a "white male". pic.twitter.com/4u2KhnzATc

— Far Left Watch (@FarLeftWatch) October 26, 2018
Cesar Altieri Sayoc Jr partisan with conflated social media identity:
Attorney General Jeff Session said at the press conference that Sayoc 'appears to be a partisan' but declined to comment further on a possible motive. 
'This is a law and order administration. We will not tolerate such lawlessness, especially political violence,' Session said.
Sayoc claims to be Native American, and according to a picture posted on his social media page (since removed), being a member of the Seminole Tribe of Florida. Other information from his LinkedIn page suggests that Sayoc is Filipino. 
The profile includes claims that could not be immediately independently confirmed, including that Sayoc is a promoter for male striptease troupe Chippendales, and that he is enrolled in a veterinary medicine program.
'Career decision of becoming a Horse Doctor was always a love for animals, which were here first and never do anything to anyone. And respect all living things,' Sayoc wrote on the profile in a grammatical style that appears typical for him. 'My family very sound Sayoc name in Medical field.'
A van impounded in Paradise, believed to be Sayoc's, was covered densely with stickers expressing pro-Trump sentiments and denigrating prominent Democrats, including Hillary Clinton and Barack Obama, who had pipe bombs addressed to them this week. 
Another sticker proclaimed 'CNN Sucks.' The cable network had two of the suspicious packages addressed to its headquarters in Manhattan.
In a Facebook post a year ago, Sayoc shared a photograph of Governor Rick Scott and Donald Trump, writing: 'The greatest Governor in Country Fla Rick Scott and great friend of We Unconquered Seminole Tribe . Trump Trump Trump'.
He shared bodybuilding pictures and appears to have worked in a strip club. 
He expressed his dislike of Hillary Clinton and posted stories about incidents of Islamic terrorism.
Hey @Twitter remember when I reported the guy who was making threats towards me after my appearance on @FoxNews and you guys sent back a bs response about how you didn't find it that serious. Well guess what it's the guy who has been sending #bombs to high profile politicians!!!! pic.twitter.com/xBY8FMbqnq

— R O C H E L L E (@RochelleRitchie) October 26, 2018
Rochelle Ritchie previous target of 

Cesar Altieri:
After Sayoc's arrest, a woman named Rochelle Ritchie said Sayoc having threatened her over social media in the past. Ritchie is a political commentator who once served as the spokeswoman for the Baltimore City State Prosecutor's office. Ritchie says that she got threats from Sayoc and that she reported them to Twitter, only to be ignored according to the woman.
After Sayoc's arrest, she posted, 'Hey @Twitter remember when I reported the guy who was making threats towards me after my appearance on @FoxNews and you guys sent back a bs response about how you didn't find it that serious. Well guess what it's the guy who has been sending #bombs to high profile politicians!!!!'
Sayoc also used his Twitter account to make threats against the Hollywood producer Ron Howard. Just a few weeks before his arrest, Sayoc wrote, 'Hey slime sack you movie and u puppet suck.U like make threat Beverly Hills bitch.We Unconquered Seminole Tribe are going answer your threats pathetic scum.We have air boat tour of our Swamp Everglades. Hug your loved ones real close everytime U leave your home.See u soon silence'.
Trump addressed Sayoc's arrest, saying: 'We must never allow political violence to take root in America.' He promised 'swift and certain justice' and said the suspect would be prosecuted 'to the fullest extend of the law.'
A Twitter account that appears to belong to Sayoc includes repeated attacks on billionaire George Soros and praise for Trump and other Republicans.
The tweets accuse Soros of paying off a victim from the Parkland mass shooting and accusing Florida gubernatorial candidate Andrew Gillum, a Democrat, of being a Soros puppet. 
Corporate records show Sayoc has owned companies called Native American Catering & Vending, as well as Proud Native America One Low Price Drycleaning.  
The suspect is reportedly a former resident of New York who is living in Florida. 
The mail bombs are all believed to have been handled by a regional mail sorting facility in southern Florida. 
Sayoc graduated 1980 from North Miami Beach Senior High, according to a yearbook entry. 
His grandmother lived in Sheepshead Bay, Brooklyn, according to a 2006 obituary.
Among Sayoc's most serious criminal history includes a 1994 incident in which his grandmother Viola accused him of domestic violence. She sought a restraining order at the time but a judge then dropped the charges two weeks later for reasons that are unclear.
The suspect is known to law enforcement, and has a history of making terroristic threats to judges, sources said.
And then there were these responses on social media. See what you think?
Very important facts: Cesar Sayoc Jr. aka Cesar Altieri is NOT Mexican, nor immigrant and did not attack America through the U.S.-México border. Sayoc is a fervent #maga supporter. #nopinchewall pic.twitter.com/iKPT9kveNS

— Martín Paredes (@martinparedes) October 26, 2018
Package bomb suspect's unhinged tweets go way back. There's no way this is a recent false flag concoction. He posted #FOXNews videos and screencaps back in Feb. Cesar Altieri Sayoc's hate for Maxine Waters is long standing. pic.twitter.com/YKz1dD9mTP

— Gershwin Forever (@GershwinForever) October 26, 2018