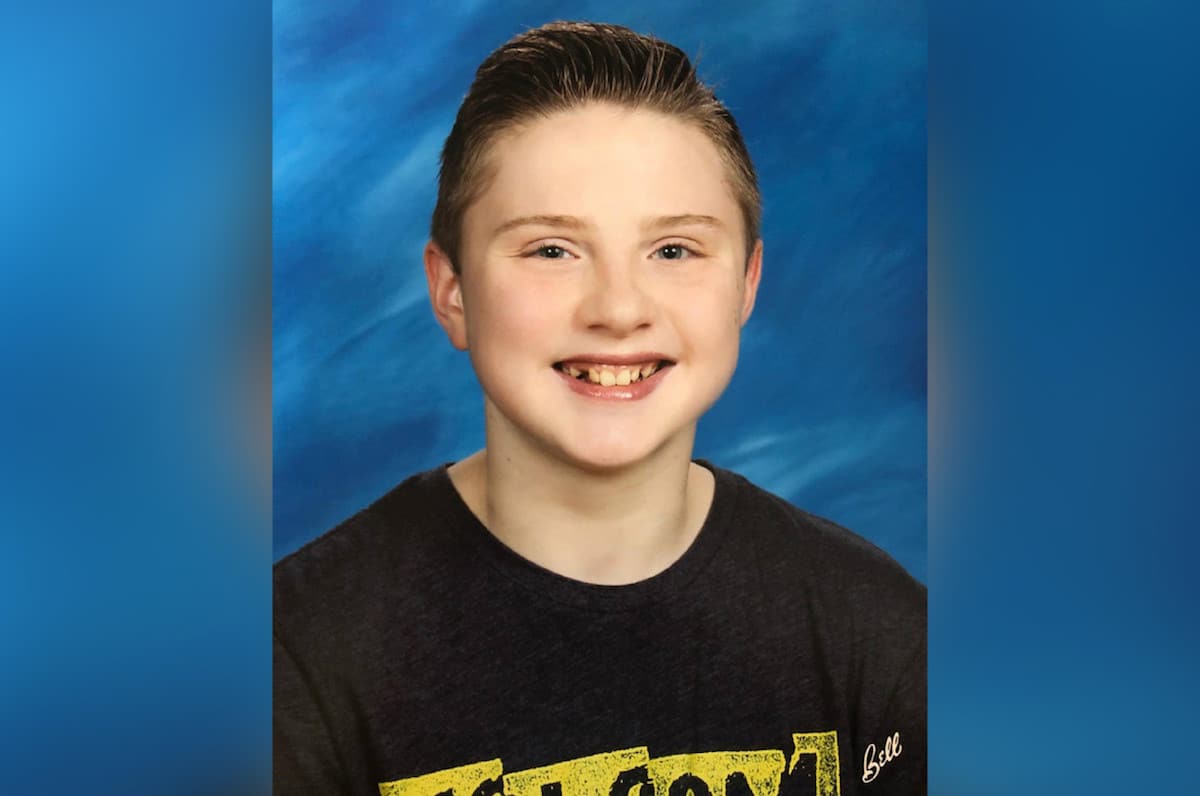 Zackary Kempke North Ogden, Utah boy killed after stray bullet hits him while riding in the backseat of his family's car in remote area. 
A 14 year old Utah teen boy has become yet another casualty in American's gun violence epidemic after being hit by a stray bullet while riding in a car as a passenger.
The tragedy comes as Zackary Kempke of North Ogden was sitting in the back seat of his family's car- as driven by the boy's father along a dirt road in a desolate stretch along the Monte Cristo range when he died instantly upon being hit by a stay bullet hitting him in the head.
The Deseret News reported no other family member being injured following the seemingly indiscriminate gunshot emanating as a group of nearby target shooters were firing off.
Rich County Sheriff Dale Stacey said investigators determined that the bullet came from another family that was target shooting several hundred feet away.
'The individual involved as well as witnesses stated that they did not know there was a road down range and could not see the vehicle as it traveled on the road due to thick brush and trees,' the sheriff's office said, noting that the fatal incident 'appears to have been unintentional.'
Added the sheriff's office, 'When the investigation is complete, all information and evidence will be turned over to the Rich County prosecutor for further action or charges.'
To date, no charges have been filed, authorities said.
'He didn't even know what happened, he was gone that fast,' said the boy's uncle, Cory Hopkins, according to KSL-TV.
Hopkins said Zackary and his family had traveled to the remote are to take family photos to send to the boy's older brother, who is away serving as a Mormon missionary.
Hopkins said when the rest of the teen's family learned of his death on Sunday evening, they initially felt 'some anger about reckless people. Why were they shooting not at a backstop?'
In remembering his nephew, Hopkins said, 'He was like the center of attention. He was a comic, he liked to make people laugh … But he had a serious side. He was very spiritual. … He was a good kid. He was family-oriented.'
Zackary according to his family suffered from Type 1 diabetes and celiac disease.
'[W]e all just can't believe that he's not going to be around,' the uncle said.
A gun didn't make this young boy safer:

A target shooter has unintentionally shot and killed a 14-year-old boy, according to Utah authorities.

The Rich County Sheriff's Office identified the teen victim as Zackary Kempke of Ogden https://t.co/1V2EwiZENv pic.twitter.com/cxnpVGkIFV

— Khary Penebaker (@kharyp) September 26, 2018
Zackary Kempke Utah boy another needless statistic: 
Perhaps most eye opening is the fact that Kempke's story rather than being a rare occurrence, happens to be all too common place in the US.
According to CNN, a study based on data from 2012 to 2014 suggests that, on average, 5,790 children across the country get medical treatment in emergency rooms each year for gun-related injuries.
About 21 percent of those injuries are unintentional, similar to the Kempke's case.
From 2012 to 2014, 1,297 children on average died annually from a gun-related injury in the US, according to the study, published in the journal Pediatrics.
According to the CDC, Utah had 370 gun-related deaths in 2016.
Welcome to a brave new America…