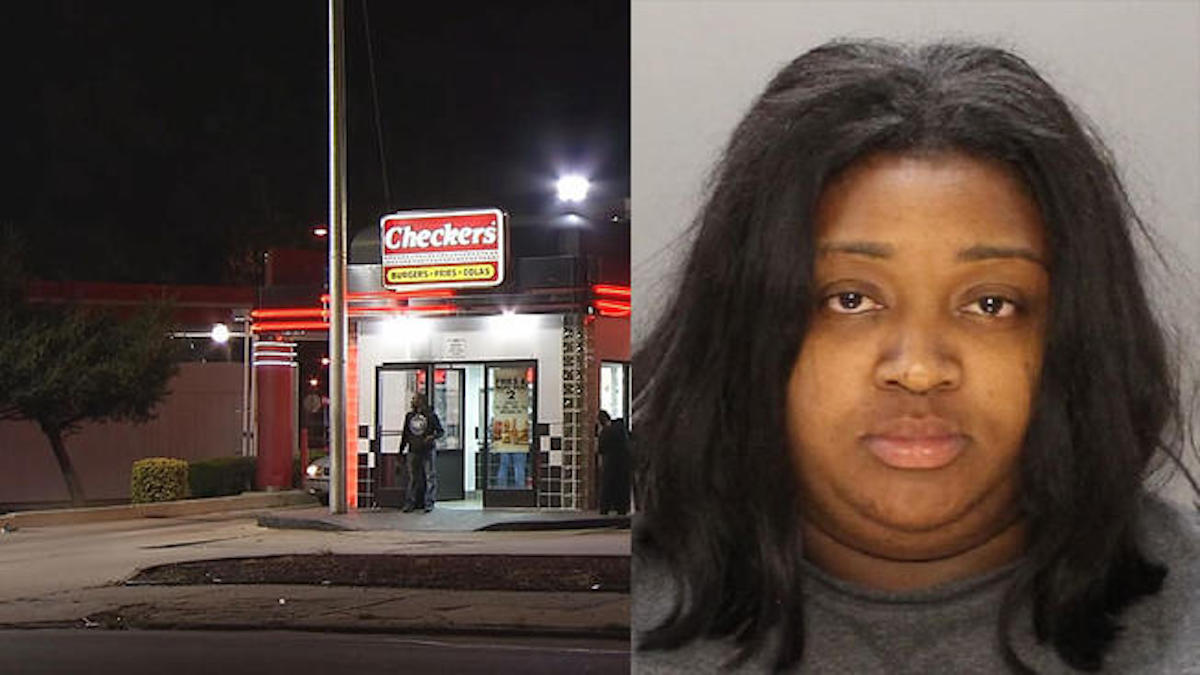 Latifah Linder Philadelphia Checkers fast food worker arrested after dousing three female customers with hot oil following disagreement at drive thru venue. 
Also making her tabloid debut is 28 year old Philadelphia fast food worker, Latifah Linder after throwing hot oil at customers following an argument.
Cops say the Checkers restaurant manager/employee was working at a drive thru window in the early morning hours of Saturday (circa 3am) when she got into an altercation with three bixches women inside a Chevy Impala.
Tempers were frayed when the three women told the drive thru employee at the '5800 block of Baltimore Avenue' location that their order was wrong. Linder disagreed and wouldn't change it.
The women in the car in turn refused to leave the drive-thru. You know where this is going don't you kids….
CBS Philly reported matters escalating when a 'frustrated' Linder (do you suppose…) turned in the direction of the three females, dousing them with a cup of hot grease.
Got ya !
When they still didn't leave, police say Linder grabbed two pans of grease and again threw it at the women.
Bixch !
Latifah Linder 'no longer involved with the company,' says released Checkers statement:
The oil splattering led to one 20 year old woman being burned on her left arm and left leg and being taken to Mercy Hospital where she remained stable condition. A 20-year-old woman and a 26-year-old woman were burned on their left arms, legs and head but declined treatment according to the nypost. 
'The franchisee is taking this incident very seriously, and the manager involved is no longer with the company,' a spokesperson for Checkers told NBC10. 'That behavior was completely unacceptable, and does not represent the values of the hundreds of Checkers employees who serve our Philadelphia guests every day.'
Upon being taken into custody, Linder was charged with aggravated and simple assault, reckless endangering and related offenses. Checkers says it is cooperating with police.
To date it remained unclear what led to the women arguing.
The Defender Association of Philadelphia, listed as representing Linder, didn't immediately return a message seeking comment. Can you guess why…?