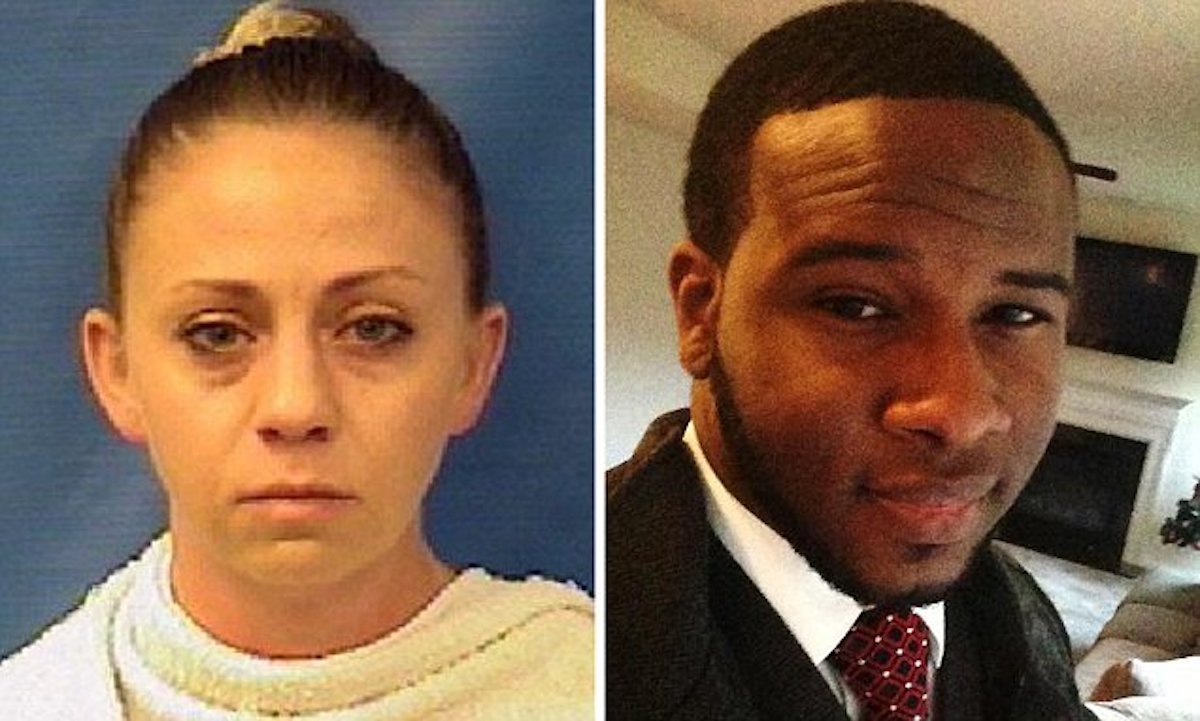 Dallas Police Officer Amber Guyger shoots Botham Shem Jean after the man refused to yield to verbal commands upon mistakenly entering his apartment.
A white female Dallas police officer has revealed having shot a black resident whose apartment she had purportedly mistakenly walked into – after the man refusing to yield to her 'verbal commands'.
Officer Amber Guyger told the authorities she was returning from a 15 hour shift when she'd mistaken her neighbor's fourth floor apartment at South Side Flats, in Dallas, for her own home on the third floor on Thursday.
Entering the darkened apartment, the door to which she has since claimed was slightly ajar, she told of mistaking Botham Jean, 26 for a burglar and shot him in the chest. He was later transported to hospital where he was pronounced dead.
Upon her arrest on a manslaughter charge, Sunday evening, Guyger posted $300K bail.
The above transcript of events follows an anonymous police source relaying Guyger's alleged via thee Dallas Morning News, on Monday.
1st Video is of the White Female Police Officer Who Murdered #BothamShemJean, Crying, Pacing Back and Forth.
The 2nd Video is Of The First Responders Attempting to Resuscitate Him. pic.twitter.com/7ug1Y1Ncrc

— PartnersInJustice (@JusticeTrolls) September 8, 2018
Dallas Police Officer Amber Guyger: A case of victim blaming?
But the family of Jean say they still have a lot of questions over Guyger's story and the death of their son. 
Lawyers for the family questioned why it took three days for Guyger to be charged after after Thursday evening's fatal shooting. 
Also not clear is why Guyger reverted to using deadly force and whether at any moment Jean had approached the woman that he must have believed to have been an intruder, used force against her (which he may have been legitimately entitled to do had he feel threatened) or whether Guyger simply felt threatened- or simply confused. 
Confounding some commentators on social media was the semblance of victim blaming (as opposed to accepting she was the one who erred) and whether Guyger had behaved as if she was still on active duty and presumed the 'black man' in front of her to be a suspect of illicit behavior who, 'needed to be taken down'.
"She saw a [big black] silhouette" & "ignored verbal commands"

The police tryna invent a criminalized frame and "in fear" narrative to perserve the (white) privileges of cop Amber Guyger, nvm that #BothamShemJean was in his home &her trespassing self had no biz there#BothamJean https://t.co/XOJRJdwl3l

— Jayson (@jaybizball) September 11, 2018
#AmberGuyger needs to be in jail – NOW. An off duty officer cannot give orders…to someone that has done nothing other than exist in their OWN apartment. The ultimate charge, hopefully, may not be just manslaughter. #BothamShemJean deserves justice – NOW.https://t.co/wwehEsIBC9

— dangermouth (@madavis323) September 11, 2018
Officer Amber Guyger only realized she was in the wrong apartment after turning on the lights according to affidavit:
A filed affidavit stated Guyger saying she only realized she was in the wrong apartment during the 911 call when she turned on the light. It states that Guyger's apartment was directly below Jean's and the apartment layouts and exterior hallways were nearly identical.
Investigator David Armstrong of the Texas Rangers said the female police officer was able to gain access to her neighbor's apartment because, when she inserted her key in his door, it opened because it had been slightly ajar. 
According to Guyger, the 'unknown' person ignored her verbal commands leading to her firing twice. One struck Jean in the chest and he later died.
Since posting $300K bond, Sunday night and barely spending an hour in jail following her manslaughter booking, authorities intimated Guyger's case set to be presented to a grand jury, which could decide on more serious charges. 
In the state of Texas, manslaughter is considered a second-degree felony. If convicted, Guyger could face 2-20 years in prison and a fine of up to $10,000.
The Texas Rangers, who took over the investigation on Friday, said the investigation is ongoing and declined to offer further information about the case.
And then there were these reactions on social media below which made this author wonder, see what you think?
Dallas Cop knocked on black man's door demanding, 'let me in' say neighbors
Dallas cop killer charged (at last) with manslaughter of Botham Jean.
Dallas female police officer yet to be arrested raising questions of race and police deferential treatment.
Both Shem Jean Dallas cop killer identified: previously shot another man
Was Dallas black man shot by white female officer revenge for failed romance?
Something's awfully fishy about this whole thing. I'm betting there's no fire-engine-red rug in front of Amber Guyger's door like the one in front of Botham Jean's door. And the room numbers are even illuminated, day and night. pic.twitter.com/ZlC93RvUqG

— Chet Powell (@ChetPowell) September 11, 2018
Never fails, whenever there is an injustice, people always find a way to blame the victim. I can't believe Officer Amber Guyger had the nerve to blame Botham Jean for being shot in his own home.smh

— +-AF Morgan (@Bajanbeauty72) September 11, 2018
And so it begins. Murderer Amber Guyger is insisting that Botham Shem Jean's door was slightly ajar when she entered & she's laying the groundwork for the defense so many of these cops use after murdering somebody. "He didn't follow verbal command." We know where this is going. pic.twitter.com/OxF1ZdNxUO

— Delilah Benson (@DelilahBenson12) September 11, 2018