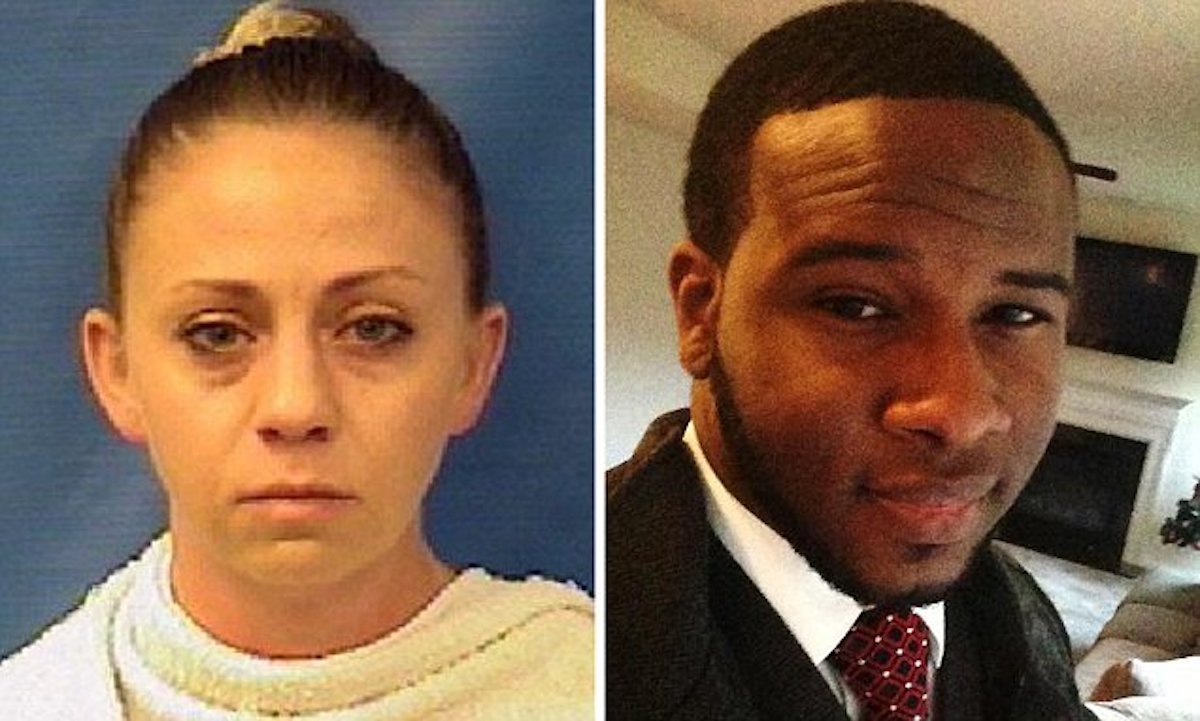 Botham Jean neighbors dispute Dallas Police Officer Amber Guyger's claims his door was ajar saying they heard her demanding to be allowed to be 'let me in'.
Neighbors of a female white cop who shot dead a black man in Dallas on Thursday night after walking into his apartment have disputed her claim that his door was ajar when she arrived at it according to a family lawyer for the slain victim.
Seconds before Amber Guyger, 30, shot Botham Jean in the chest, one neighbor said they heard a woman in the hallway knocking on a door and yelling: 'Let me in, let me in.' 
Another neighbor then heard gunshots and afterwards claimed to have heard a man shouting: 'Oh my God. Why did you do that?'  
The witness told Jean's family's lawyer, Lee Merritt they think those were his last words. Jean's mother Allison said she believes there is more to her son's death than has been revealed. 
'I'm not satisfied that we have all the answers,' she said.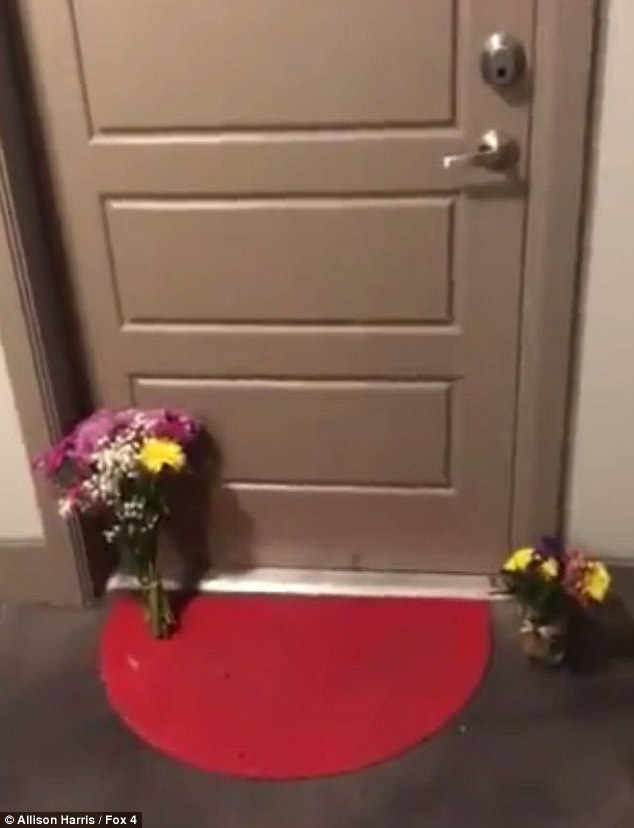 Botham Jean neighbors claims undermines Amber Guyger's claims as a grand jury is to decide whether to up the charges to murder charges: 
Jean, who worked as an associate for the the finance firm PwC and was from St Lucia, lived one floor above Guyger in the South Side Flats building.
The neighbors' accounts significantly undermine her claim that Jean's door was ajar when she arrived at it after returning home.  
Guyger told police that they had never met before Thursday night and that she thought he was an intruder in her home when she arrived mistakenly at the front door.  She said she gave verbal commands but that he ignored them and forced her to shoot. 
She said she only realized that she had entered his apartment, and not her own, after she shot him dead in the dark, turned the lights on and called 911.  
Guyger was arrested on Sunday, three days after the incident, on a manslaughter charge and was released on a $300,000 attorney bond afterwards. By the time of her release, Guyger had spent less than an hour in a jail cell. 
A grand jury is to decide whether or not to up charges against Guyger and indict her with murder.  
Jean's family have questioned why it took police three days to arrest her. They say she should have been put in custody on Thursday, immediately after she called police.  
They also say it is unlikely she could have mistaken their son's door for her own because he had a distinctive red door mat at the entrance of his apartment.
Told family lawyer, Lee Merritt, 'The promise of transparency to this family has been a blank check'. 
At a press conference on Monday, Jean's mother Allison, who flew in from St Lucia with his siblings after his death, said: 'The number one answer that I want is, what happened? I have asked too many questions and have been told that there are no answers yet.
'I am looking forward to all of the powers that be to come up with the answers. To make me more satisfied that they are doing what is in the best interest of that injustice for Botham.' 
The hallway outside the apartment where Botham Jean was shot and killed by a Dallas Police officer. pic.twitter.com/2xN9xqppRC

— Allison Harris (@AllisonFox4News) September 8, 2018
Dallas District Attorney Faith Johnson pledges justice to Botham Jean's family:
On Monday, District Attorney Faith Johnson said she would do everything in her power to investigate the case to its fullest and bring justice to Jean's family. 
Aware of the public's outrage as to how Guyger's case has been handled, Johnson claimed she had a 'spirited debate' with the police about how they had handled the case without going into further detail.   
On Monday night, nearly 200 protesters descended on Dallas Police HQ demanding justice after Guyger was released. 
Thursday's shooting comes after the policewoman moved into the South Side Flats about a month ago. There had been suggestion following the shooting she'd somehow been involved with her victim– and had sought recourse after their affair soured. To date no proof has been shown the two ever met each other prior to the shooting, let alone having been romantically involved. 
And then there were these responses below on social media which caught this author's attention, see what you think?
White Dallas cop shot Botham Jean after ignoring verbal commands
Dallas cop killer charged (at last) with manslaughter of Botham Jean.
Dallas female police officer yet to be arrested raising questions of race and police deferential treatment.
Both Shem Jean Dallas cop killer identified: previously shot another man
Was Dallas black man shot by white female officer revenge for failed romance?
The moment Amber Guyger opened the door to an apartment that wasn't her own, she wasn't operating as a police officer clothed with the authority of the law. She was an armed home invader. Her victim didn't have to obey a single one of her commands: https://t.co/e2ju91X4Oi

— David French (@DavidAFrench) September 11, 2018
If Amber Guyger gets away with murdering Botham Jean I will have zero confidence in our justice system. Stand your ground? SHE BROKE INTO HIS HOUSE. Self defense? SHE HAD THE GUN & THE ONLY OTHER PERSON THAT WAS THERE IS DEAD BECAUSE OF HER. When will you get it #BlackLivesMatter

— Ciara ☯ (@ciarawins) September 12, 2018
Amber Guyger WILL NOT get a free pass for a senseless murder of an innocent man just because she is a cop! If a random civilian entered someone else's residence and killed the occupant we all KNOW they'd be charged with murder!

— TD (@thatboyTD) September 12, 2018
Did Amber Guyger get special treatment as a Dallas officer after she shot Botham Jean? – Dallas News: Dallas News Did Amber Guyger get special treatment as a Dallas officer after she shot Botham Jean? Dallas News Legal experts disagree on whether Officer… https://t.co/fxCnf1yZA3 pic.twitter.com/Pm7KU5P5R3

— Jobs in Arkansas (@hire_arkansas) September 12, 2018
As much as DPD and the Texas Rangers Investigators are trying to convince the public & frame a narrative of self defense (officer feared for her life situation), remember Amber Guyger was off duty & not acting under the color of a police officer when she shot & killed Botham Jean

— The Noum (@NoumThe) September 12, 2018