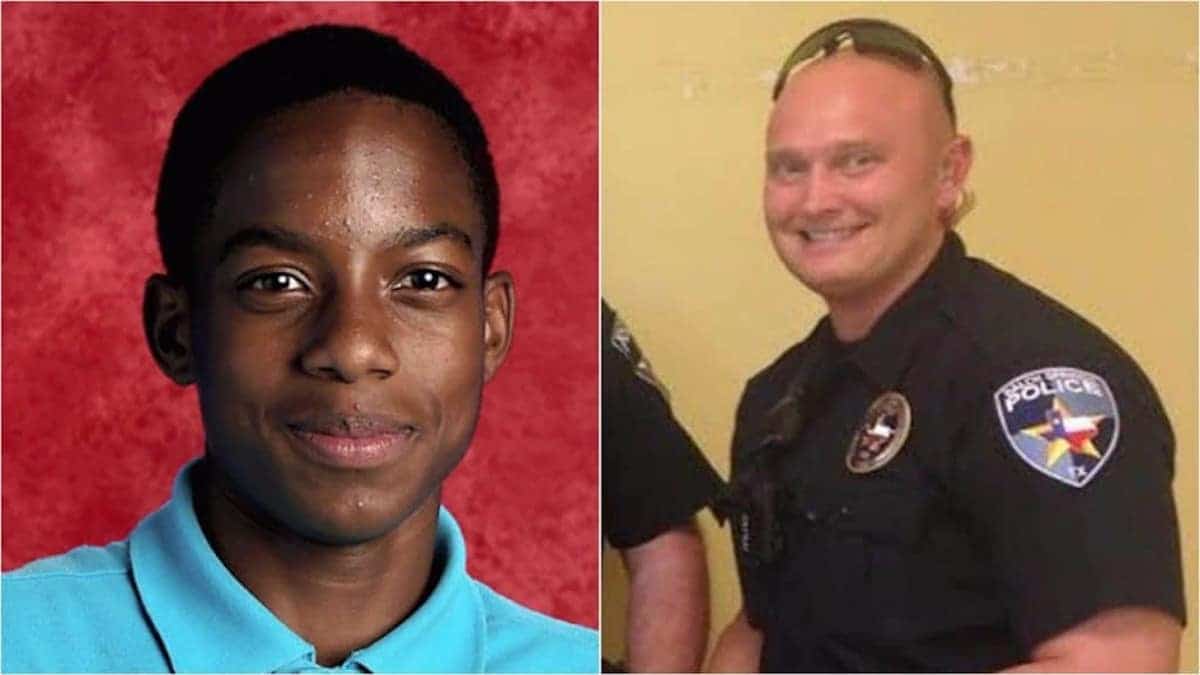 Justice? Ex Balch Springs, Dallas white police officer, Roy Durwood Oliver sentenced 15 years jail in Jordan Edwards black unarmed teen shooting death.
A white former police officer convicted of murdering an unarmed black teen when he fired into a car packed with black teens leaving a suburban Dallas house party was on Wednesday sentenced to 15 years jail.
Roy Durwood Oliver, who'd been facing up to life in prison was sentenced a day after being found guilty of the 2017 shooting death of Jordan Edwards. Leading into the ex cop's sentencing, prosecutors had asked for a minimum of 60 years in prison.
The 'surprise conviction' and sentencing comes as a marked contrast involving police officers accused of shooting black youths, with most accusations leading to rare if any convictions at all.
At the time of the April, 2017 shooting, Roy Oliver was a cop in Balch Springs when he and his partner responded to reports of underage drinking at the party. Oliver fired into a car carrying Edwards and his friends, later saying he feared the vehicle was moving toward and endangering his partner. Edwards, who was in the front passenger seat, was shot.
Police initially said the vehicle backed up toward officers 'in an aggressive manner,' but later admitted that bodycam video showed the vehicle was moving forward, away from officers as they approached. 
Oliver's partner told jurors he didn't believe his life was ever in danger.
Investigators said no guns were found in the vehicle. Oliver was fired from the Balch Springs Police Department days after the shooting.
Prior to his firing, Oliver who'd been hired in 2011, had been suspended and required to take anger management classes after having erupted in a courtroom. He was angry because he had to attend court, according to personnel files obtained by NBC News.
What Roy Oliver's partner did is an example of a "good cop" he stood, broke the blue line up and testified against him. If not for him the outcome of this would be very different

— Petty_Shabazz ✊? (@a_for2day) August 28, 2018
#BREAKING – Jury Finds ex-Balch Springs police officer Roy Oliver guilty of murder #RoyOliverTrial
Here's Jordan Edwards' father reacting to the verdict:https://t.co/SAHw5jUtPf pic.twitter.com/tnm4xJUu2Q

— Maria Guerrero (@Maria_NBC5) August 28, 2018
Jordan Edwards family lawyer, it's about every African American … who has been killed and has not gotten justice'.
Upon Oliver being found guilty on Tuesday, Edwards's relatives sobbed and hugged prosecutors, waved their hands in the air and proclaimed 'Thank you, Jesus!'
'I just want to say I'm happy, very happy,' Edwards father, Odell Edwards, said outside the courtroom. He said it had 'been a long time' since he felt that way.
Edwards' father said he now planned to file a civil lawsuit in connection to the shooting.
Offered Edwards' family attorney, Daryl Washington, 'This case is not just about Jordan, it's about Tamir Rice, it's about Walter Scott, it's about Alton Sterling, it's about every African American … who has been killed and has not gotten justice,' referring to other black boys and men that have been killed by police.
While Edward's family were pleased with the guilty verdict, family members expressed chagrin with Oliver's 15 year prison sentence.
'He can actually see life again after 15 years and that's not enough because Jordan can't see life again,' Edwards' stepmother, Charmaine Edwards told via wral.
'We were just kids leaving a party,' Maximus Everette, 15, who was in the back seat with his twin brother, Maxwell, said last year in an interview with NBC Dallas-Fort Worth.
'We shouldn't have to fear the police when our parents teach us to respect them,' Maximus told the station. 'So I don't see why they would fear just kids leaving a party.'
The jury, which featured two black members out of 12 jurors and two alternates, acquitted Oliver on two lesser charges of aggravated assault stemming from the shooting. Nbcnews also told of Roy Oliver being fined $10K. 
Perhaps #RoyOliver conviction will Mark an end to US cops firing at fleeing suspects. Seems to be an institutional mindset that is prevalent amongst cops that firing at fleeing suspects is an acceptable action.

— Atticus (@brown6023) August 30, 2018
Roy Durwood Oliver sentencing: A rarity since 2005.
The conviction and sentencing comes in the backdrop of 93 officers having been charged with murder or manslaughter for such shootings while on duty since 2005. Less than half were convicted or pleaded guilty to lesser charges.
Even more rare is a guilty verdict on a murder charge: That has happened only five other times in the last 13 years in cases involving non-federal law enforcement officers — and four of those convictions were overturned, according to Bowling Green University criminologist Phil Stinson.
In total, only 33 law enforcement officers have been convicted of a crime resulting from an on-duty shooting where someone was killed — with Roy Durwood Oliver only the second to be convicted of murder.
Criminologists have long said jurors are inclined to believe police testimony, and prosecutors have a high bar when trying to convince jurors that a law officer didn't fear for his or her life in the moments before a fatal shooting.
Of note, Oliver's lawyers have already told of planning to appeal the former police officers' guilty verdict. Oliver will also be eligible for parole after 7½ years prison time.
Why? Roy Oliver Balch Springs police officer fired for fatally shooting Jordan Edwards, 15
Finally, a cop is NOT walking! Finally, a jury agreed that #BlackLivesMatter! No, we will NOT stop taking a knee! https://t.co/kPjIEPD80J

— Daryle Lamont Jenkins (@DLamontJenkins) August 28, 2018
BREAKING: Andrew Dunlap, the attorney representing Jordan Edwards' mother, exclusively told @WFAA that he's displeased with sentence handed down to Roy Oliver. pic.twitter.com/rWKEOhRlEQ

— Matt Howerton (@HowertonNews) August 30, 2018
15 years is definitely a slap on the wrist for #RoyOliver he should've gotten 60+ for killing #JordanEdwards

— C r y s • T A L ? (@crysluvvs) August 30, 2018