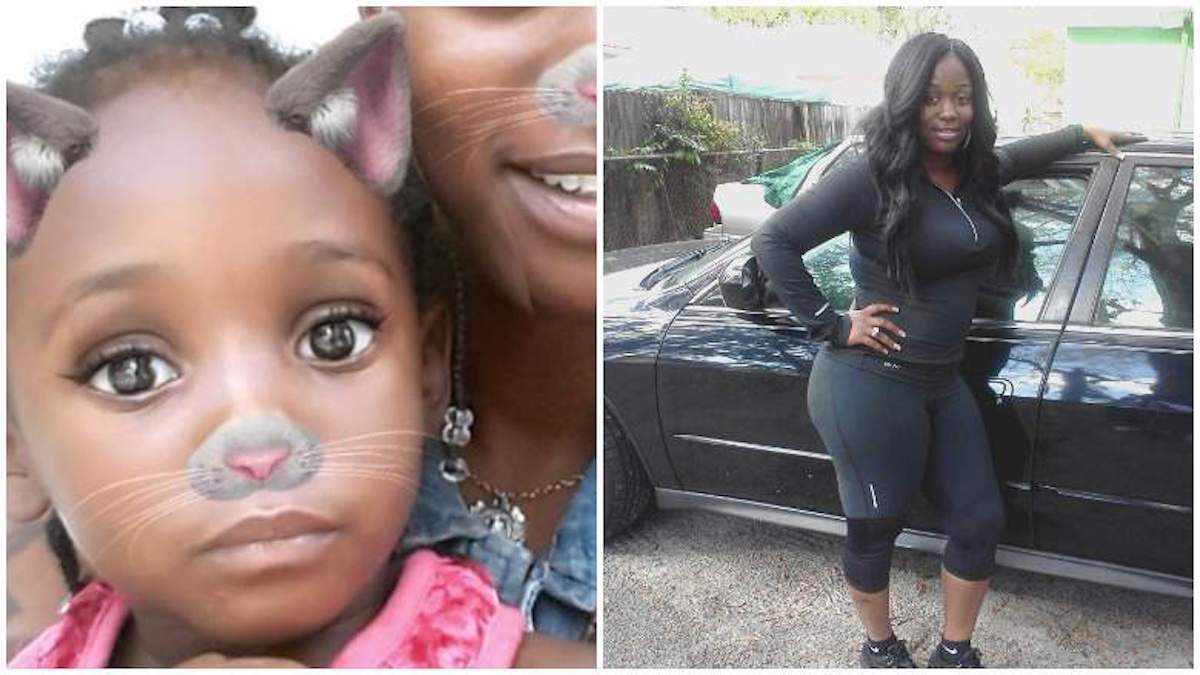 Shakayla Denson a Tampa, Florida mother charged with first degree murder after throwing her four year old autistic diagnosed daughter, Je'Hyrah Daniels into river.
A four year old Florida girl died Thursday afternoon following her mother wading into a Tampa river and tossing the child into the flowing stream. 
Arrested with the drowning death of Je'Hyrah Daniels was the girl's 26 year old mother, Shakayla Denson who was charged with first degree murder upon being taken into custody.
WSVN reported witnesses saying seeing Denson tossing the child into the Hillsborough River near West Aileen st and Rome Ave just before 4pm.
Told Tampa Police Chief Brian Dugan during a Thursday press conference, 'It's a crazy scene that we are still unraveling many of the pieces'.
'Unfortunately, at this point, there are more questions than there are answers,' continued Dugan. 'It's the craziness of the world that we live in at times.'
Dive teams were able to locate the child's body circa 75 feet offshore, half an hour after being thrown to her death.
MOTHER CHARGED WITH MURDER: Police arrest Shakayla Denson for allegedly throwing her 4-year-old daughter into the Hillsborough River, leaving her child to die. Tonight's late-breaking developments: pic.twitter.com/QooS0bXOic

— Ryan Smith (@RyanReports) August 3, 2018
Police have charged Shakayla Denson with murder after police say she threw her daughter into the Hillsborough River. Read the full story here: https://t.co/a1XMi9SVmQ pic.twitter.com/SUuXunbv3K

— Tampa Bay Times (@TB_Times) August 3, 2018
Shakayla Denson steals vehicle before driving to Tampa river:
Denson was arrested after she was found walking near the scene. Moments earlier she had been seen wading in the middle of the river, slowly walking back to shore. Police said the mother stole a car hours prior from a repair shop in St. Petersburg before driving to the river.
A regard of the vehicle following the girl's drowning death revealed two small pink-and-black shoes tucked beneath the parked sedan. Reports told of the mother living in an apartment a half mile away from the repair shop.
At the time of her arrest, The Tampa Bay Times reported the mother who also went by the name of Kayla Denson on social media carrying a Bible and wearing a bra and seaweed or grass-covered leggings.
It remains unclear whether the girl was already dead when she was thrown into the river.
No bond for Shakayla Denson, accused of leaving her 4-year-old daughter in the Hillsborough River to drown Thursday. https://t.co/1Bdwi0VJVd pic.twitter.com/MiOR7fVdxf

— Spectrum Bay News 9 (@BN9) August 3, 2018
1st Tweeted Photos of Je'Hyra.
Her mother Shakayla Denson aka Kayla from Tampa Florida charged with 1st degree murder for throwing her 4 year old Je'Hyra into the Hillsborough River. pic.twitter.com/kWuXnCgoB6

— Republican Lives Matter (@REPUBLICANLM) August 3, 2018
Shakayla Denson observed behaving strangely prior to daughter's drowning death:
Prior to arriving at the river, Denson had been observed acting 'oddly.'
Witness, Eddie Camacho, told the Tampa Bay Times of having seen a woman run up Fremont Avenue wearing only a bra and black pants and no shoes." Osama Jamil, an employee, told the newspaper that the woman was behaving oddly in a back storage area of the business.
She was 'washing her face. She was counting out loud, 19, 20, 21. I went back there to see if she was all right. She didn't look right,' he alleged, saying she then ran away.
Reiterated Tampa Police Chief Dugan, 'The mom is in custody, and right now we are sorting through to get answers,'
'That's why I say we believe it's her child, but we are trying to piece this whole thing together.'
Officials are waiting for an autopsy to determine the cause of the child's death.
Witnesses say Shakayla Denson waded into the Hillsborough River with her 4-year-old daughter. Roughly halfway across the river, she tossed the child and began wading out, police say.

Denson is now charged with first-degree murder >> https://t.co/dlgPLNl7GH pic.twitter.com/yJqeDcsMYk

— ABC Action News (@abcactionnews) August 3, 2018
Shakayla Denson GoFundme page for autistic daughter receives no donations:
According to a GoFundMe page, 'Life with je'hyrah,' the child was diagnosed as being on the autism spectrum. It remained unclear if the mother had access to health care for the girl.
The mother set a goal of $1,500 when the page was established 9 months ago but received no donations.
A regard of the mother's social media accounts revealed her having two Facebook pages, with Kayla Denson writing in one that she worked at WellCare Health Plans and was a 'former Enrollment Specialist at The Results Companies – Blue Bell.'
She also wrote that she studied as a 'Registered Nurse at Hillsborough Community College'. 
It remained unclear if the mother was employed at the time of the child's death and the whereabouts of the child's father who four years earlier had posted about his joy over his impending daughter's birth. It remained unknown if the man was actively involved in the child's upbringing or lack of.
Heavy reported Denson having a criminal history with arrests for theft and criminal traffic cases, such as for driving with a suspended license, according to Florida court records. The theft case dated to 2016 and was a second-degree misdemeanor.
The murder mimics that of a January 2015 case, when a Florida father threw his five-year-old daughter 60 feet off a bridge in Tampa Bay.
John Jonchuck Jr, 25, was arrested a half hour after he was seen speeding toward the Dick Misener Bridge and tossing Phoebe Jonchuck to her death.
The father's trial is still ongoing, with the man set to appear in court next on September 24, according to the Tampa Bay Times. 
The state is seeking the death penalty.
THIS SWEET LITTLE GIRL: on the left is Je'Hyrah Daniels. She is the 4-year-old girl who Tampa police say was thrown into the Hillsborough River by her mother today. On the right is Shakayla Denson.. her mother who was charged with 1st degree murder pic.twitter.com/IB2uSOKEio

— Jamison Uhler (@JamisonWFTS) August 3, 2018
UPDATE: Mother accused of throwing daughter into the Hillsborough River is 26 yo Shakayla Denson. This is a mugshot for a previous arrest. She is being charged this time with murder in the 1st, child abuse and grand theft auto. (she allegedly stole the car she got to scene with) pic.twitter.com/NpMVLXtmkO

— Evan Axelbank Fox13 (@EvanAxelbank) August 3, 2018