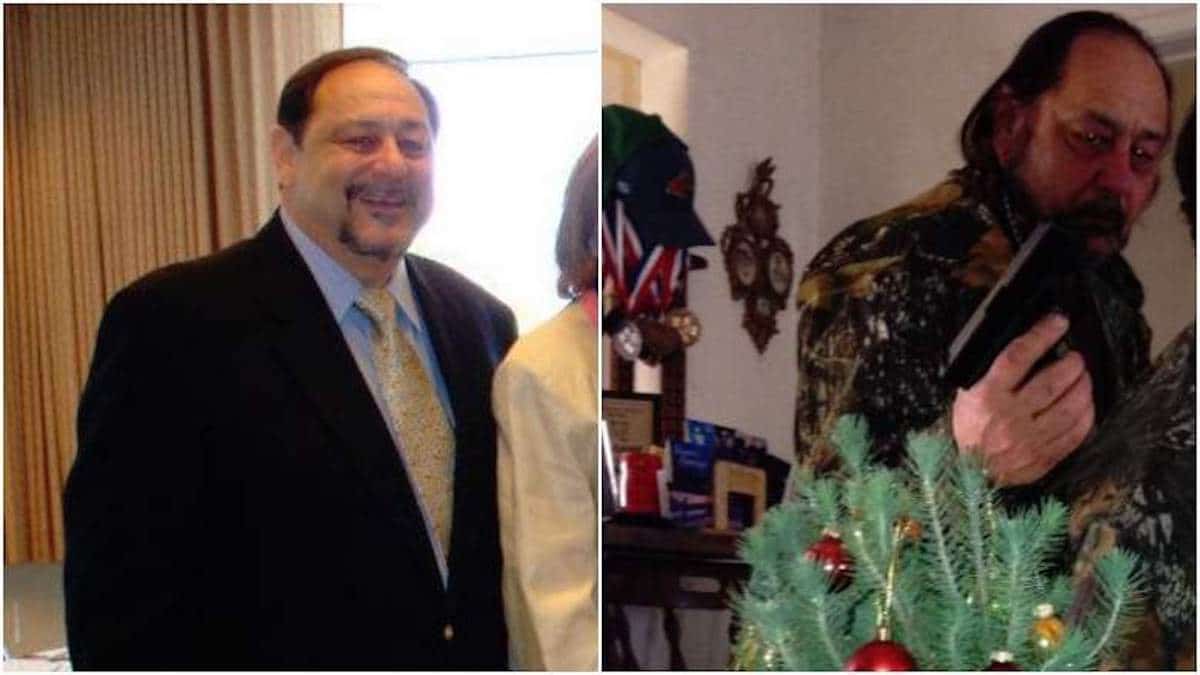 Robert Chain an Encino, California man is arrested following bomb and shooting threats against The Boston Globe following anti Donald Trump editorials.
A 68 year old Encino, California man has been arrested after allegedly threatening to shoot up and bomb the Boston Globe's offices following a series of 'foul mouthed' phone calls.
Come Thursday, the dailymail reported the grandfather described by neighbors as being a 'know it all,' loudmouth being arrested during a dawn raid.
Chain's arrest follows him allegedly calling the Massachusetts newspaper 14 times between August 10 and August 22 threatening to shoot its staff because he was angry over their anti-Trump coverage. 
Borrowing a phrase from Trump's book, he called its journalists the 'enemy of the people' and said he would be there at 4pm on August 16 to 'shoot them in the head'. 
The threat triggered them the newspaper hiring security and Boston police standing guard outside its offices as a precaution. 
Pictures outside of Robert Chain's Encino California home. He's scheduled to appear in LA Federal court this afternoon. He allegedly threatened @bostonglobe journalist stating,"You are the (expletive) enemy of the people and we're going to kill every one of you." ?: Tim Mc Gowan pic.twitter.com/WBf7vrZEfz

— Malcolm Johnson NBC10 Boston (@MalNBCBoston) August 30, 2018
FBI agents seizing evidence from the #Encino home of Robert D. Chain. He's accused of phoning in death threats to the #BostonGlobe @KNX1070 pic.twitter.com/P2TBGcaEVD

— Margaret Carrero (@KNXmargaret) August 30, 2018
Speaking to the dailymail, neighbor Tim McGowan, who has lived across from Chain for nine years, said he tended to avoid him. 
'He's a loud guy. He's very bombastic and the few conversations I've had with him were enough to know he's not my kind of personality,' the neighbor said. 
McGowan said the neighborhood was not one where residents displayed their political beliefs proudly. 
He was surprised to learn that Chain was a Trump supporter and had no idea that he owned guns. The FBI found multiple weapons at his home on Thursday including a recently purchased 9mm rifle. 
The neighborhood they live in is not particularly political, he said. At most, residents may sometimes place campaign signs in their yards for local elections. 
McGowan told of Chain, 'always being,' at home while his lawyer wife Betsy Staszek Chain was at work, with the man often heard yelling from their home. Betty's file showed her being admitted to the bar in California in 1982 and having no disciplinary action.
'My wife avoids him all the time because she is not as patient as I am. She was just like, "He's a jerk." He would say stuff to her like, "hey beautiful" all the time. It just made her uncomfortable.
'He wears shorts and no shirt around his yard and he is overweight,' Mr. McGowan said.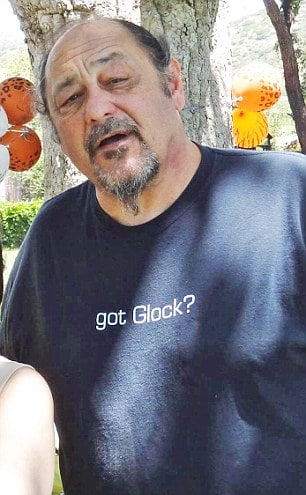 Robert Chain Donald Trump supporter rein of terror against Boston Globe begins: 
According to prosecutors in Massachusetts, Chain called the newspaper for the first time on August 10 after it issued a rally cry to other publications asking them to join it in publishing an editorial about President Trump's attacks on the media on August 16. 
On August 16, when the newspaper published its scathing editorial of Trump as promised, Chain called up again and threatened to be at the office to shoot employees at 4pm. 
In that call, he said: 'You're the f****** enemy of the people and we're going to kill every f****** one of you. 
'Hey, why don't you call the F, why don't you call Mueller, maybe he can help you out buddy. Still there f****t? Alright, why, you going to trace my call? 
'What are you going to do motherf*****? You ain't going to do s***. I'm going to shoot you in the f****** head later today. 4 o'clock. Goodbye,' he said.   
In another call, he said: 'Hey, how's your p***y smell today? Nice and fresh? We are going to shoot you motherf****** in the head, you Boston Globe c******ers. Shoot every f****** one of you.' 
The specific threat prompted police in Boston to stand guard outside the office for the afternoon. The Globe also hired its own security when the threatening calls began.  
On August 22, he called from a different number and said he wanted to get in touch 'because you are the enemy of the people and I want you to go f*** yourself.' 
'As long as you keep attacking the President, the duly elected President of the United States, in the continuation of your treasonous and seditious acts, I will continue to threat, harass and annoy the Boston Globe, owned by the New York Times, the other fake news,' he said. 
The FBI were able to trace Chain through 12 of the calls, made between August 10 and 17, after contacting Verizon, the phone provider for the newspaper. It was able to trace his number despite it coming up as 'blocked' whenever he called the office.
The FBI then traced the number through Charter Communications to his home in Califa, Calfornia.  
Chain is scheduled to appear in court in Encino on Thursday afternoon before being extradited to Boston to face charges. 
Robert Chain threats come amidst 

increasing political polarization, and increasing incidence of mass shootings in the USA.
Responded, Massachusetts U.S. Attorney Andrew Lelling following Chain's arrest, 'Anyone – regardless of political affiliation – who puts others in fear for their lives will be prosecuted by this office. 
'In a time of increasing political polarization, and amid the increasing incidence of mass shootings, members of the public must police their own political rhetoric.  Or we will.' 
Chain has no prior criminal history. Records indicate that he owns two businesses – one is an investments company. 
It is not clear if either is functional or successful. He and his wife Betty have filed for bankruptcy twice in the past. 
On Thursday, Chain will appear in court charged with one count of threatening communications in interstate commerce. If convicted, he faces up to five years in prison and a fine of up to $250,000. 
This particular guy (Robert Chain) is using Trump's exact phrase though: "the enemy of the people." It's hard not to separate that phrase from Trump (especially since he is still using it over & over) and what anger he is creating in people, and what people are doing in his name.

— Pallas Tweet (@PallasTweet) August 30, 2018
Two neighbors who have known Robert D. Chain for more than 30 years say they're shocked by his arrest. They say he could be loud but his bark is bigger than his bite. @KNX1070

— Margaret Carrero (@KNXmargaret) August 30, 2018
Trump would stop the bullshit lies about the media being the enemy of the people. Brainwashing his followers leads to people like Robert Chain threatening to shoot up the Boston Globe! #ThursdayThoughts #BlueWave ? save ??#ThursdayMotivation #FBI pic.twitter.com/jxzJfdVFGs

— Truthtalker ??? (@Brotatopics) August 30, 2018