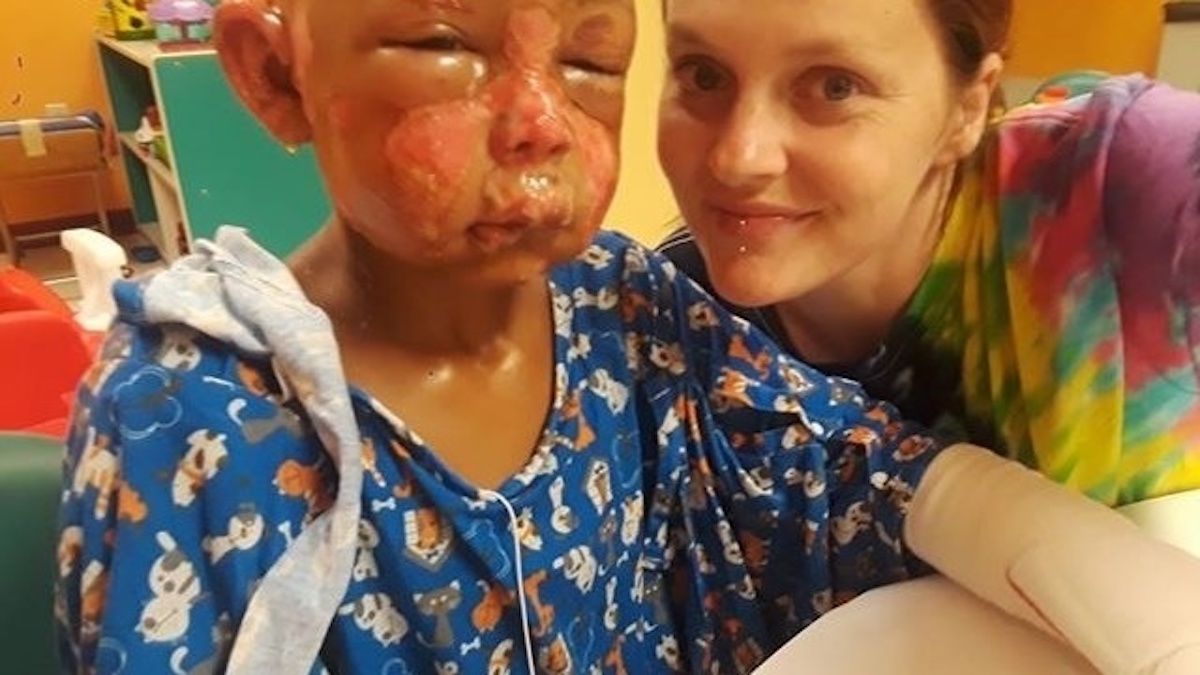 A 7 year old Independence, Missouri boy, Julien Sandlin is doused with nail polisher and doused on fire by a bullying 8 year old boy leading to the child being deformed and unrecognizable. 
Julien Lyons a 7 year old Missouri boy has been left with deformities following another child dousing him in nail polish remover then setting him on fire with a candle.
WDAF reported the victim's mother, Ashley Lyons (also going by the name, Ashley Lorraine Sandlin) saying the Aug. 6 attack at the family's apartment complex in Independence having made her young son unrecognizable. 
Lyons said she received a call that her son, also known as Julien Sandlin being rushed to the hospital after an 8-year-old neighbor allegedly set the boy on fire outside their home at Hawthorne Place Apartment Complex. 
Told the mother, 'The burns were so bad that they had to go in immediately and do surgery that they had to scrape his face and all of his skin'. 
Doctors told the family that his internal organs, including his lungs, may have been impacted as well.
'We really don't know because he inhaled the flames [and] the smoke deteriorated inside his nostrils,' Lyons said.
'My son kept saying 'Stop. What are you doing?' Julien kept telling him to leave him alone and that's when he decided to burn him,' Lyons told the Kansas City Star.
Julien Sandlin Missouri 7 year old boy: a target of ongoing bullying?
Of disconcert, Lyons said the other boy's mother was present when the incident happened but did not help her son. According to Julien's older brother, the seven year old said he kept telling the other boy to stop and leave him alone, only for the older boy to grab a candle and set him ablaze.
A neighbor came to Julien's rescue with a wet towel to try and put out the flames. Rescue crews quickly arrived on the scene and brought Julien to a nearby hospital. While the seven year old may have survived the assault, medics say the boy has a long road of recovery ahead.
A GoFundMe page was created to help raise money for Julien's medical bills and move the family into safer housing.
Reiterated Julien's mom, 'The hospital is trying to release him soon, and we're coming up with a home plan but there's no home plan. This is not safe'. 
'It's a very painful process for him,' added Lyons. 'There is a lot of anxiety. There is a lot of anger. There is a lot of confusion. He's trying to maintain the best that he can, for a 7-year-old.'
Unclear is if the attack against the seven year old was a one off incident or a continuation of series of attacks, assaults? And whether Julien was a constant target of bullying?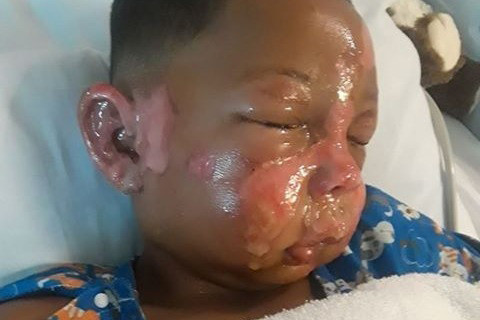 Julien Sandlin is a resilient boy says Ashley Lyons:
Speaking of her son's resilience and general temperament, Ashley Lyons said, 'He's a very loving child, he loves to love more than receive love, that's for sure,'
Adding, 'He has a great personality. He's a class clown. Anything he can do to keep people happy or smiling. He's a light when he walks in the door.'
Police told Lyons Thursday they are investigating the incident, The Kansas City Star reported.
To date it remains unclear as to what led to the eight year old neighbor assaulting Julien and whether any criminal action is forthcoming.
Of note, Ashley Lyons told of the housing complex which she is now trying to move out of having a long history of trouble.
'It's got the highest crime rate in Independence,' Julien's mother told via the dailymail.
'Unfortunately they're not doing nothing to help the families with security and making sure that everyone feels comfortable and safe in their own homes.' 
'There's no safety boundaries. There's no inspections. There's no doing what they're supposed to be doing for [US Department of Housing and Urban Development] regulations.' 
But Independence Police believe that the horrific fire was an 'isolated incident' with officers assigned to patrol the complex have 'definitely seen a reduction in crime and calls for service.' 
It noted that the department has two officers assigned to work full-time at the complex and additional officers who cover when they are off. Not immediately clear was why any security needed to be placed at the housing facility at all….
As of Monday night, 10pm EST, $41,423 of a $50,000 goal has been raised on behalf of the Julien Recovery And Home Plan.