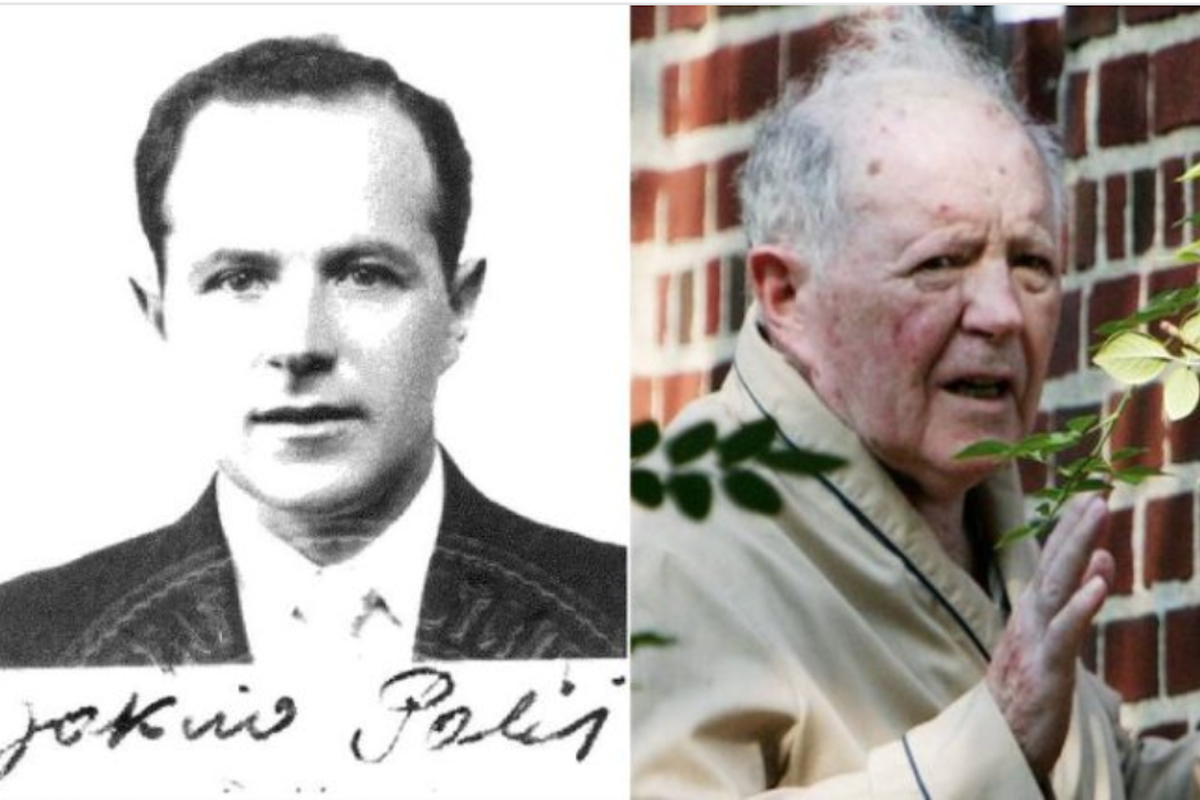 Guilty of war crimes? Jakiw Palij, a former Nazi prison guard is deported from the USA following decade plus efforts. Had trained at Trawniki concentration camp in 1943. 
United States immigration officials have arrested and deported a former Nazi concentration camp guard living in Jackson Heights, Queens, New York, according to government officials.
Identified as the former Nazi prison guard, was 95 year old man, Jakiw Palij who was born in a part of Poland that is now present-day Ukraine, and had previously trained at Trawniki concentration camp in 1943.
The concentration camp was the site of one of the Holocaust's largest massacres. Some 6,000 Jewish men, women and children prisoners were shot to death on Nov. 3, 1943.
The 95 year old man's ouster from the United States to Germany who have agreed to take him (despite years of refusing to do so) follows a 2004 deportation order.
Come Tuesday morning, escorting the 'wailing' man in an ambulance, Immigration and Customs Enforcement (ICE) removed the former Nazi guard from his Queens home.
.@ABC EXCLUSIVE: The last Nazi collaborator deported — ABC News was there as ICE agents wheeled 95 year old Jakiw Palij from his New York home: https://t.co/OmHJYmyw5V@tarapalmeri reports. pic.twitter.com/2SDW3tzgvY

— Good Morning America (@GMA) August 21, 2018
You're a liar Sarah. The deportation of Nazi Jakiw Palij who was living in Queens, NY , was the result of the efforts of Eli Rosenbaum – director of DOJ Office of Special Investigations. This work was begun many years ago. Donald Trump had nothing to do with it. Nothing.

— PS (@Surfgirl13691) August 21, 2018
Jakiw Palij: 'I would never have received my visa if I told the truth. Everyone lied.'
ABC News reported Palij serving as an arms guard at the Trawniki camp in Nazi-occupied Poland during World War II.
Following the war, Palij emigrated to the US in 1949 and became a US citizen eight years later and worked as a draughtsman before retiring.
At no time did Palij tell immigration authorities he had served during World War 2. Instead the man lied, claiming having spent the war as a farm and factory worker.
It wasn't until 1993 that Palij confessed to an investigator, saying, 'I would never have received my visa if I told the truth. Everyone lied.'
He told US Department of Justice officials that he trained at the Nazi SS Training Camp in Trawniki in 1943, before becoming a guard at the adjacent forced-labour camp.
In 2003, a federal judge revoked Palij's US citizenship for 'participation in acts against Jewish civilians'. He was ordered deported in 2004 and his appeal was rejected the following year.
The U.S. deported a 95-year-old Nazi collaborator to Germany. Jakiw Palij worked at a labor camp where 6,000 Jews were murdered in a single day. The U.S. revoked his citizenship in 2003 but he remained in New York because no other country would take him. pic.twitter.com/3FJ1oC1bU3

— AJ+ (@ajplus) August 21, 2018
Jakiw Palij: A political pariah? 
Several countries, including Germany, Poland and Ukraine, refused to take Palij so he continued living at home with his wife, Maria, 86, where his presence attracted protests and outraged the local Jewish community.
Palij, who lived in Jackson Heights for the past 13 years, has denied being a Nazi guard, saying he was conscripted at age 18 when Nazis invaded his family's farm.
Come 2001, Palij admitted to Justice Department officials having been trained at the SS Training Camp in Trawniki, in Nazi-occupied Poland in the spring of 1943. 
'I know what they say, but I was never a collaborator,' he told the New York Times in 2003. 'We knew they would kill me and my family if I refused. I did it to save their lives, and I never even wore a Nazi uniform. They made us wear gray guards' uniforms and had us guarding bridges and rivers.'
The Trump admin very pleased to announce they deported Nazi war criminal Jakiw Palij, but troubling statement claims they will not "tolerate… those who facilitated other human rights violations"

So, will they be deporting themselves/Trump? Jailed babies want to know. pic.twitter.com/MfHrccl8Cz

— Sarah Reese Jones (@PoliticusSarah) August 21, 2018
Jakiw Palij guilty of war crimes? 
Last September, all 29 members of New York's congressional delegation signed a letter urging the State Department to carry out the deportation, which eventually came after weeks of diplomatic negotiations.
Told a White House statement, 'By serving as an armed guard at the Trawniki Labor Camp and preventing the escape of Jewish prisoners during his Nazi service, Palij played an indispensable role in ensuring that the Trawniki Jewish victims met their horrific fate at the hands of the Nazis'.
Attorney General Jeff Sessions said Palij had no right to become a US citizen or remain in the country given his lies.
'The United States will never be a safe haven for those who have participated in atrocities, war crimes, and human rights abuses,' Sessions said in a statement. 'Jakiw Palij lied about his Nazi past to immigrate to this country and then fraudulently become an American citizen.'
It is not clear what will happen to Palij once he arrives in Germany. Aljazeera reports prosecutors there previously saying that there doesn't appear to be enough evidence to charge him with wartime crimes.
Palij's deportation is the first for a Nazi war crimes suspect in the US since 2009 when Germany agreed to take John Demjanjuk, a retired autoworker living in Ohio, who was accused of serving as a Nazi guard.
In 2011, he was convicted of being an accessory to more than 28,000 killings and died 10 months later with his appeal pending.
While Palij has admitted serving at Trawniki, he has denied any involvement in war crimes. It remains to be seen if Germany will seek pressured to try the elderly man for war crimes, a gesture fraught with political antipathy.