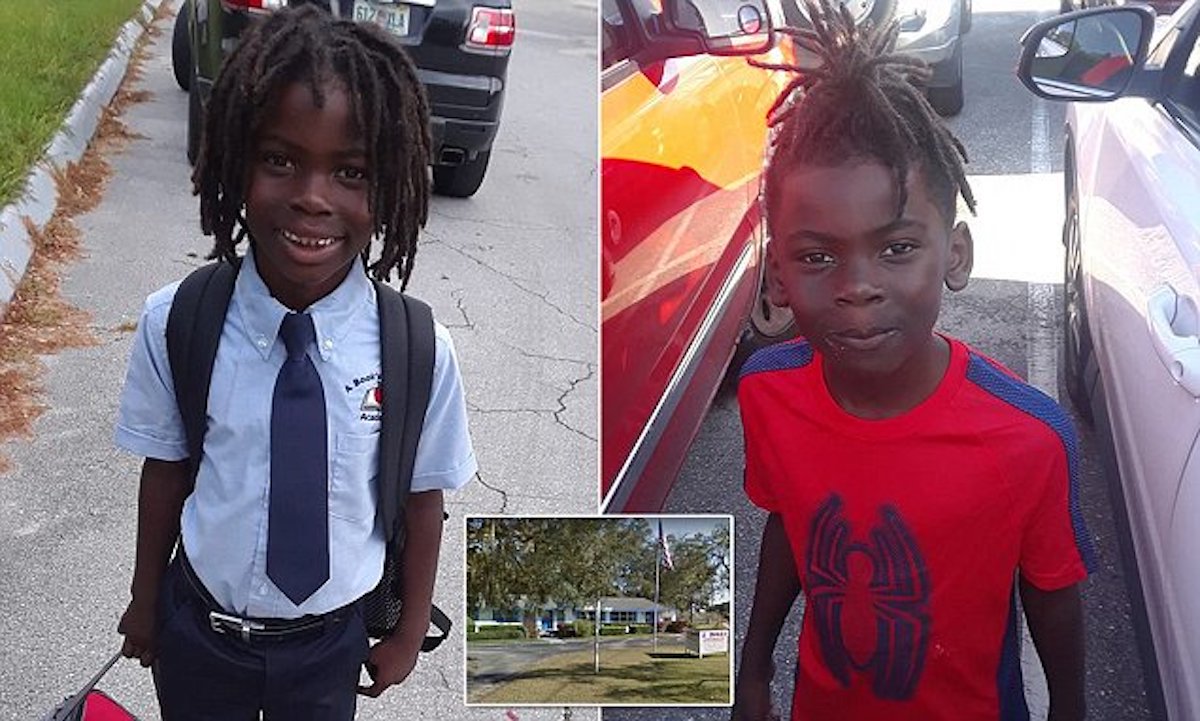 Racist? Clinton Stanley Jr. a Florida first grader is banned from Florida Christian school cause of the six year old boy's dreadlocks.
A Florida father has told of his first grader son not being allowed to attend his first day of classes on account of the six year old boy having dreadlocks.
'My son just got told he could not attend the school with his hair,' Clinton Stanley Sr. posted in a since viral vido Facebook post following his conversation with officials at A Book's Christian Academy at Apopka, near Orlando, Monday morning.
Added the father, 'If that's not biased, I don't know what is'.
The video shows the young boy in a uniform and book bag standing outside a classroom door covered in red apple stickers.
The dad goes back and forth with teachers, who maintain their school rules prohibit long hair, before eventually signing a paper withdrawing his son from the school.
Asked the father at one point, 'what if I braid my son's dreadlocks up,' only for a school official to tell the father she doesn't think that's allowed because 'it has to be above the ears'. 
'That's crazy,' Stanley says, telling his son not to worry. 'He ready to go to school, but he can't.' 
At one point in the video, Clinton asks his father to put his hair up in a ponytail but Stanley says the school won't allow it.
Clinton Stanley Jr. banned: A question of following rules or a question of being discriminated because of one's cultural diversity?
The 6-year-old's father maintains that racism kept his son, who is black, out of class — but school administrators argue they just have a long-standing short-hair policy.
'I respect their rules but its not right,' Stanley told via the Orlando Sentinel. 'Allow kids to come as they are. You are a Christian school. In the Bible it says, come as you are.'
Adding incredulously, 'You deny a kid an education on his hair?'
The school's director, John Book, said that the school is private and that having regulations on haircuts is its standard.
According to the school's parent/student handbook, boys must have their hair 'tapered cut, off the collar and ears.' The handbook notes, 'there are no dreads, Mohawks, designs, unnatural color or unnatural designs. No combs or net caps'.
'You can see my school, it's probably 95 percent black,' Book told WESH2 News.
'Obviously I am not a racist. But we try to uphold certain Biblical standards and certain degrees of order that enable us to maintain a school.'
Which is to wonder does racism depend on the number of diverse students attending an entity or policies geared towards individuals of minority status? Then again, what if the child was white and had long 'neat' hair past his shoulders- would there be the same claims of accusation of discrimination? Or is discrimination a function of cultural appropriation or the lack of it within greater culture?
Added, Book, 'I've had all kinds of obscene, ugly calls, It's just hard.'
Clinton is now enrolled at public school- Lovell Elementary School. His first day was Tuesday.   
A Book's Christian Academy reportedly has had death and bomb threats on their school since the video of them turning away and unenrolling the young boy with dreads so we can't meet at their location and… https://t.co/5RYlsDDSvf

— #MilesBkaMizzle (@MizzleBka99) August 14, 2018
Clinton Stanley Jr: Social media reacts.
And then there were these responses on social media that caught this author's attention, see what you think?
'This is a private school…and they have their rules. One of the rules is no dreads. Why didn't Dad read the school manual before the first day of school? How can the father howl racism when 95% of the school population is African-American? So what is the lesson this father is teaching his son? Rules don't apply to you? Howl long and hard enough you'll have your way? Mister, there are rules everywhere…follow them!'
'You are only teaching him he s .Not good enough as he is, These Schools are Getting Out of hand with rules such as this.'
'I understand the schools rules, and I also understand the only way an unjust, or unfair rule will be broken is if it is challenged.'
A Book's "Christian" Academy in Apopka, FL banned a 6 yr old black boy because he has dreads.

They told a reporter "we have Christian standards to uphold."

White Jesus with long hair is depicted all over the school.

This must be Ku Klux Kristianity.

— Bishop Talbert Swan (@TalbertSwan) August 15, 2018
Is this "A Books Christian Academy" of 1001 Roger Williams Rd. Apopka, FL, 407-884-0031? If they receive ANY gov't funding (for books, meals, anything), they may not have any procedures, practices or policies which discriminate. This boy's hair was clean & culturally appropriate

— Paula Braun (@frauSunnyBraun) August 15, 2018
This black child in Florida was kicked out of school because he has dreads. His father is distraught & disappointed. Call A Book's Christian Academy at (407) 884-0031 & tell them to stop discriminating against kids from diverse backgrounds.pic.twitter.com/2xCodDlSTR

— Simar (@sahluwal) August 15, 2018
"A Book's Christian Academy strives to train young people to love, respect and protect their American heritage" "in a day of shallow moral principles and a time when love of country is ridiculed". They did you a favor. Run, don't walk, away from this MAGA training camp. Gross.

— #ImpeachTrump (@platinumandbold) August 15, 2018
Is A Book's Christian Academy living up to their stated purpose: "A Book's Christian Academy was founded to train the students in the knowledge of God and the Christian way of life and to instill moral and patriotic ideals into each student."

I think not. https://t.co/RONnyOyuhA

— Bryan ?? #FamiliesBelongTogether #FBR (@ugaswimmerbr1) August 15, 2018