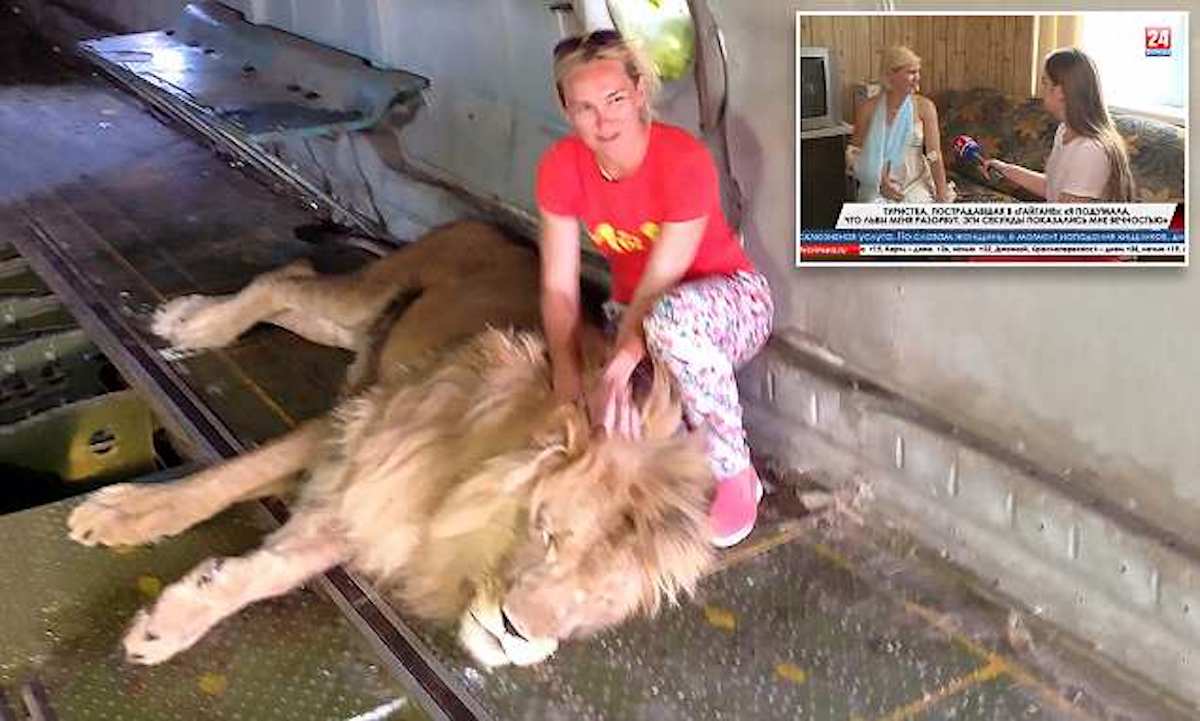 Olga Solomina, Crimea, Ukrainian woman mauled by lion after going inside Taygan animal safari enclosure where she posed for photo op before aggravating wild beast.
An Ukrainian woman is lucky to be alive after being mauled by a lion after making her way into the animal's enclosure in a bid to pose for a photo with the wild beast.
Identified as the victim was Olga Solomina, 46.
Crimea 24 told of the woman 'enjoying' a day out at the Taygan safari park in Crimea, Ukraine, when she got into the lion's enclosure. Visits to the park for adults go for 6000 rubles ($95 USD). 
The woman had managed to pose for a photo with the seemingly calm beast only to soon find herself getting in trouble upon placing her hand on the feline's mane.
The enraged lion launched into a vicious attack, mauling Solomina and trying to drag her her away by the arm.
Saving the hapless zoo visitor were the efforts of zoo personnel who managed to chase the lion away. From there zoo director Oleg Zubkov was able to get Solomina into a nearby vehicle and drive her to safety.
Yet according to Solomina, Zubkov refused to call her an ambulance, instead ordering a vet to treat her while giving her alcohol to soothe the pain.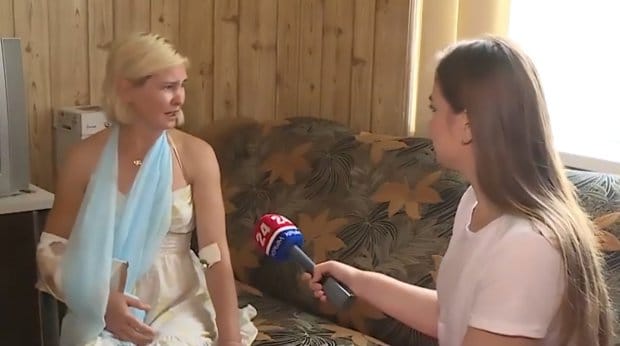 Olga Solomina and Taygan animal safari zoo director debate who's at fault of near fatal incident. 
Reported Metro Solomina saying, 'I squatted down and put my hand on the lion as I was told. Next moment it grasped my arm and dragged me like a rag doll,'
'The other lions jumped to their feet. I closed my eyes in fear waiting to be torn apart by the pride. It lasted several seconds that felt like eternity for me.' 
It remained unclear how the zoo visitor was able to make her way inside the enclosure and whether signs existed warning zoo visitors (presumably common sense ought to prevail…). Or for that matter, according to her she had been encouraged by staff, and if so, why?
The near fatal incident led to Solomina and Zubkov arguing as to who is to blame for the lion attack, along with the way Solomina was treated afterwards.
Zubkov, who rose to fame after a video was shared online of him breaking up a lion fight with his slipper, maintains Solomina is to blame because she was drunk and had also tried to the stroke the lion's mane.
Solomina was eventually taken to the hospital the next day where doctors found she had a serious infection from the lion's bite.
Told hospital spokesman Nikolai Vlasov, 'The infection got into her body from the teeth of the animal. It is a very dangerous infection,'
'She underwent surgery. Her health condition became better, but she needs further treatment. At the moment it's still not clear if she will regain full usage of her arm.'
The independent is also reporting Taigan safari park enduring prior controversy, including an incident when the body of worker Maxim Yakovlev was discovered at the zoo covered in serious wounds.
Mr Yakovlev's family have insisted the 29-year-old was mauled to death by a tiger at the park, a claim the owners deny. Instead, zoo director Mr Zubkov claimed there hadn't been an incident in the seven years the park had been operating the tour.
Of note, the safari park is refusing to pay the 1,000,000 RUB ($15.7K USD) compensation Solomina is demanding saying she signed a disclaimer. Police have launched an investigation.