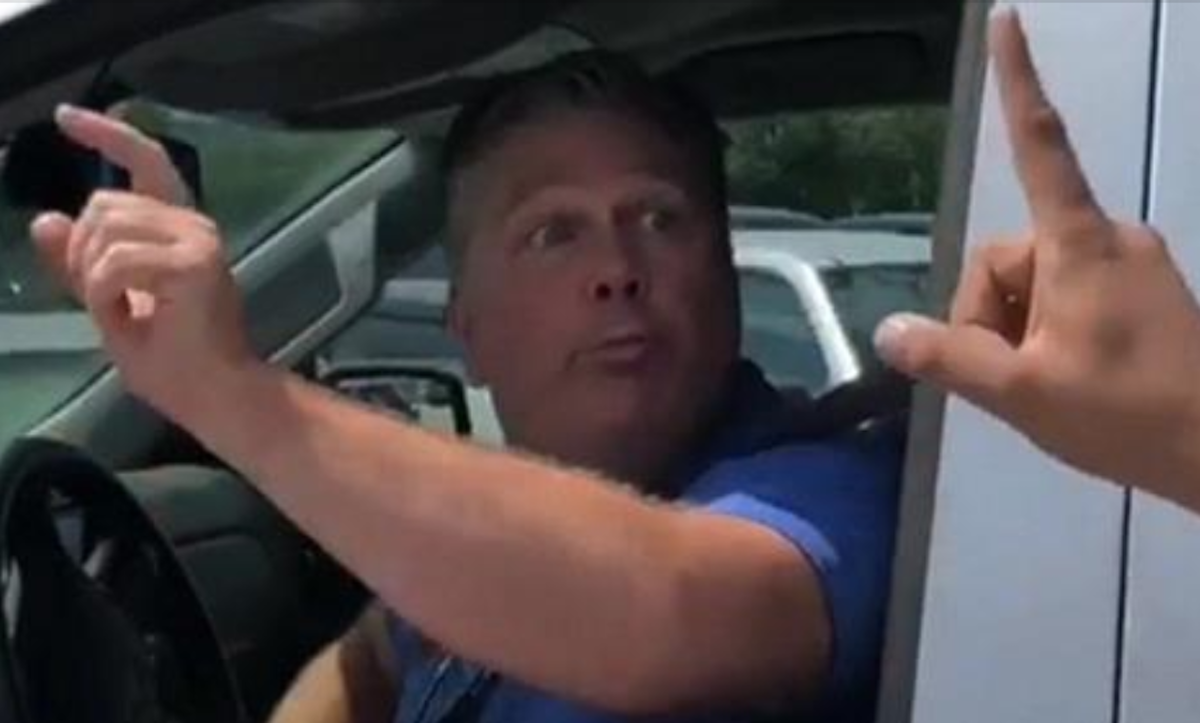 Dale Robertson Stoney Creek Walmart racist tirade: A Hamilton, Ontario, Canada man is filmed assaulting an Indian couple in latest episode of racial intolerance.
Going viral is video showing the moment an Indian couple being harassed by 47 year old white male, Dale Robertson at an Ontario, Canadian Walmart parking lot, Friday afternoon.
The video, which was shared (see below) on YouTube by Patryk Laszczuk captures a disagreement between Robertson and another individual at the Hamilton Walmart parking lot. Robertson is seen getting into his silver truck as the husband tries to talk to him. 
'What kind of example are you setting for your children?' the husband is heard asking Robertson as his wife records.  
Things escalates as the driver accelerates, nearly plowing into the wife as the driver hits the brakes.
'Oops. Get out of the way,' Robertson screams as the woman's husband grabs the driver's arm.
'You put your f**king hands on me I will break your leg,' responds the driver.
The husband tries to calm down the driver, telling him to 'stop it', to which Robertson replies, 'You're the one trying to harass me. I'm driving away.' 
Responds the Indian husband, 'I'm a Canadian citizen,' 
'Show me. Prove it. You don't talk like a Canadian,' Robertson says, all the while mocking the husband's accent. 
Continues the driver, 'I'm racist as f**k. I don't like you. I don't like her. I would kill your children first,' before driving off. 
Dale Robertson Stoney Creek Walmart racist tirade: Another example of seething tensions within Canada?
Laszczuk told the CBC that the husband in the video is his coworker. 
Laszczuk uploaded the video on to social media after the couple forwarded Friday afternoon's incident which took place outside the Walmart Supercenter on Centennial Parkway North in Stoney Creek.
Laszczuk described his coworker and his wife, as Canadian hailing from India and who'd been living in the country for at least seven years. 
The fracas is believed to have occurred after the couple tried backing into a parking spot, only to get in another driver's way, in turn unleashing a racist tirade. 
Robertson has since been arrested and charged with threatening death, dangerous driving and failing to remain at the scene of an accident.
The woman, who was hit by the man's truck, suffered minor injuries and has since been medically cleared. 
Authorities are now reviewing the incident as a possible hate crime with more possible charges to follow.
Of note, Friday's incident follows a similarly disturbing incident by Toronto's ferry depot where a 'white man,' was seen behaving belligerently towards a Muslim family making their way, Monday afternoon. Despite video showing the 'white man,' physically confronting family members and disparaging them, police declined to pursue charges.
The series of recent tense interludes between 'white' Canadians and immigrants continues to percolate as unease is continued to be expressed towards the Canadian government's welcoming policy of immigration and locals seemingly reluctance thereof- citing migrants refusing to assimilate and belief of their instigation of terrorist style activities in recent years.
His name is Dale Robertson, don't blur his face and don't hide his name. He needs to be thrown in prison and his life needs to be ruined. That's the only acceptable way to deal with people like this. https://t.co/62C27TRVkm

— Chuck (@Semprini15) July 29, 2018
Racists like Dale Robertson seem to be popping up more and more. We can't continue to believe that this shit doesn't happen in Canada. It's the responsibility of all of us particularly those who aren't minorities to shut garbage like this down when we hear it. https://t.co/W1HShEFEpW

— Goat (@theLilGoat) July 28, 2018
@CBCNews Once again I'm scratching my head. You'll show the faces of mass murderers on my phone, but one racist a-hole in Hamilton, you'll blur his face and not name him in a video everyone should see? DALE ROBERTSON, get the hell outta town. We don't serve your kind.

— Kyle S'morzech ? (@kyle_or_zak) July 29, 2018