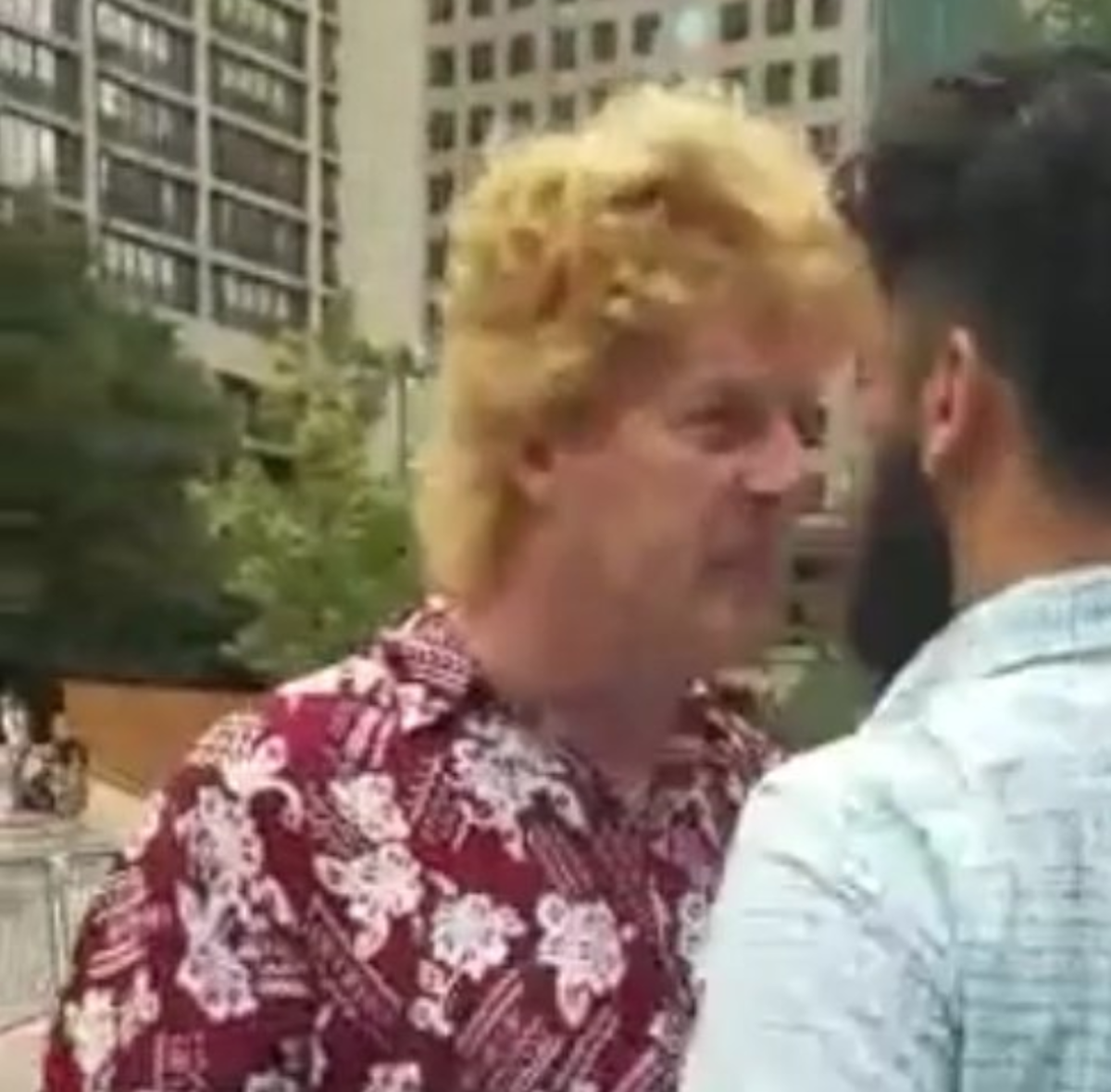 Muslim Toronto ferry terminal family abused by blonde white man at 

Jack Layton Ferry Terminal. Police decline to press hate crime charges. 
Going viral is video showing yet another white person threatened and at unease with what appears to be a Muslim family, this time at a Toronto ferry terminal in which a blonde man repeatedly demands to know where the family is from.
The video as posted on Mir Tabassum Javed's Facebook page captures a confrontation between an unidentified individual verbally abusing the family which includes women in the background wearing head scarves.
According to witnesses a confrontation ensued after a blonde man wearing a Hawaiian t-shirt started following the family and shouting insults.
Extorts a blonde man when asked where he is from by one of the confronted family members, 'you can't ask me a question in my (expletive) province.'
Continuing, 'I don't give a f–k. You don't tell me what to do in my province,"
Added the blonde man, 'You don't ask me a f–king question. 'It's my f–king province.'
The confronted bearded man responded by saying he was born in Toronto.
The women, presumably sisters or spouses of the two victimized men are heard in the background saying to call the police as the blonde man now threatens to kill one of the men, and 'smash his head in'.
Anyone in #Toronto recognize the man in the red shirt? If so, please DM me or contact @TPSOperations to report him for harassing spewing racism at a Muslim family near the Ferry Terminal. https://t.co/9QtoOHfIUI pic.twitter.com/eCqfFlcbOl

— madeleine (@MaddyFast) July 25, 2018
Muslim Toronto ferry terminal family abused: social media responds.
Tensions escalate as the group of men take to shoving each other, with the blond man refusing to back off and belligerently getting in the face of the victimized family members. Of note, one of the victimized family members is heard saying that the blonde man is drunk and that alcohol on his breath could be smelt from a distance. 
Says the female family member, 'He's drunk man. Let him go. You can smell him'.
The verbal exchange continued until security personnel from the terminal intervened.
I suppose this fuckwit thought he was going to thwart a terrorist plot?

'It's my f–king province': Man yells 'racist' insults at Muslim family in Toronto ferry terminal | CBC News https://t.co/KwfUFFONRm

— Canadian Freethinker ?? (@CdnFreethinker) July 26, 2018
Police have spoken to the man involved, but so far no charges have been laid… you know, if you don't charge people w/ uttering threats, you give license to other racists! Man yells 'racist' insults at Muslim family at #Toronto ferry terminal: https://t.co/dPuflSdTJf #cdnpoli

— somecanuckchick?? (@somecanuckchick) July 26, 2018
@TPSOperations. @TorontoComms
Why is this still an open "investigation"?This white guy attacked a muslim family, was publicly intoxicated & did hate crime!
'It's my f–king province': Man yells 'racist' insults at Muslim family in Toronto ferry terminalhttps://t.co/Lc6diaSroO

— HEREB4U@4EVER1ST (@HEREB4U4EVER1ST) July 26, 2018
Muslim Toronto ferry terminal family: One day after mass shooting on Danforth Ave.
The incident according to Canada's CTV News occurred Monday night just on 6.30pm at Toronto's Jack Layton Ferry Terminal.
As of Thursday it was unclear if the blonde man was taken into custody or whether authorities have deemed the incident a hate crime. The religion of the victimized family wasn't officially verified according to the outlet.
In a statement to Global News on Wednesday, the National Council of Canadian Muslims said they were aware of the incident and called the language used by the man 'abhorrent and unacceptable.'
'We are currently attempting to reach out to the family to make sure they receive any support they may need, including the children who were unfortunately present during this incident,' the statement said.
Of note, the 'altercation' took place a day after Toronto local, identified as 29 year old Muslim man, Faisal Hussain killed two individuals and injured 13 othersduring a gun shooting along Greektown's Danforth Avenue in Toronto.
Media reported the assailant who was shot dead by responding police plagued with ongoing mental illness and psychosis- that nevertheless didn't dispel theories that the man may have carried out a Jihad style terrorist activism- as Canada continues to reel underneath the surface between its welcoming policy of refugees and locals distrust and local's increasing unease…. to date Toronto police have yet to say what motivated Sunday night's shooter….