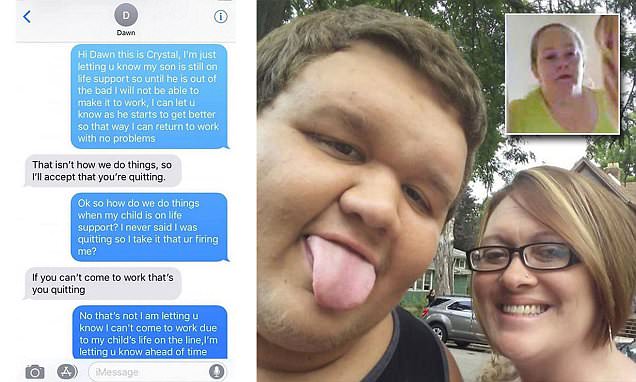 Crystal Reynolds Fisher threatened to be fired by supervisor after requesting time off to be by her life support son's bed after becoming ill. PS Food Mart manager fired by employer following viral post. 
A Michigan gas station boss has found herself the wrath of social media after threatening to fire an employee who'd asked for time off after her son being placed on life support and wanting to be by the teen's bedside.
News of the callous response led to the manager being fired and Crystal Reynolds Fisher of Albion getting all the necessary time off she needed.
FOX 17 reoorted the mom saying her son Jason, 18, being rushed to hospital on Thursday after his temperature spiked to 104 degrees and the teen having 'low oxygen.'
Fisher had her 14-year-old daughter, contact her boss at PS Food Mart to let them know she could not make it to work due to her son's illness.
At the time, the daughter told the manager over the phone, 'Can you have somebody cover mom for [Friday], my brother's really sick, they're going to have to ventilate him,'
The manager in turn responded, 'This ain't the way we run things, you're mother needs to be the one calling me.'
Fisher said she was told by the doctors that her son needed to be transported to the University of Michigan.
'[The doctor] came in and told me that they were going to have to tube him and transport him to [University of Michigan],' told the mom. 'I lost it. That's my kid.'
Crystal Reynolds Fisher: '

I never said I was quitting so I take it that you're firing me?'
Fisher said she was told her son had a bacterial infection and that he would have to be placed on life support.
Fisher sent a text to her manager, whom she identified as Dawn, on Saturday, letting her know that she would not be able to make it to work until her son's condition improved. Fisher said she was shocked by what came next.
'I text her Saturday and said 'Hey just letting you know that I'm not going to be able to come to work until further notice at least until he's off life support,'' Fisher said.
To which the manager responded, 'Oh so you're letting me know you're quitting.'
Responded the shocked mother, 'Ok so how do we do things when my child is on life support? I never said I was quitting so I take it that you're firing me?'
'If you can't come to work that's you quitting,' Dawn allegedly replied.
Crystal Reynolds Fisher: Unleashing the power of social media.
Fisher explained she was letting her know 'ahead of time' that she wouldn't be able to make it to work 'due to my child's life on the line.'
But Dawn wasn't having it, replied the manager allegedly, 'I will not get into [this] with you on here but I've been more than accommodating during this allowing schedule changes and such. There is no reason you can't work and I will not tolerate drama. End of conversation. If you aren't there to work your shift tomorrow then I take that as you've quit.'
Fisher then said that she would be contacting corporate. The manager supplied the mother with the corporate office's number, with Fisher having one last question.
'Would you be able to go to work and function if your child was on life support? I don't know if I'm coming or going and you expect me to work?' she asked.
'Yes I would, I still have bills to pay and something to keep me busy and occupied. We don't just get to come and go as we please at Folk Oil. I have tomorrow and Monday covered. Your son is in the best place he can be. I have a store to run and that's my focus,' the manager allegedly replied.
Fisher posted the text exchange on her Facebook page, where it went viral. Do you suppose? And that's when the magic of social media set in.
3.2.1…. Watch what happened next kids….
Fisher said she was contacted by PS Food Mart, Folk Oil Co's corporate office following the viral post. The office told her to take as much time as needed and the manager was terminated following an investigation. Can anyone guess why? 
'We investigated and have found that the situation was handled improperly and without the compassion that we value as a company. For that, we are very sorry,' the company said in a statement.
'As a result of this finding, we took quick action and that manager is no longer employed by PS Food Mart. We have also reaffirmed to our employee that she will be able to take all the time off that she needs during this difficult period,' the statement concluded.
Fisher said doctors told her that her son may have a type of sepsis.
'My concern is when my son does wake up and when he does open his eyes, he sees mommy there,' Fisher said. To date the woman's son remains on life support. 
Welcome to a bold new uncaring America….