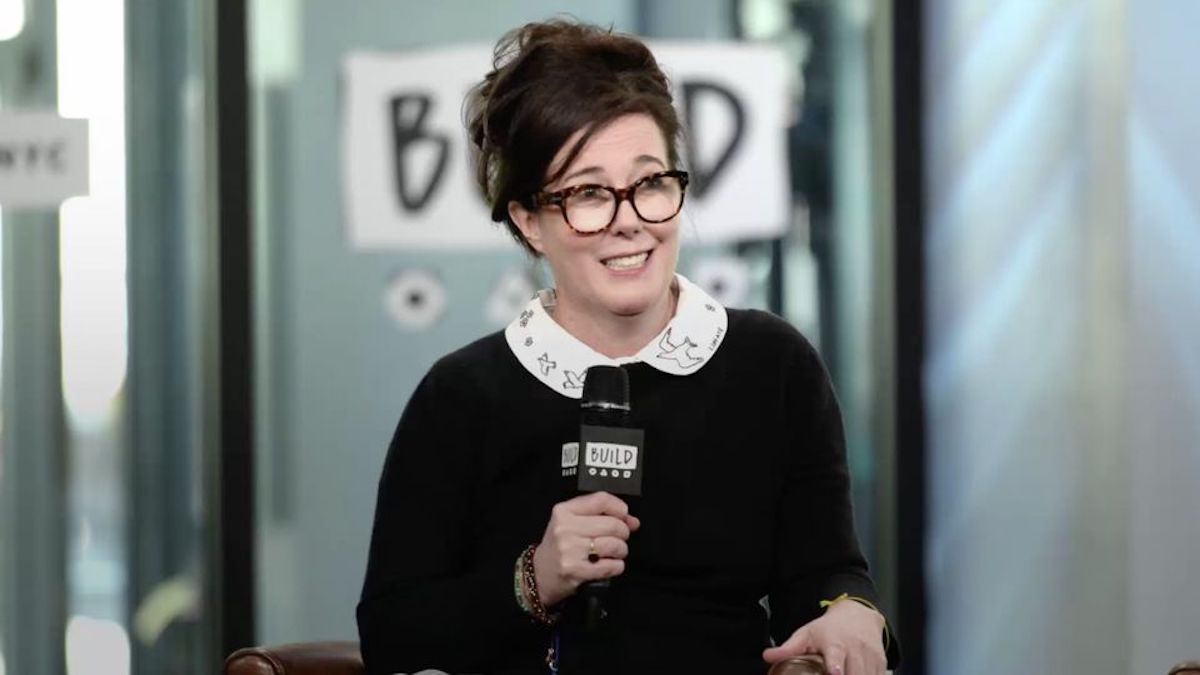 Kate Spade suicide death: What led to the designer who'd recently changed her name to Kate Valentine Spade hanging herself? Leaves suicide note asking her daughter not to blame herself.
NYC fashion designer, Kate Spade, 55, has died in an apparent suicide, with notice of the designer's death after her housekeeper found her deceased at her Park Avenue apartment, Tuesday morning. Also found was a suicide note the designer left.
Come Tuesday afternoon, the NYPD confirmed Spade's suicide death by her birth name, Katherine Noel Brosnahan. It wasn't immediately clear when the designer was last seen alive. 
Spade was a co-founder of the designer label Kate Spade New York, which she sold in 2006. In 2016, she officially launched a new fashion brand called Frances Valentine.
Not immediately clear is how the new brand was performing and whether financial woes may have sent Spade over the edge?
During a Tuesday afternoon press conference, police told of Spade apparently hanging herself with a scarf attached to a door knob. Her husband and business partner Andy Spade was in the apartment at the time reported cbsnews.
The NYPD's chief of detectives, Dermot Shea, said that while investigators were still in the early stages of their inquiry, evidence including the state of the apartment and the presence of a note pointed to 'a tragic suicide.'
It's not clear how long Spade had been dead. The medical examiner will perform an autopsy.
While police declined to release the details of Spade's suicide note, TMZ reported the note reading in part: '"This has nothing to do with you,'
Adding, 'This has nothing to do with you,'
Bea – I have always loved you. This is not your fault.
'Don't feel guilty. Ask Daddy!'.
Spade's 13 year old teen daughter, was known by her full name as Frances Beatrix.
Kate Valentine Spade suicide death: A dizzy rise to fame and re-invention.
Spade's rise to fame came during the early 1990's when the designer created a line of sleek and simple nylon handbags which were well received. The bags were popular with the fashion set, but with more accessible price tags than those of other high-end handbags.
Come 1999,  the success of the handbag line led to the couple purchasing a nine-room apartment on Park Avenue for $2.675 million, while also purchasing a vineyard in Napa Valley.
In 2007, Spade and her husband left the business after selling it to Liz Claiborne, Inc., now called Kate Spade & Company. By then, the handbag line had expanded into an apparel brand that sold clothing and jewelry. At Claiborne, the brand began to make bedding, legwear and fragrance, and eventually shoes, stationery, eyewear, baby items, fragrance, tabletop, bedding and gifts.
By 2006, Spade had taken a backseat to her burgeoning fashion empire, having divested degrees of ownership to larger partners and selling a controlling stake of her business interests.
In a 2016 interview with Wall Street Journal, Kate spoke about how even through she had returned to the world of fashion her daughter was still her priority.
'I kind of thought taking that time off was unbelievably amazing,' she said of her decade-long absence .
'I thought it was, like, a gift. I really did.'
That same year, Spade launched a new fashion line called Frances Valentine, and even changed her last name to Valentine to match the brand. The designer told WWD at the time of the line's name, 'Frances is a longtime family name on my dad's side. My grandfather, father, brother and my daughter's name is Frances. And then Valentine was my mom's dad's middle name because he was born on Valentine's Day.'
Kate Spade New York has over 140 retail shops and outlet stores across the U.S. and more than 175 shops internationally.
In 2017, Coach bought the Kate Spade company in a $2.4 billion deal, CBS New York reported.
Kate Valentine Spade suicide death: Her dizzy rise and possible depression.
Not necessarily clear is what ultimately led to the designer taking her own life, whether she had been dealing with depression and taking any medication- which may or may have not influenced her state of mind.
Spade's rise to journalism was perhaps an unconventional one. Born Kate Brosnahan in Kanasas City, she attended an all-girls school before heading off to college at the Univeristy of Kansas.
Soon after Kate transfered to Arizona State University where she studied journalism, which is where she met her husband.
She graduated in 1985 and spent the next six years working for Mademoiselle in New York City, eventually landing herself the role of senior fashion editor.
In 1991 she left the magazine and decided to go out on her own with a line of purses, believing there was a gap in the market she could fill. A gap that Spade eventually came to own with her eponymous hand bag line before morphing into other related ventures and securing a vast wealth.
Following her suicide death, Kate Spade New York, issued a statement confirming the 'incredibly sad news' of their eponymous founder's death.
'Although Kate has not been affiliated with the brand for more than a decade, she and her husband and creative partner, Andy, were the founders of our beloved brand,' the statement said. 'Kate will be dearly missed. Our thoughts are with Andy and the entire Spade family at this time.'
'We honor all the beauty she brought into this world,'
the company
said in a tweet
.
All three hanged themselves.
Spade is survived by her husband Andre and their 13-year-old daughter Frances.
Kate Spade sister: She was obsessed with Robin Williams suicide
Kate Spade marital problems: Kate Spade husband was looking to move out.
the death of Kate Spade is a very good reminder that just because someone seems to "have it all" does not mean that they do not fight battles behind closed doors. Always be kind, you never know what people are going through.

— Meg (@meganory_) June 5, 2018
I will never forget the first Kate Spade bag I got for Christmas in college. She was a trailblazer. Her life and death are a reminder that pain doesn't discriminate. Sending love to her family.

— Jenna Bush Hager (@JennaBushHager) June 5, 2018
Kate Spade's death is a reminder for us to recognise that nobody can judge the state of another person's mental health. Someone who smiles on the outside could be suffocating mentally. Be kind to everyone. You could be the tiny light that helps to get someone through another day.

— Amena (@amenaofficial) June 5, 2018