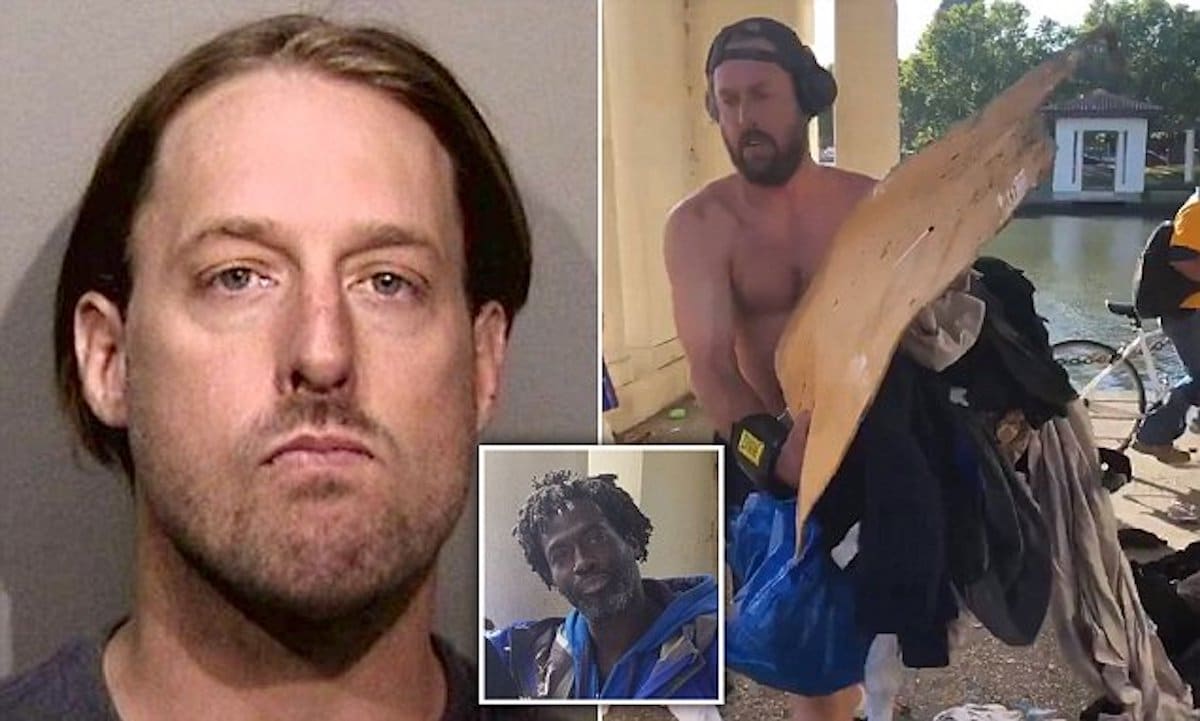 Henry William Sintay aka Jogger Joe is arrested after trashing and throwing the belongings of homeless man, Greg Markson. The tragedy of homelessness in America. 
A jogger observed trashing and tossing a homeless man's belongings has been charged with robbery after snatching an individual's cellphone out of their hands in a later incident.
Booked was Henry William Sintay, 30, who was filmed throwing a vagrant's encampment into Lake Merrit in Oakland, California on Friday while out jogging.
The rummaging of the homeless man's possessions, since identified as Greg Markson, continued despite disbelieving onlookers pleading with Sintay to stop.
The following day, Mercury News reported the jogger returning to the scene and wading in water to pull some of the homeless man's belongings from the lake, for fear of 'polluting the lake' according to video transcript. 
It was while while collecting the items, Matt Nelson approached Sintay, reproaching him on camera for having thrown the homeless man's belongings the day before, according to footage the man posted of the interaction on Facebook.
Henry William Sintay: 'I don't want to pollute the lake'. 
In the Facebook Live video, Sintay can be seen climbing out of shallow water and saying he is 'trying to do the right f—ing thing' by cleaning up the lake. 'I don't want to pollute the lake,' he says. 'Do you?'
At some point Sintay responds it was an 'accident' that some of Markson's belongings ended up in the lake. Or was it?
The two men continue arguing, going back and forth, in a sign of the discontent and ravages of homelessness and modern day travails in America when Sintay, later dubbed #JoggerJoe on social media, steps forward and snatches the cellphone Nelson had been using to film the interaction.
'Are you out of your mind?' Nelson says as the men wrestle and yell at each other.
Come Monday, Sintay was arrested by Oakland Police, and booked on first degree robbery charges and remained in custody at the Santa Rita Jail, pending $100,000 bail.
Prior to Sintay's arrest on Monday, police said they couldn't do much because the homeless man's possessions were 'considered debris'. Which in some way says a lot of authorities' attitude towards homelessness and general unwillingness to reckon with the underbelly of American dialectics.
Authorities had indicated that the only consequences Sintay might face before Saturday's incident would be a potential fine for littering.
Since the video of the Friday incident being posted online, an outpouring of sympathy for the vilified homeless man, also known as Drew led to over $11,641 being raised through GoFundMe of an initial target of $3K.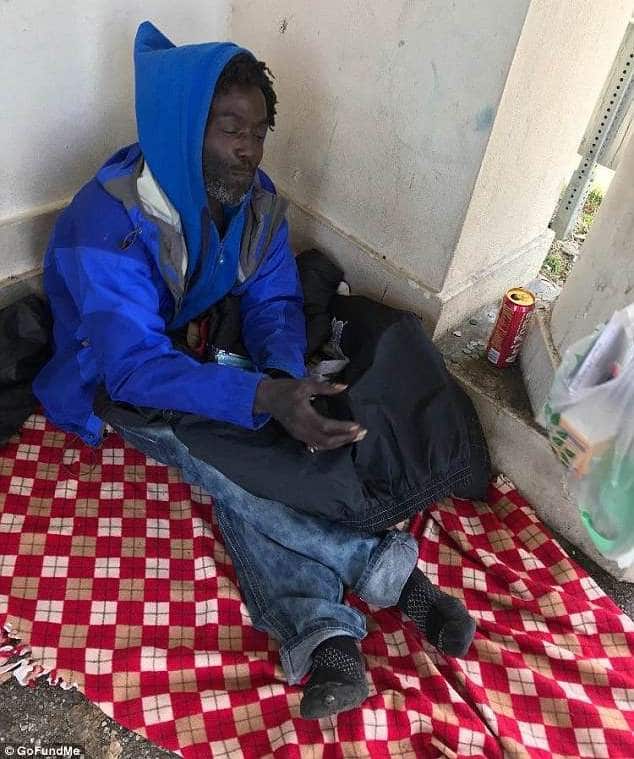 Henry William Sintay most hated man on social media: 
And then there were these comments on social media that caught this author's attention, see what you think?
'What a fuxking disgusting, entitled human. With white savior complex thinking he's doing the community a favor.'
'Go back to where you came from, you racist gentrifier!'
'It angers me because what else are older disabled Oakland NATIVES ppl that lived here all their lives and can no longer afford this high ass rent are supposed to do???'
'Stop enabling people to be bums. Karma is a wake up call to get up and get your shit together. Folks would rather squat in public places get drunk and high and go to charities and other places for free food and resources just to keep their money to themselves to keep living fucked up… I've seen it all… everybody wanna pity party grown bum ass people nobody wanna walk by that shit everyday….'
'A mutual acquaintance tells me that unless Henry's life has dramatically changed, he himself has no job and a history of couch-surfing to avoid sleeping outside. So literally the only thing keeping him from being in Jru's position is that he knows more people who are willing to let him sleep in *their* houses. Isn't that rich?'