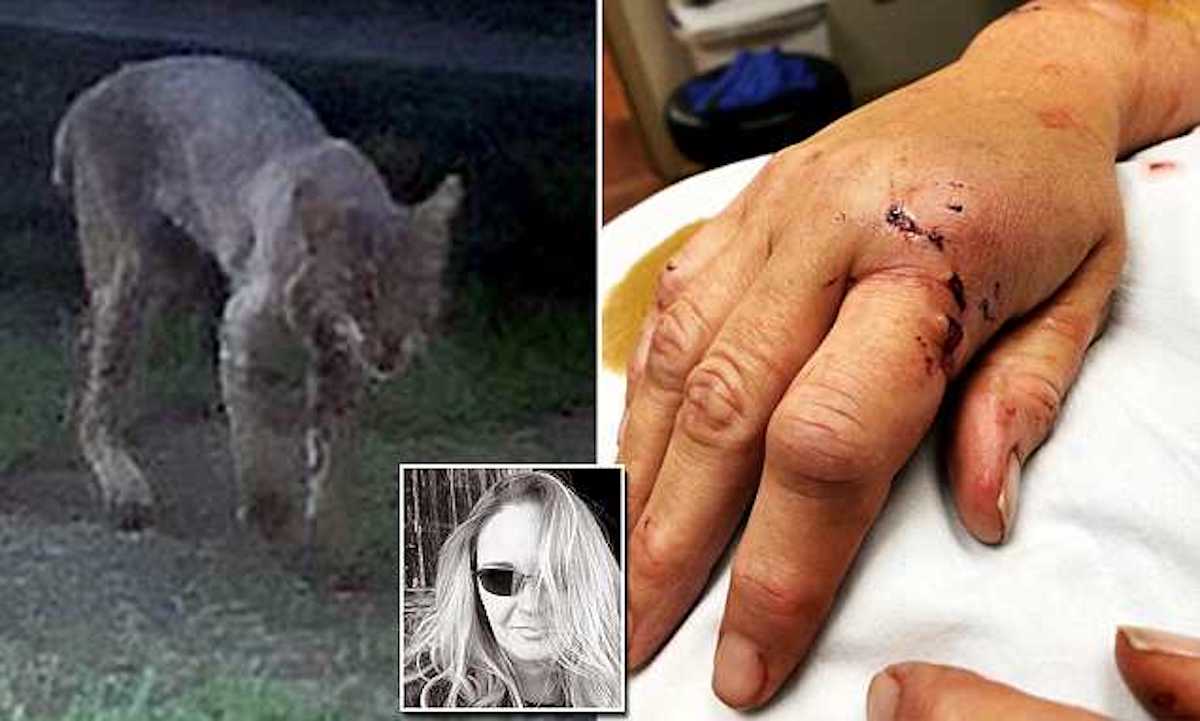 DeDe Phillips a Hart County, Georgia grandmother describes how she survived an unprovoked attack on her front lawn from a rabid bobcat- with the woman strangling the diseased animal. 
A Georgia grandmother has told of surviving a 'surprise' bobcat attack while working in the front yard of her home in rural Hart County, an hour north of Athens. An attack which ultimately saw DeDe Mealor Phillips strangle the wanton animal with her bare hands.
Told the 46 year old woman via the Athens Banner-Herald of the June 7 attack, 'I thought, 'Not today.' There was no way I was going to die," 
'I took it straight to the ground and started inching my hands up to its throat'. 
Then she squeezed.
'Once I got him where he wasn't moving I started screaming for my daughter-in-law to call 911,' she said.
The attack led to Phillips suffering a broken finger and numerous bite and claw wounds to her hands, arms, chest and legs. She also started a round of rabies shots after learning the cat was rabid. 
The daughter-in-law of a bobcat trapper, Phillips knew she was dealing with a lethal animal — and needed to act fast.
'They go for your jugular . . . when they can get the vein you're dead in a couple of minutes,' she said, noting she was careful not to yell until the cat was subdued, because she didn't want her 5-year-old granddaughter to come outside.
Phillips refused to release the beast until her son showed up and stabbed the animal 'four or five times.'
'It never budged, so I knew it was completely dead,' she said.
Adding, 'I'm very lucky'.
BOBCAT VS. GRANDMA: Dede Mealor Phillips told me her first thought when a wildcat attacked "Not today. I wasn't dying today." Her 5-year-old granddaughter was sleeping inside her home during the life-or-death struggle in her front yard. Her interview tonight at 11pm on @cbs46 pic.twitter.com/ARH2EC9FpZ

— Kim Passoth (@passothCBS46) June 16, 2018
DeDe Phillips Georgia grandmother forced to undergo series of rabies shots:
Ironically, the attack followed Phillips applying a 'Women who behave rarely make history' bumper sticker to her truck, and had been preparing to snap a photo for her husband when the bobcat wandered into her yard.
Explained the woman upon first getting wind that she was in imminent danger, 'My neighbor's dog was barking and it drew my attention'
She snapped a photo of the cat and it 'took two steps and was on top of me . . . it came for my face.'
Phillips' cousin set up a Fundly.com account to raise money for her medical expenses, including shots which are expected to cost around $10K. As of Sunday morning, EST, the Hart County grandmother had collected $25K.
Of note the unprovoked attack follows a rabid skunk and rabid fox being found in the same area.
How the bobcat came to venture in Phillips front yard and whether there had been similar attacks or confrontations in the vicinity wasn't immediately clear. Also not clear is what would have led to the animal coming onto Phillips home and whether it may have been drawn there from the evisceration of its natural habitat at the hands of humans…..
Imagine having this 35 lbs bobcat attack you! Well it attacked DeDe Phillips in Hart County. You'll hear from her on @foxcarolinanews at 4! pic.twitter.com/nh7c43VNFD

— Brandon LaVorgna (@BrandonWHNS) June 15, 2018