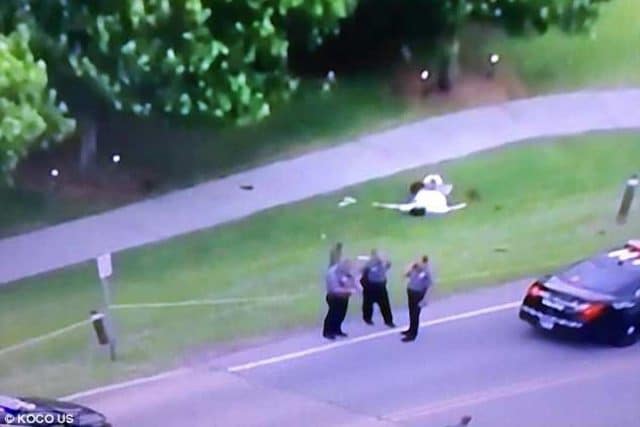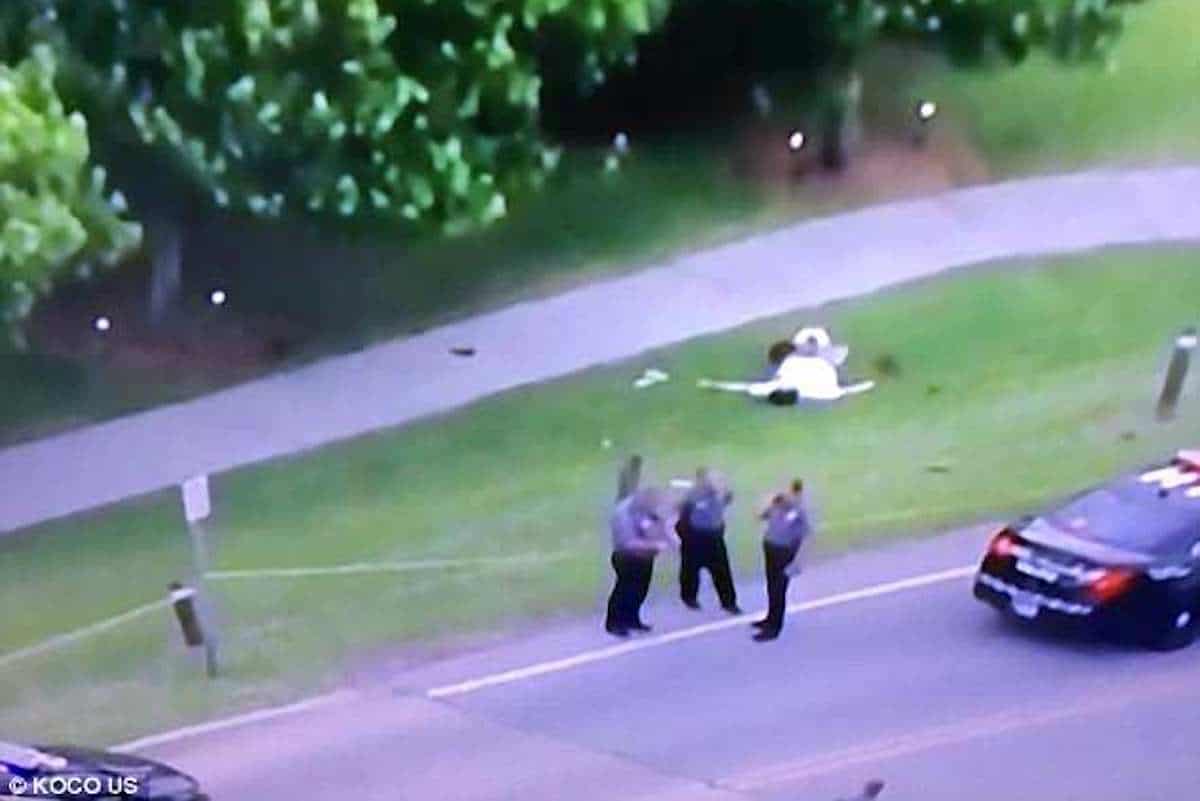 Lake Hefner shooting: A good Samaritan is hailed a hero during Oklahoma City restaurant shooting which saw a suspect shoot and strike customers before being shot dead by an armed civilian.
An armed citizen has been hailed a Good Samaritan hero after shooting dead a suspected mass shooter at an Oklahoma City restaurant as the man sought to flee after shooting at a woman and her 12 year old daughter.
The suspect who has yet to publicly identified began shooting at random inside Louie's Bar and Grill just off Lake Hefner about 6.30pm. Local media reported the assailant striking the mother and child as they were walking inside for the woman's eldest daughter's 14th birthday celebrations.
The mother was shot in the arm, and the girl was shot in her tailbone, but the bullet traveled to her stomach, KOCO reported.   
Captain Bo Matthews told reporters the shooter, a white male who walked in and began randomly shooting, was the only person killed. He described the man's death as 'a blessing'.  
Told Matthews, 'It's a blessing this was stopped [when it was]. Who knew when this guy was going to stop shooting people'. 
The shooter had shot at least two people before he was taken down with a handgun – both who are in surgery for their injuries but are expected to survive.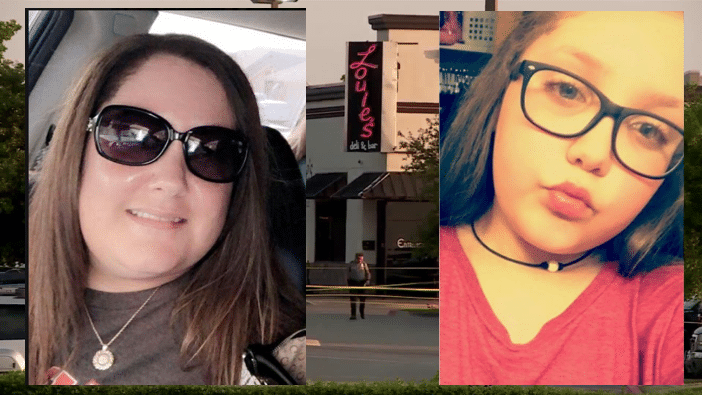 Lake Hefner shooting victims expected to survive.
Told the grandmother of the daughter, 'They were going to Louie's for a birthday dinner. They were walking into the restaurant and the guy just started shooting and they were the ones who got shot.' 
A report via kfor cited the father/grandfather of the victims, Dennis Will, saying his daughter, Natalie Will, was grazed on the arm. The relative also told of his 12-year-old granddaughter, Niah Giles, being shot near the tailbone and undergoing surgery. Both mother and daughter were expected to survive.
Also injured was an adult male escaping the scene after falling and breaking his arm. 
A fourth victim was identified about two hours after the shooting. That individual suffered a minor injury. It is not known if he was shot.  
Father whose daughter was wounded in Oklahoma City shooting says armed civilian who fatally shot suspect 'saved some lives tonight.' "I think it could have been a lot worse."

The girl's father told reporters his daughter is going to be OK. https://t.co/K0w5yc1PsS pic.twitter.com/UKt3aItbl3

— ABC News (@ABC) May 25, 2018
Lake Hefner shooting inspires debate over conceal to carry gun rights: 
The un-named civilian who killed the suspected mass shooter was widely praised on social media as being a hero, particularly those who oppose limits on second amendment rights, pointing to the civilian's actions as proof gun control doesn't work.
'A "good guy with a gun" prevented a potential mass shooting near Lake Hefner,' one man wrote. 
'If Gun Control activists had their way, the good guy wouldn't have a gun and there would be mass casualties.'
Then again, perhaps one could also argue limiting gun ownership in the first place would be a step in the right direction limiting much gun violence which remains a pervasive and ongoing daily routine in America.
Video from the scene of the #shooting at Louie's restaurant in #OKC at Lake Hefner. One confirmed dead, which is the suspect, who was killed by a civilian who was there when the suspect exited the restaurant. The suspect shot 2 people who are expected to survive. pic.twitter.com/n74XVktAZt

— Michael Armstrong (@KOCOMichael) May 25, 2018
Police gather at the scene of a shooting on the east side of Lake Hefner. pic.twitter.com/msaUUYBumf

— Bryan Terry (@bterryphoto) May 25, 2018
Lake Hefner shooting suspect identity and motive remains mystery:
Following the shooting, Matthews told of police having '100 witnesses' and would be looking through CCTV footage in trying to work out what has happened.
Images taken from a KOCO helicopter showed police and dogs closely inspecting one particular car.  
The shooter, who was reportedly wearing ear protection and eye glasses, has not been identified. 
At this stage, police believe the shooting was random, and he had no link to the restaurant or anyone inside. 
Why? Security guard opens gunfire at Oklahoma City restaurant before Good Samaritans shoots him dead
Won't hear about Lake Hefner Oklahoma restaurant shooting anywhere on the news since the shooter was taken out by a good samaritan with a gun. Prepare for the silence

— Nate Woodard (@storm_chaser82) May 25, 2018
If you didn't hear, a shooting in an Oklahoma restaurant was just stopped by an armed citizen. Three were injured, but the only one that died was the suspect. You probably won't hear @davidhogg111 and the gun control lobby tell you about this since it doesn't fit their narrative.

— Kaitlin Bennett (@KaitMarieox) May 25, 2018
it's important to realize after the lake hefner shooting tonight that #gunreform DOES NOT mean keeping the person that stopped the shooter (through concealed carry) from having a gun, it means making it a lot harder for THE SHOOTER to get a gun in the first place!

— tori willis (@tmntori) May 25, 2018