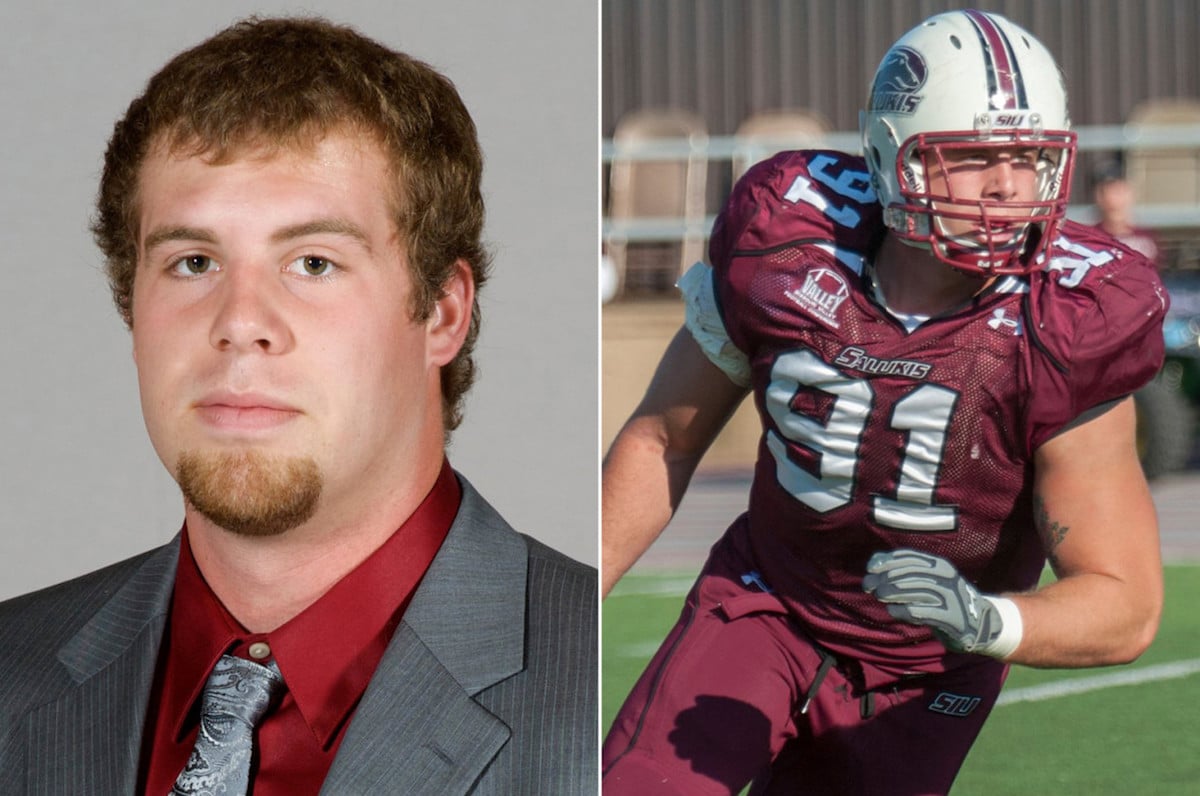 Jason Seaman an Indiana Noblesville science teacher and school football coach is hailed a hero after tackling a would be seventh grader student gunman who managed to fire off some rounds, critically injuring a female pupil along with the hero teacher. 
A Noblesville, Indiana school teacher has been hailed a hero after his 'quick thinking' likely saved the lives of countless individuals after a student who had momentarily excused himself from a science class Friday morning only to return with two drawn handguns.
It was upon the seventh grade student returning to the classroom bearing arms that Noblesville West Middle School, science teacher and football coach, Jason Seaman 'immediately ran up to the un-named student, swatted the boy's cocked gun out of his hand before tacking the pupil to the ground.
The incident which happened just on 9am Friday morning led to the un-named student being immediately arrested told police chief Chief Kevin Jowitt.
While Seaman, 30, was able to avert what likely could have been a catastrophe, local media reports told of a 13 year old female student sustaining a gunshot wound along with Seaman himself. Both underwent surgery, with the un-named girl remaining in critical condition.
'Our science teacher immediately ran at him, swatted a gun out of his hand and tackled him to the ground,' told seventh grader Ethan Stonebraker via ABC News. 'If it weren't for him, more of us would have been injured for sure.'
Stonebraker described the teacher throwing a basketball at the shooter and running toward bullets as screaming students sought cover behind a table.
While authorities were reluctant to give few details about the student shooter, whether he had been in trouble before and what may have motivated him, Stonebraker described the student gunman as 'a nice kid most of the times' who often 'joked' with classmates.
Added the youth, 'It's just a shock he would do something like that'. 
Of note, the student gunman sustained no injuries told police spokesman Lt. Bruce Barnes in a press release. 
It remained unclear who the weapons belonged to and how the student got his hands on them.
No charges have yet been filed and police say it could be as late as Tuesday that he may appear in a juvenile court because of the Memorial Day holiday on Monday.
This is a photo @WISH_TV has obtained of Jason Seaman. He's the teacher who was shot this morning inside #Nobelsville MS. He was protecting students inside the classroom #Hero pic.twitter.com/07DwqWvbtv

— David Williams (@DWilliamsTV) May 25, 2018
An Indiana man is allowing me to share this message. It's from a student who was inside Jason Seaman's classroom during the shooting in Noblesville. pic.twitter.com/jL3i0tDHWl

— Kaitlyn Connolly (@WCIA3Kaitlyn) May 25, 2018
Noblesville school shooting follows off the back of other recent high profile school shootings which continue unabated in the U.S.
The attack comes a week after an attack at a high school in Santa Fe, Texas, that killed eight students and two teachers, and months after the school attack that killed 17 people in Parkland, Florida. The Florida attack inspired students from that school and others throughout the country to call for more restrictions on access to guns.
Following Friday's shooting, Seaman's brother, Jeremy Seaman, told The Indianapolis Star that his brother was shot three times and was undergoing surgery. He said he was conscious after the shooting and talked with his wife, telling her he was OK.
Jeremy Seaman, who now lives in Arizona, said his brother was a defensive end for Southern Illinois University's football team and has never been a person to run away.
The brother noted Seaman being a three-sport high school athlete in Mahomet, Illinois. He tore his ACL playing basketball in his junior year, but after several surgeries he was back on the football field in August, his brother said. He went on to play at Southern Illinois University.
Reiterated the relative, 'He's familiar with struggle and adversity'. 
Seaman's mother, Kristi J Hubly Seaman said in a public Facebook post that Seaman was shot in his abdomen, hip and forearm.
A statement from Jason Seaman the Noblesville West Middle school teacher who stopped the shooter. pic.twitter.com/qJgfDYGiKh

— Jim Johnston (@JJohnstonWTHR) May 25, 2018
Jason Seaman Noblesville science teacher widely lauded but will legislators take a stand towards gun control? 
Family, friends and former teammates described Seaman as a hero who could always be counted on in times of need.
Nick Hill, current head football coach at SIU and a former teammate of Seaman's, tweeted Friday that Seaman is a hero.
'He was a great teammate, one of the team's hardest workers,' Hill said in another tweet from the team's Twitter account. 'You could always trust him to do the right thing.'
Lindsey Hall, who was Seaman's middle-school principal before becoming superintendent of the Mahomet-Seymour school district, said it was unsurprising that Seaman 'rose to the occasion' Friday morning.
'It's no surprise that Jason would put forth heroic efforts,' she said. 'He's been a person of character and integrity his whole life.'
Hours after the shooting, law enforcement agents sealed off part of an upscale neighborhood in Noblesville where it was believed the suspect lived. 
Students were bused to the Noblesville High School gym, where hundreds of parents and other family members arrived to retrieve them.
Authorities referred to a prompt and heroic response at the school but didn't confirm accounts of the teacher tackling the student or describe the role of the resource officer who was stationed at the school.
Noblesville, which is about 20 miles northeast of Indianapolis, is home to about 50,000 people. The middle school has about 1,300 students from grades 6-8 and circa 70 teachers. The school's academic year was scheduled to end next Friday.
At the time of the school shooting, a school resource officer had been at the school but it remained clear where he or she was stationed.
Indiana's Senate Democrats issued a statement in response to Friday's school shooting expressing their condolences to the victims and calling for steps to prevent such shootings, including restrictions on guns. Whether any action amongst the 'prayers, and good will,' remains yet to be seen….
Up at Noblesville West Middle School. Very quiet following yesterday's #SchoolShooting . Some police tape, and one NPD car sitting on property. No other media. pic.twitter.com/jhkB3wvnv2

— Robert Scheer (@bobscheer) May 26, 2018
#Salukis head coach @17NickHill played one season with Jason Seaman, the hero of school shooting in Indiana. "He was a great teammate, one of the team's hardest workers. You could always trust him to do the right thing." pic.twitter.com/ge1sTSOGTJ

— Saluki Football (@SIU_Football) May 25, 2018
Less than 24 hours after the shooting at the middle school, our local gun shop is having an NRA membership drive. #NoblesvilleWest #noblesville pic.twitter.com/72xORTh8e9

— Casey Kenley (@KCKenley) May 26, 2018