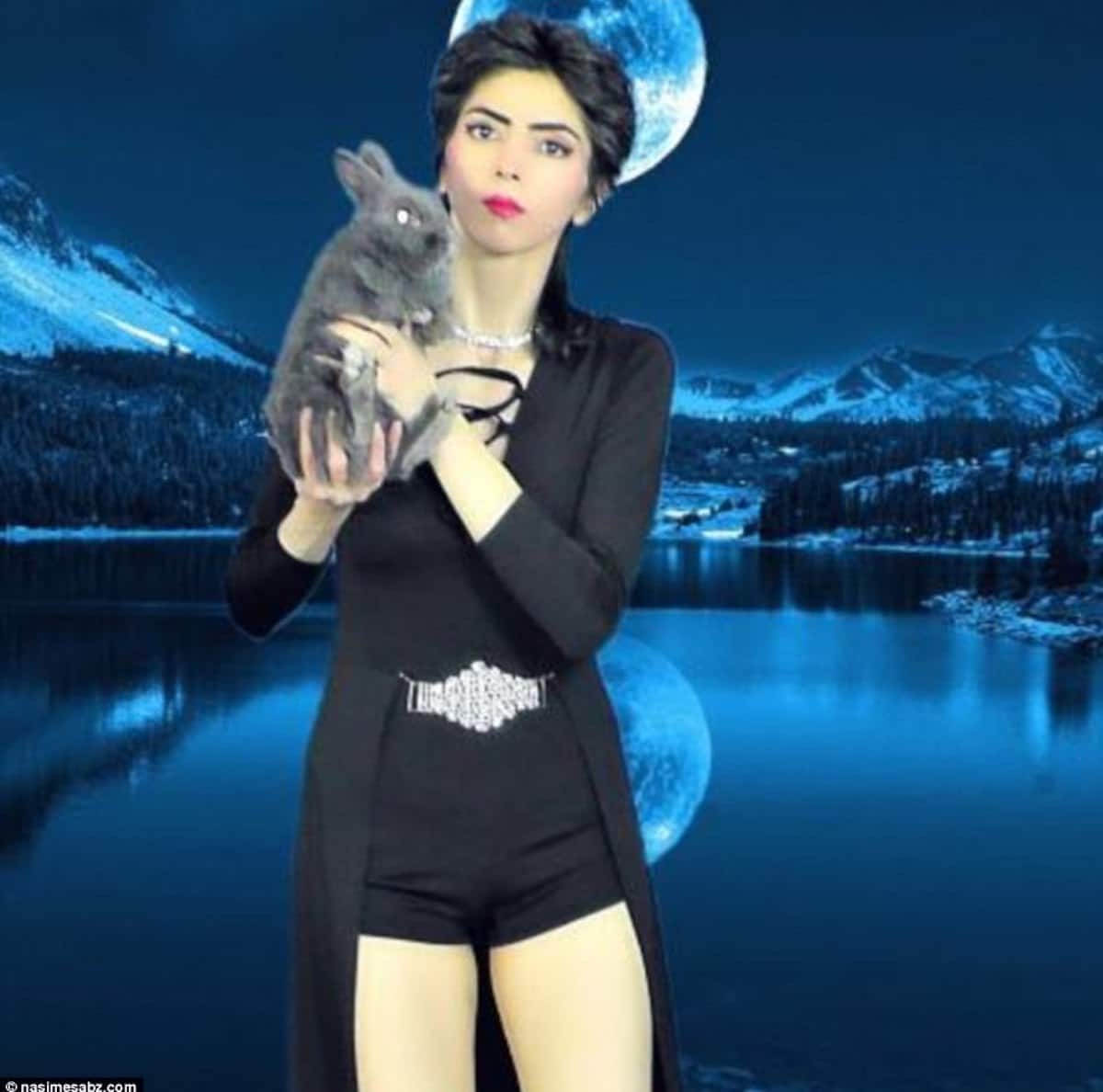 Nasim Aghdam revealed to have visited gun shooting range where she practiced before arriving at YouTube headquarters where she carried out Tuesday's mass shooting. 
New information has revealed that Persian YouTube HQ shooter, Nasim Aghdam had gone to a gun range hours with a legally acquired 9mm handgun before Tuesday's lunchtime mass shooting which led to three persons being injured and the 'irate' vlogger taking her own life.
During a Wednesday morning press conference, police confirmed that Aghdam did not know any of the three people she wounded while angry over a change in YouTube policies which meant she no longer earned money from her content that she had been living off.
Cops also revealed Aghdam sneaking onto YouTube's 200,000 sq ft 'campus' through a parking garage after having parked her own vehicle behind another business nearby.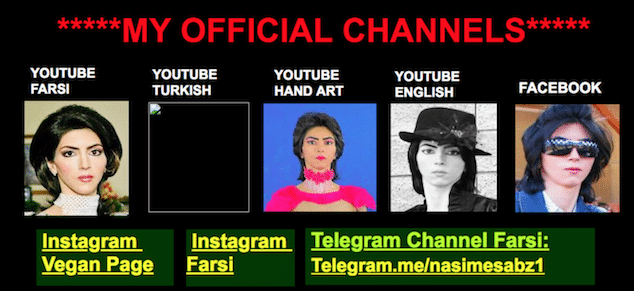 Nasim Aghdam legally acquires 9mm handgun:
The shooting follows the self-described animal rights activist and 'vegan bodybuilder',  arriving at the belief that she had been discriminated against after having been reported missing over the weekend by family members after last seen by them on March 31. 
Early on Tuesday, police in Mountain View, a Silicon Valley hub around 30 miles from YouTube's HQ, found her sleeping in her car. Upon being found, Aghdam who was clandestinely carrying a licensed 9mm handgun was allowed to make her own way, this despite the vlogger's father's telling police he believed his daughter to be a risk after expressing she was angry at YouTube when she left her home 500 miles away days earlier. 
Police said that over the 'roughly 20 minute interaction,' Aghdam was 'calm and cooperative.'
Aghdam was asked questions including 'if she was a danger to herself or others. At no point… did she mention anything about YouTube, if she was upset with them, or that she had planned to harm herself or others,' police said. 'She in no way met any reason for us to speak with her further or possibly detain her.'
Removed from the missing person's database, Aghdam made her way to a gun range before making her way to the YouTube campus where she opened fire at 12.46pm. 
The shooting follows Aghdam's family in Manifee, California, revealing that they came to the US from Iran in 1996, while saying their daughter believed there was less free speech in America than in the Middle East.   
'Youtube (sic) filtered my channels to keep them from getting views!' Aghdam at one point wrote on her personal website.
'There is no free speech in real world & you will be suppressed for telling the truth that is not supported by the system. Videos of targeted users are filtered & merely relegated, so that people can hardly see their videos!'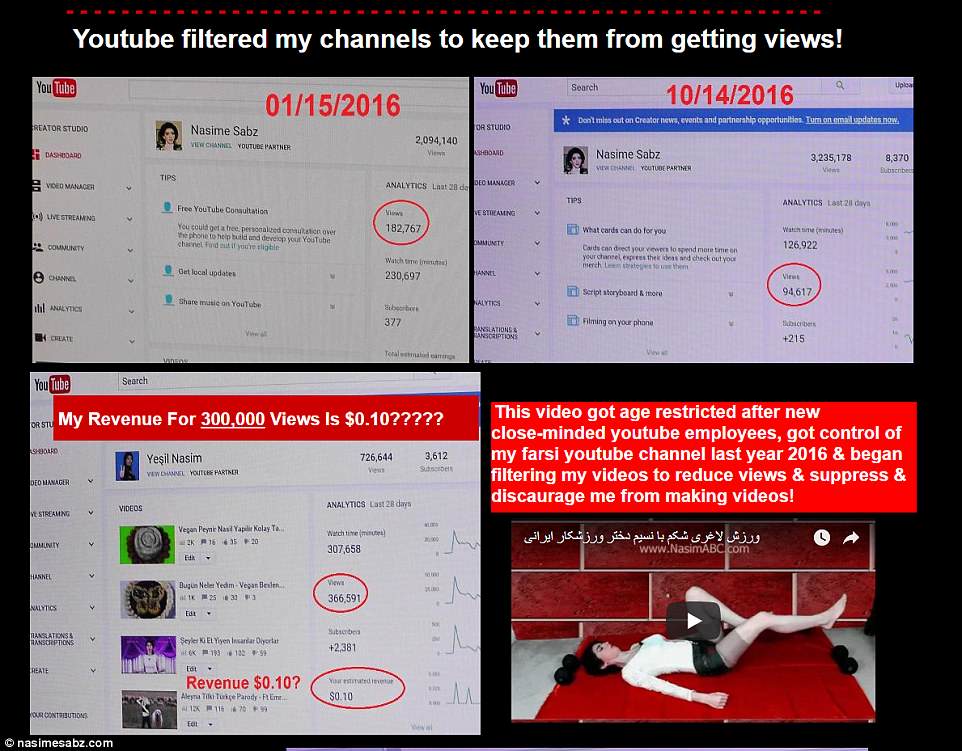 Nasim Aghdam personalizing shifting algorithm changes all content creators are subjected to:
Until recently, Aghdam had been making a living through monetized commercials and posts on YouTube where she had gathered thousands of followers through multiple English and Farsi channels.
But for reasons not necessarily clear, Aghdam at some point in the recent past found her content demonetized (presumably over alleged 'unsuitable content') and no longer earning lucrative ad revenue which had allowed her to continue her ventures while also staying afloat.
At the very least it appeared the vlogger had run afoul of Google's shifting algorithm policies, a reality that many media publishers and content creators are forced to reckon with ongoing.
On Jan. 28, Aghdam recorded a video of herself describing her perceived 'discrimination' by YouTube (a course of action that all vendors, not just Aghdam herself are uniformly subjected to) after YouTube determined her ab workout video was too racy and, therefore having filtered it.
'I'm being discriminated and filtered on YouTube and I'm not the only one,' Aghdam said in her video. 'They age restricted my ab workout video. A video that has nothing bad in it. Nothing sexual.'
Told her brother, Shahran Aghdam via The Press Enterprise 'She was always complaining that YouTube ruined her life'.
The woman's family also said they had no knowledge about Nasim owning a gun. 'Maybe she bought one' recently, the vlogger's father said.
Despite reports and public records saying Aghdam was 39, her brother said Wednesday would have been his sister's 38th birthday.
'She chose the day to die the day she came,' the brother said, while noting Nasim left no suicide note as her family struggles to understand how she obtained the handgun used in the shooting and why she chose to target individuals that ultimately had no involvement in the way the social media vendor and search browser elects to place which vendor up or down in their platforms. A paradigm that can make or break so many content creators, never mind an obscure one personalizing the dialectics of a shifting information world….
YouTube HQ shooter blowback: 'robbed of my voice and income.'