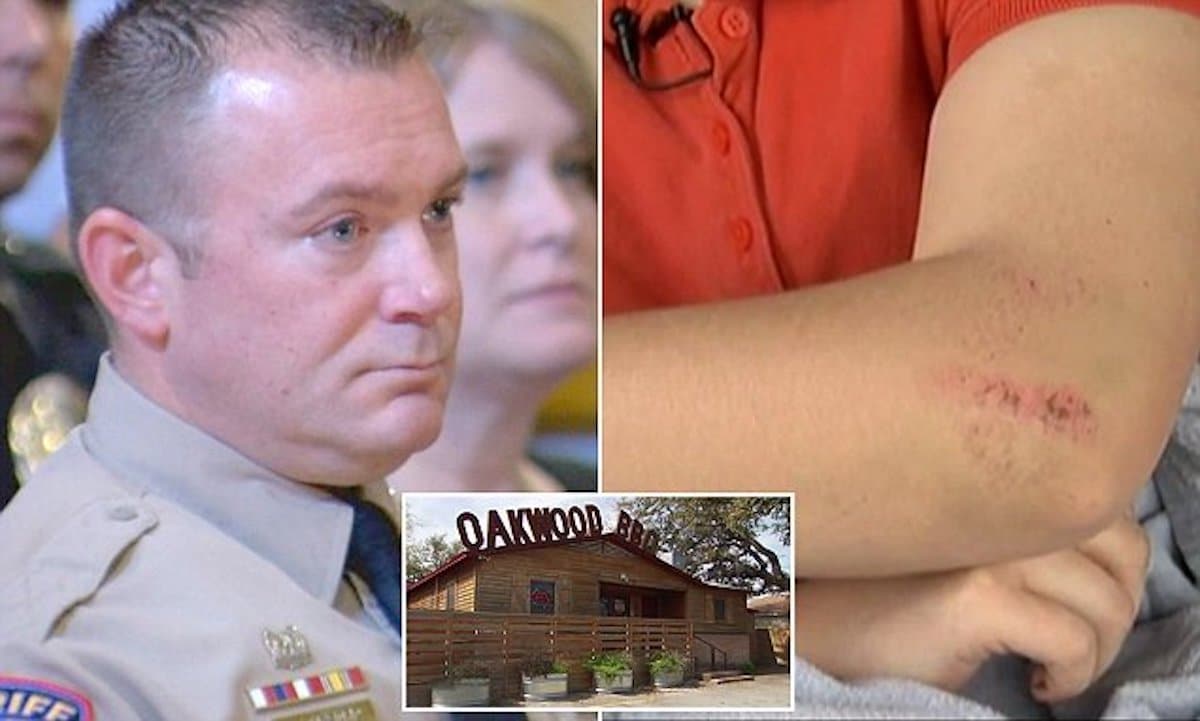 Jack Danford Jr. a 42 year old Wilco, Texas police deputy fired after attacking 12 year old girl at outdoor BBQ joint after drinking all day. 
Jack Danford Jr. a 42 year old Wilco, Texas police deputy has been fired after allegedly assaulting a 12-year-old girl outside a barbecue joint.
The Williamson County police deputy's termination follows a March 3 incident when Danford, who was off duty and observed drunk, 'tackled and brutally beated up' the child reported Fox26.
Witnesses at Oakwood BBQ in Austin say Danford attacked the girl outside the restaurant in a drunken, unprovoked attack. 
Danford, a regular at the restaurant, had attempted to enter the eatery when employees informed him they were closed and asked him to leave. Danford refused.
In turn the off duty cop waited in the outdoor seating area for his daughter, Megan, and her boyfriend, Dahvi Winstead, who where meeting up with him. According to an arrest affidavit, the cop began drinking two to three beers while he sat outside.
When they arrived, the deputy told his daughter he had 'been drinking all day'.
At some point, Danford began petting a dog that was roaming around in the back of the restaurant. 
The dog reportedly belonged to the assaulted girl's stepfather, Russell Cope, who the child was waiting for outside at the time. At the time the girl had been playing with the pup. 
It was soon after that matters devolved.
Jack Danford Jr. drunken beating and resisting arrest: Police deputy held to a higher standard.
Explained the 12 year old girl via Fox26, 'I was waiting for my mom's boyfriend to unload wood, so after that, we could go eat'. 
From there the girl walked over to play with the dog – when Danford 'tackled and punched her in the face'. 
The girl's stepdad and owner of the pup, said he witnessed the event and had tried to stop it.
Told Cope,  'I seen him on top of her and he was hammer fisting it looked like to me… like UFC-style,'
'I got mad and started beating on the man and it seemed like he was on some kinda drug or something… because he wasn't stopping.'
The stepdad said he proceeded to kick Danford, who then fell to the ground.
Employees heard the girl screaming and saying, 'help!' when several people rushed outside to see what was wrong.
Manager of Oakwood BBQ, Will Atkins, said he had already threatened to call police on the deputy earlier when Danford refused to leave when asked.
Told Atkins, 'He came in, I guess he was a little drunk or on something. We asked him to leave… he refused to leave. We told him we were going to have to call the police if he didn't leave'. 
'Nobody has any idea, there was no reasoning, no logical explanation'.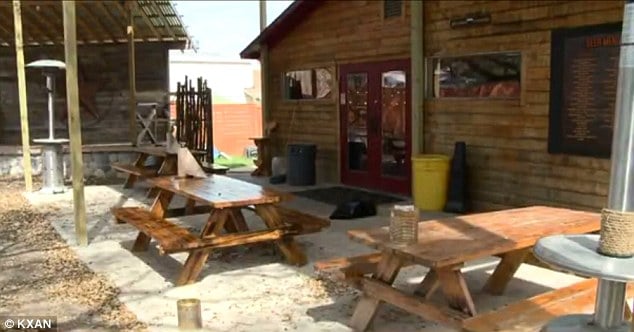 Wilco County Deputy Jack Danford Jr: Higher standards?
Of note, KVUE cited arresting officers saying they smelled a strong odor of alcohol emanating from Danford. The man's speech was described as slurred, difficult to comprehend and mumbled. The officer was also observed wobbling on his feet and requiring assistance to stand.
According to court documents, the victim suffered bruising, redness and swelling to her face, abrasions on her shoulder and elbow, scratches to her abdomen and a strained muscle in her neck.
After the disturbance, Danford told officers he was drugged. When officers tried to search him, he grabbed an officer's wrist and refused to let go, according to court documents. Officers were forced to use a baton before Danford let go.
Cope now hopes the deputy 'won't get off' on the charges for the disturbing incident.
Atkins also expressed his shock over Danford's behavior, saying he thought officers were supposed to be 'held to a higher standard,' according to News 4 San Antonio. 
Offered Sheriff Robert Chody, 'If you have issues or concerns, we can talk these out with these resources that you have. When you have someone go in one day do criminal activity, per say, that's disappointing'. 
Danford, who was arrested at the scene, has been charged with public intoxication, injury to a child and resisting search. 
The Texas Commission on Law Enforcement said a felony conviction means a revocation of an officer's license. That means if convicted, Danford may never be an officer again.