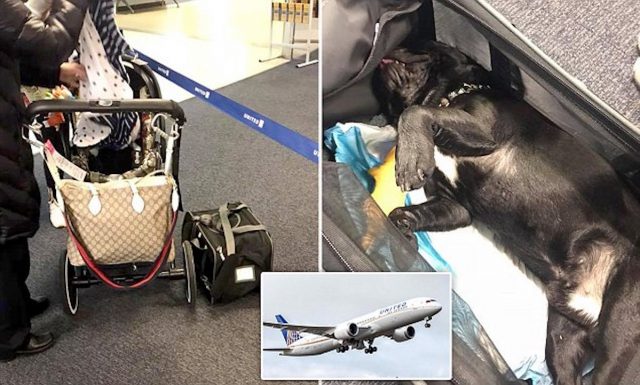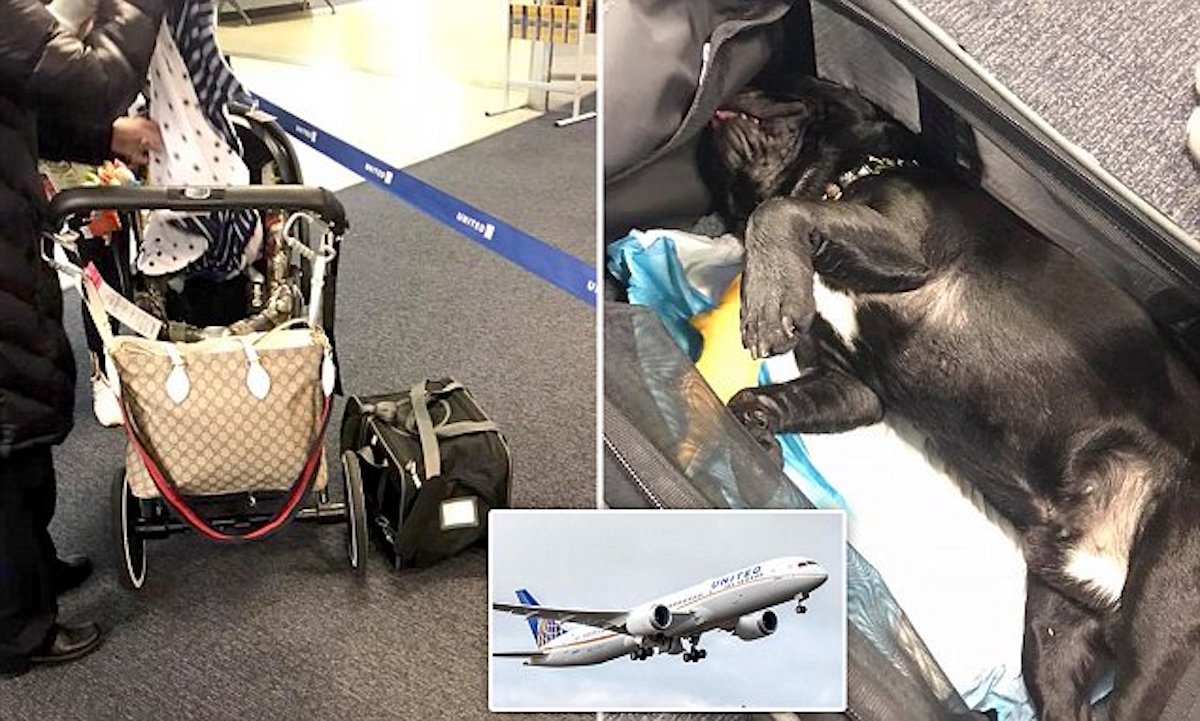 Dog dies after United Airlines flight attendant forces owner to store it overhead bin. Airliner promises investigation following pet dog's death.
Disconcert has come to the fore after a ten month old French Bulldog puppy dying after a United Airlines flight attendant demanded that the dog's owner place the animal in an overhead compartment. At the time the attendant said the dog needed to be moved on account of it blocking part of the aisle. 
The 'incident' follows the pet owner boarding United Flight 1284, from Houston's George Bush Intercontinental Airport to New York's LaGuardia, on Monday, with her puppy in its carrier.
But fellow passenger, June Lara, who sat behind the owner on the flight, told Chron.com that a member of the flight crew said the animal should go in the overhead bins.
'The flight attendants of flight UA1284 felt that the innocent animal was better off crammed inside the overhead container without air and water,' he wrote on Facebook.
'They INSISTED that the puppy be locked up for three hours without any kind of airflow. They assured the safety of the family's pet so wearily, the mother agreed.'
Lara said that when the plane eventually landed three hours later and the owner, who was with her two young children, opened the overheard luggage, the dog was dead.
'There was no sound as we landed and opened his kennel,' he wrote. 'I held her baby as the mother attempted to resuscitate their 10 month old puppy. 
'I cried with them three minutes later as she sobbed over his lifeless body. My heart broke with theirs as I realized he was gone.'
'This poor family paid $125 for their pet to be murdered in front of them. There is no excuse for the pain this family is suffering.'
This should never have happened. How did this happen? I am not sleeping tonight. @nytimes @washingtonpost @WNYC pic.twitter.com/5x5bckI7EU

— MaggieGremminger (@MaggieGrem) March 13, 2018
Dog dies after United Airlines flight attendant forces owner to store it overhead bin: How could a trained flight attendant instructed such a thing?
Fellow passenger, Maggie Gremminger, who also witnessed the incident, said she was 'disgusted and traumatized' by the incident.
Tweeted Gremminger, 'How could a trained flight attendant instruct a passenger to place her dog in that bin. It was her job to understand the plane and it's rules/limitations.'
According to an interview with people, Gremminger said she and other passengers were able to hear the canine call out from the overhead bin. Once while the plane was taking off and again during several moments of turbulence about thirty minutes into the flight. After this the dog was silent.
United Airlines say they are now investigating the animal's death and have apologized for the 'accident.'
They confirmed the puppy, which can cost upwards of $1,000, should never have been placed in the overhead bins.
Told United in a released statement, 'This was a tragic accident that should never have occurred, as pets should never be placed in the overhead bin,'
'We assume full responsibility for this tragedy and express our deepest condolences to the family and are committed to supporting them. We are thoroughly investigating what occurred to prevent this from ever happening again.'
The airline's policy states that all animals traveling inside the cabin should be in a carrier and 'fit completely under the seat in front of the customer and remain there at all times.' 
In April last year, Simon, an oversized rabbit, died while traveling on a United flight between London and Chicago.