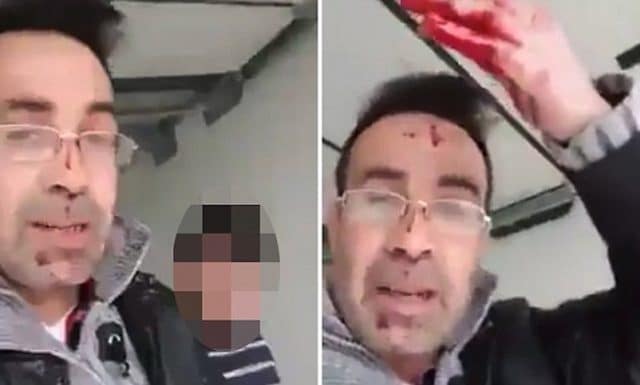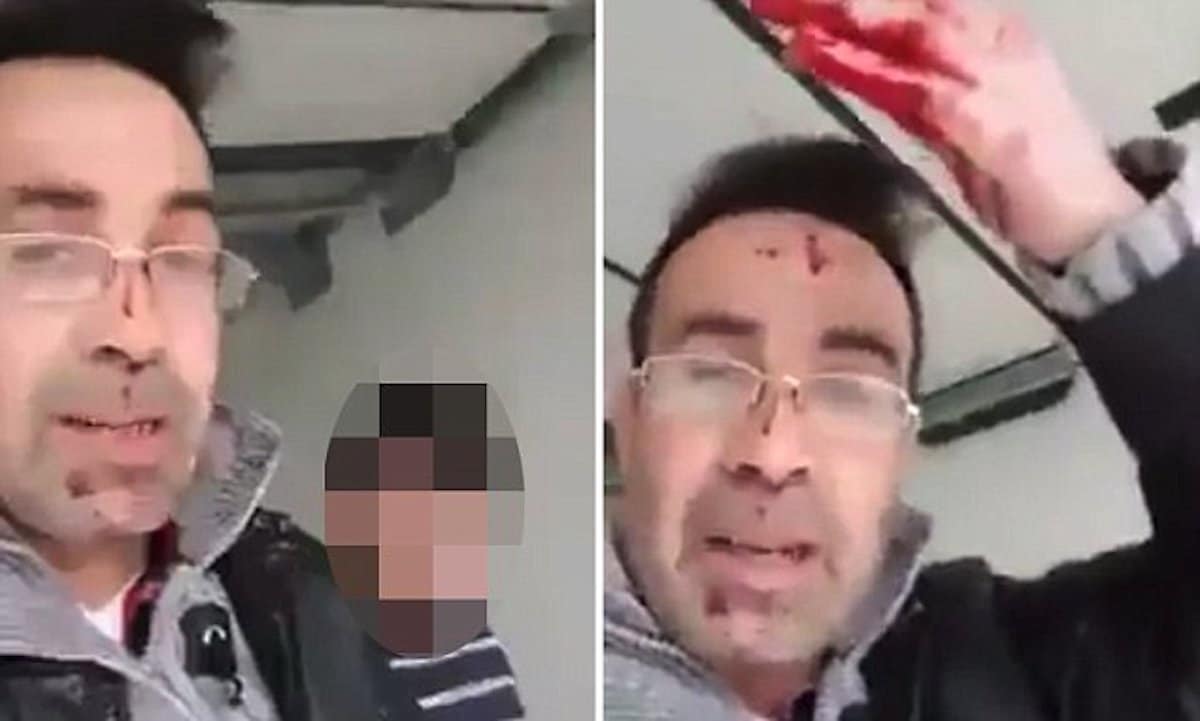 Abu Marwan a Syrian refugee in Germany is arrested after posting Facebook Livestream video confessing to stabbing his wife as a lesson for wives not to irritate their husbands.  
Abu Marwan a 41 year old Syrian refugee living in Germany has posted a video on Facebook live moments after having stabbed his wife to death.
In the video (see below), the husband faces the camera admitting having murdered his wife, all the while drenched in blood and speaking breathlessly to the camera.
German media reported the Syrian husband allegedly stabbing his 37 year old wife four to five times in the neck before before running away with one of their children.
Behind the Syrian husband, a young boy, believed to be the couple's son stands and watches before shouting into the camera.
Al Arabiya reported Marwan being arrested by police shortly after fleeing the scene in Mühlacker on Friday, according to prosecutors.
Having stabbed his wife, the husband attempts to justify the murder, saying he did it to send a message to women who, 'irritate their husbands'. 
Warned the husband, 'This is how you'll end'.
He and the man's son also urge viewers to share the video. 
Abu Marwan a Syrian refugee often bothered estranged wife demanding money.
At one point in the video, the father who by now is walking along the street after fleeing while drenched in blood is asked by another man in German, 'what is happening?' 
The husband responds by shouting 'Sorry!' while continuing to walk with the boy.   
According to Gulf Digital News, the Syrian husband had reportedly been kicked out of the home when he tried to visit his ex wife, from whom he was reportedly separated.
He had wanted to resolve matters but the woman – who had custody of their three children, was not interested. 
The wife identified as Om from Aleppo, Syria had divorced Marwan three years prior having earned custody of their children after a bitter custody battle.
German media reported the husband often calling the woman requesting money. 
Arabnews cited German media saying the Syrian refugee claiming killing his wife in an honor killing because 'she wanted to marry another Lebanese man after divorcing him'.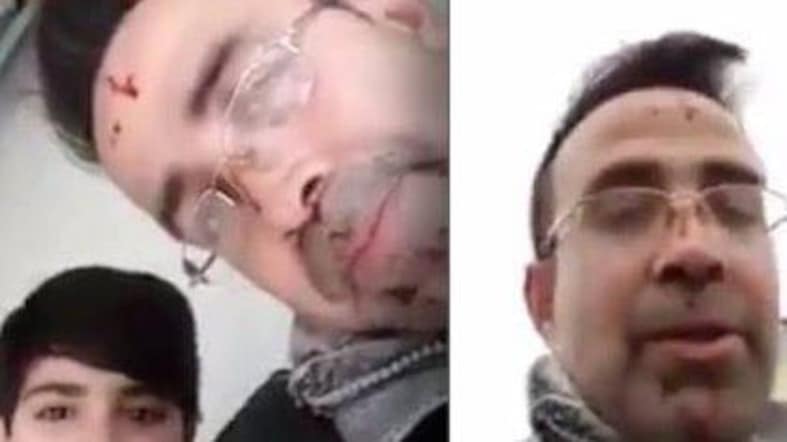 Germany landlady spoke of Syrian refugee family: 'they were a very nice family'. 
According to Germany's Badische Neueste Nachrichten, the couple's young daughter was in the home during the fatal stabbing of her mother, before calling police as her father fled with her brother. 
Told senior prosecutor, Dr Bernhard Ebinger, '[On] Friday afternoon, a 41-year-old Syrian in an apartment in Mühlacker killed his 37-year-old wife and first fled with one of their sons on foot. 
'The minor in the apartment, the remaining daughter, communicated to police at 4.30pm what had occurred.
'A large contingent of police went after after the fugitive offender and was able to catch him in Mühlacker a short time later. 
'He remains under arrest.' 
Germany's Mühlacker Tagblatt quoted the landlady of the home who said they were 'very nice family' with 'very dear children'. 
The outlets reported the family arriving as refugees from Syria, but that the father no longer lived with them.  
The couple's children – two sons and one daughter – have since been handed over to youth services. 
The fatal stabbing is the latest installment of violent episodes in Germany, which according to a government-based study made available to Reuters showed a jump in crime linked to migrants aged between 14 and 30.
Of note, Facebook who have been criticized in the wake of previous violent episodes being live streamed on its platform has yet to issue a statement regarding the latest macabre episode widely shared on the social media platform.