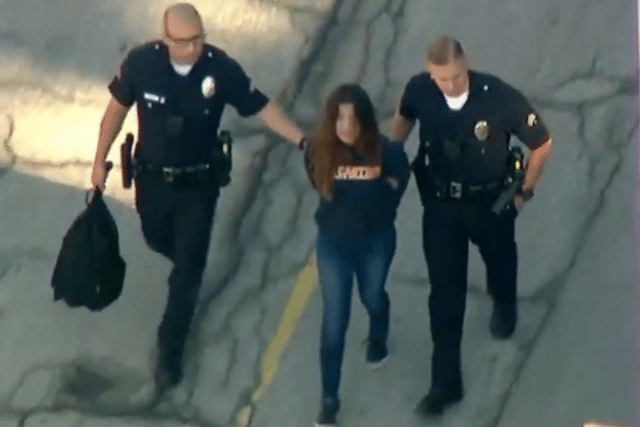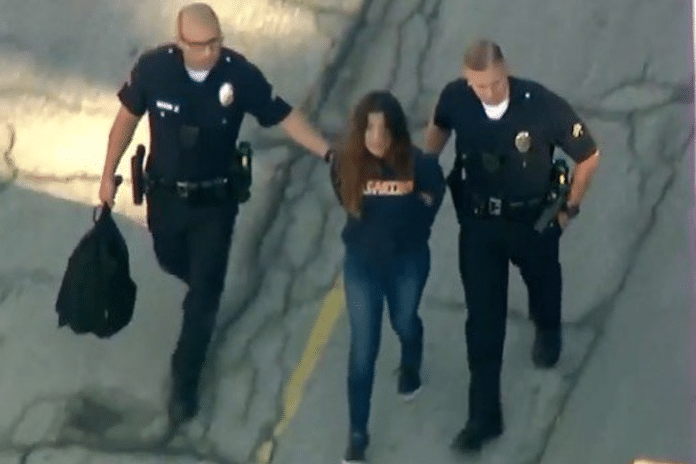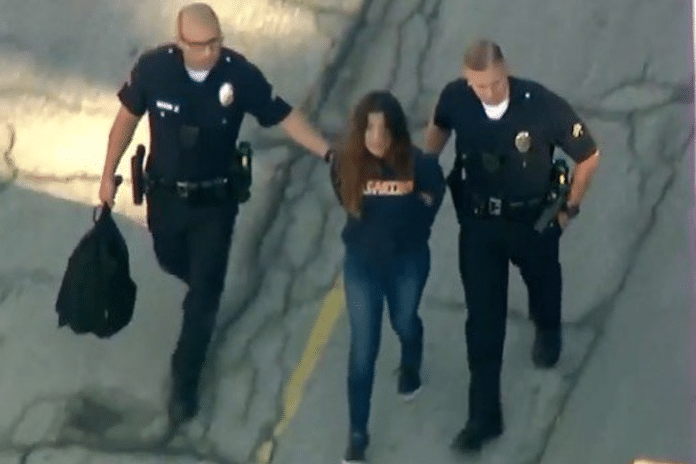 Salvador Castro Middle School shooting: A 12 year old female shooter is taken into custody after launching a shooting attack in a classroom at a Los Angeles middle school.
An un-identified 12 year old Los Angeles middle school student has allegedly shot and injured two fellow classmates, a 15 year old boy and girl, with the 15 year old male victim in critical condition after being shot in the head.
Also injured during the school shooting at Salvador Castro Middle School was a 30 year old woman and two others, an 11-year-old boy and a 12-year-old girl, who incurred minor injuries from broken glass.
The LA Times reported the school shooting taking place inside a classroom at the Westlake district area school around 8:55 a.m, Thursday morning.
In the immediate moments following the school shooting, the school was placed in lockdown tweeted the LAPD.
The suspect, who a police spokesman said was as young as 12, was armed at the time of her arrest, but taken without incident.
A report via ktla told of the female student being struck in the wrist with the boy struck in the head. Despite the seriousness of the boy's injury, the boy was expected to survive.
About 360 students from the sixth to the eighth grade attend the middle school, located in one of Los Angeles's most densely populated neighborhoods. Westlake, a heavily Hispanic area, is home to more than 20 schools.
To date police have not released a possible motive as the Salvador Castro Middle School shooting marks the nation's 12th mass school shooting in 2018, following last weeks Kentucky School shooting which saw a 15 year old boy, Gabe Parker shoot dead two fellow classmates and wounding 18 other people.
Welcome to a brave new America….
L.A. school shooting so far:
–Two 15yo students shot in a classroom; one is in critical condition
–30yo female also injured (not a gunshot wound)
–Female suspect in custody
–At Salvador Castro Middle School, which shares campus with Belmont High Schoolhttps://t.co/oIe5jmV82c pic.twitter.com/VPRV16VOAT

— Los Angeles Times (@latimes) February 1, 2018
Update: One person detained following shooting on campus of Belmont High School/Sal Castro Middle School. Watch live: https://t.co/2T4xjKUCQ1 pic.twitter.com/LOfbr8zNHT

— KTLA (@KTLA) February 1, 2018
The scene at Sal Castro Middle School on campus Belmont High near DTLA. LAPD confirms two people shot by student inside of a classroom. Shooter in custody, a girl believed to be a student. Victims are 15, boy and girl. Boy shot in the head. @NBCLA pic.twitter.com/wgrJEQ3EjG

— Jonathan Gonzalez (@JonathanNBCLA) February 1, 2018