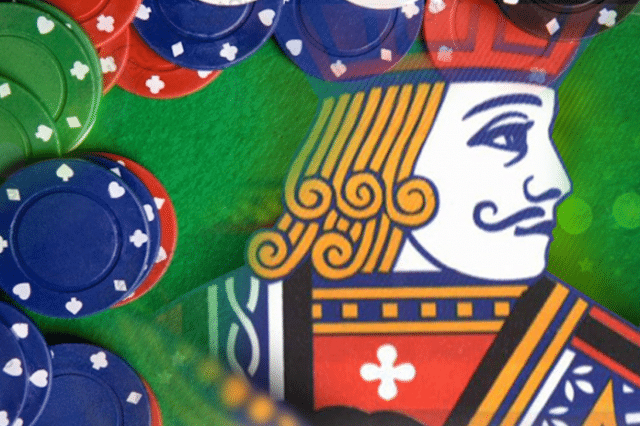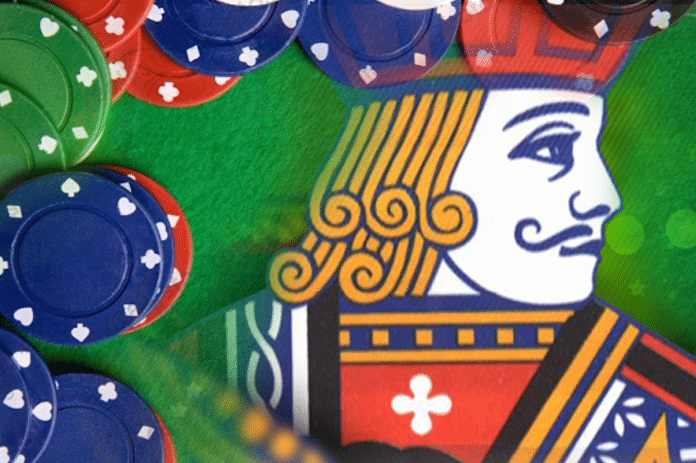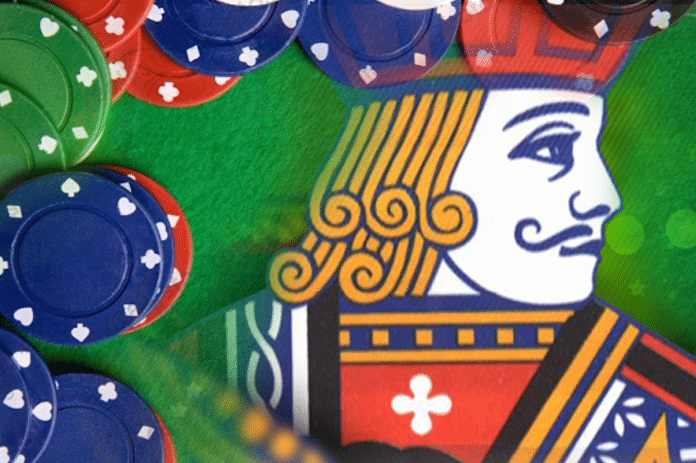 Online video poker game guide: A consideration of the latest developments in the gambling market place and video poker strategy.  
Video Poker Basics
Video poker first came into view in the mid-70s and then became all the rage in the 80s, as it became cheaper for casinos to produce the machines. The game is thought to have gained recognition in casinos because any player can sit and play by themselves, while the buzz of the table games can be threatening, or too high-stakes.
Despite the name, video poker does not work relatively like a standard poker game and is not to be confused with online poker. In fact, it functions much like a slot machine, with players betting on the random result of the hand of cards in a same way to betting on the reels. Every time the player bets, they get a hand of five cards. The difference is that the winning combinations needed are based on the winning hands in poker, from two pairs up to a royal flush.
Players can also have some, all or none of the cards they are drawn then redraw the rest. This set up a minor part of skill and knowledge. The most common version of video poker is Jacks or Better, where payouts start from a pair of jacks.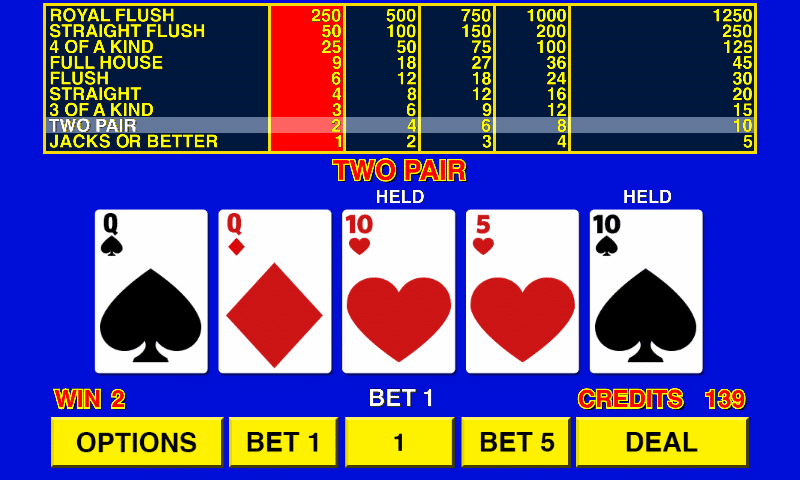 Types of Online Video Poker
There are several variations of the online video poker game, made all the easier by its electronic nature. Each game has different payouts, rules and different results for the players.  Developers are always coming up with new methods to twist the game or try new ideas. Several variants have become standard across the online world and in real casinos. We will discuss some of them here.
It is the common version of the game, also known as 'draw poker'. Full Pay or 9/6 Jacks or Better is the preferable version of this. While some machines don't offer full pay table.
It goes back to using the standard deck without any wild cards, but offers some higher payouts for four of kinds made with different ranks of cards.
It is a game that features a number of different variations, with some requiring a pair of kings to win, others a pair of aces, and still more two pair before they'll award a prize.
It is an unusual version where all 2s are wild. The pay out for four of a kind is much larger and comes up more often.
Tens or Better allows for pay outs from a pair of tens, with pay outs being lower in general to pay off.

Joker's Wild includes a joker as a wild symbol, substituting for other symbols to make better hands. This can also result in a winning 5 of a kind hand.

These games can offer over a 100% return if player will play with the right strategy.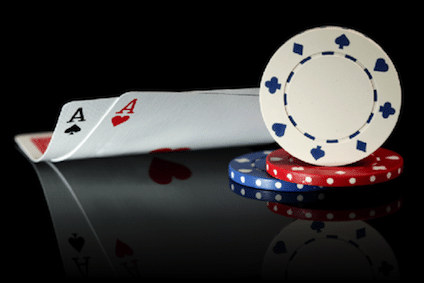 How to Play Video Poker like an Expert
The solution to video poker knows the hands of poker and the probabilities associated with building. This information makes it much easier to make the accurate choice when keeping or redrawing cards. The key to the draw is that the better paying hands are always going to be harder to get, so you need to look at what you have and plan in view of that.
Players should also pay attention to the pay table when playing video poker. The type of game you're playing may pay out more or less for certain combinations, which in turn makes the return to player or overall pay out percentage higher or lower. A 9/6 Jacks or Better machine is a great example of a good machine in these terms, paying 9 and 6 coins in that order for a full house and flush. Some pay only 8 and 5 coins instead and have a slightly lower return.
If you have a pair in the starting hand, it may be appealing to order of it for the chance of a better hand. Though, keeping a pair if truth be told improves the odds of landing something which builds on that pair in the redraw- a full house, three of a kind or two pairs.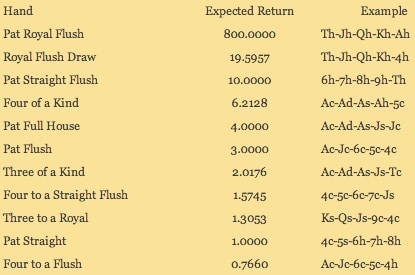 Video Poker Strategy
The method to improve your winning chances with video poker is simply to know when to hold cards or redraw them. So, here we will discuss what to do with any given hand, based on the likelihood of turning it into a better hand. Knowing the hands is the real key here.
1. Four of a kind, straight flush, royal flush
2. 4 to a royal flush
3. Three of a kind, straight, flush, full house
4. 4 to a straight flush
5. Two pair
6. High pair
7. 3 to a royal flush
8. 4 to a flush
9. Low pair
10. 4 to an outside straight
11. 2 suited high cards
12. 3 to a straight flush
13. 2 unsuited high cards (if more than 2 then pick the lowest 2)
14. Suited 10/J, 10/Q, or 10/K
15. One high card
16. Discard everything
Video Poker Rules
The main rules of video poker are pretty simple. The player places a bet, and then the machine draws five cards. The player wins if their hand of five cards can form a winning poker hand, based on the game's pay table. First, the player gets the chance to keep any number of the cards and redraw the rest without any additional bet, to enhance the chances of forming a winning hand.
The most basic rule of the poker game for which hands pay is that the hand needs to be a pair of jacks or better, hence the most common variation of the game. The variations in rules usually come with different types of video poker.
They may allow lower winning hands, or have special bonuses for landing a certain hand, or even progressive jackpots. These are usually tied to the royal flush.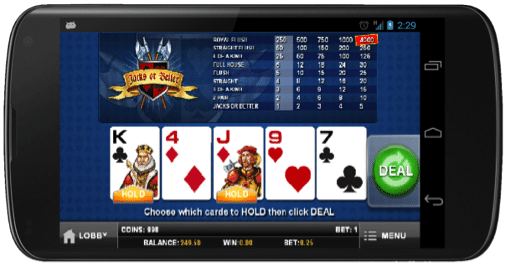 Mobile Casino Video Poker
As all we know that the mobile casino explosion is revolutionizing online casinos in 2018. A few years ago it would be pathetic to recommend you could enjoy real-money betting games on your phone on the move.
Now, though, there are new tablets and smart phones being released every month, with ever-increasing power and graphics capabilities. Mobile casinos become familiarized many of their games to fit your tablet or phone's screen with little loss in playability compared to computers.
Use Proper Video Poker Strategy And Win Real Money!
People often mistake video poker for a version of slots. Nothing could be more wrong. In video poker you have to make the accurate decisions and when you do that the house benefit becomes very low.
The cause why casinos can give these terms and conditions is simply for the reason that most players don't follow optimal video poker strategy and therefore give the casino a much larger edge. If only half of the players play well, the house will still have a substantial advantage when looking at all games together.
So take this opportunity! Stumble on a first-rate machine at a desktop or mobile casino and play proper strategy. You'll find that online video poker is the best casino game on the floor!