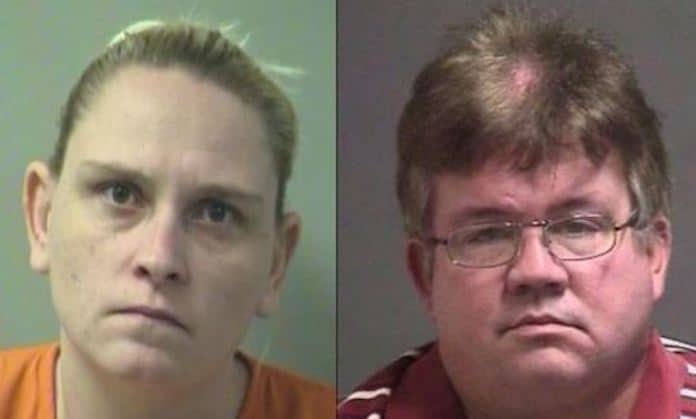 Florida couple, Ginny Irovando Long and Robert Long arrested after falsely telling their teen son he had terminal brain cancer while scamming for donations.
Florida couple, Robert Long, 47 and Ginny Irovando Long, 34, have been arrested after falsely telling their 13 year old son the boy had terminal brain cancer while all along soliciting donations for his 'medical expenses'.
Upon their arrest Thursday, the Okaloosa County Sheriff's Office charged the husband and wife with one count of child abuse and nine counts of fraud.
A statement released by the Sheriff's office told of the Fort Walton Beach couple using the fake diagnosis to hold fund-raisers at the child's school and online. In their brief, investigators said the couple had caused emotional and mental injury to the child.
Investigators said the Longs shared the bogus diagnosis on their Facebook pages and also created a GoFundMe page in an effort to cash in on their son's made up illness, including selling t shirts and raising funds for 'up-coming' funeral costs.
Told police, 'In a post December 28th, investigators say Irovando claimed it was a miracle the boy had lived three days past Christmas and the only person that knows when he is supposed to go is God.'
The office's probe revealed that the boy is healthy and has no brain tumors.
The teenager told investigators that his mother told him he had brain cancer and would die in May 2017. For eight months the son believed he was terminally ill, and didn't like to talk about his fatal diagnosis, according to investigators.
The investigation began after a school resource officer raised suspicions about the boy's diagnosis.
The officer suspected the couple was exploiting their son for financial gain.
The Department of Children and Families has since removed the teen victim and another sibling from the home. Both sons are now in foster care pending the outcome of an investigation reported WEAR-TV.
And then there were these comments on the web that made this author wonder, see what you think?
'As a mother who lost her 21 month old son to cancer this is infuriating. People like you are the reason why actual parents of children with cancer can't get the help we need. 
I hope you have to pay back every cent plus some, and that your child lives a long and healthy life far away from the two of you.'
'Don't know what is worse, Believing your dying or having two parents manipulating and lying to the community to the point of public humiliation?'
'I have donated quiet a bit of money to "help with impending funeral cost" I'm disgusted by this. Her son Dylan has suffered from this whole ordeal as well and has to be admitted into a mental hospital several times bc he thought his brother was dying.'