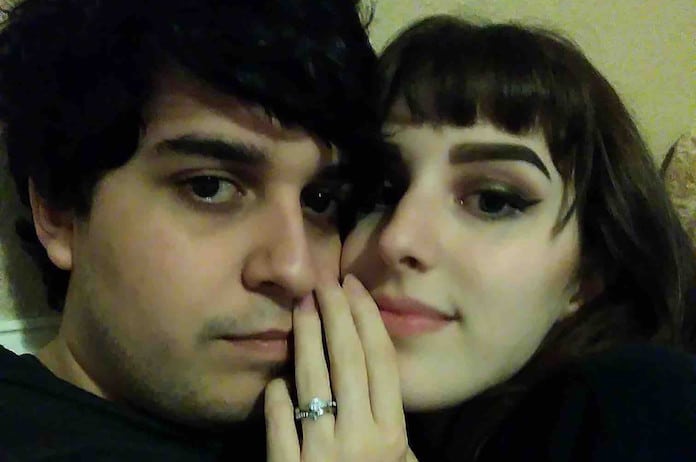 What led to one Idaho driver intentionally running down and murdering newly wed couple Matthew and Amelia Parkinson as they walked along a local city sidewalk?
Jason Verwer a 37 year old Fruitland, Idaho man has been charged with murder after intentionally striking and killing a young newly wed couple walking and holding hands along a local sidewalk.
Killed on impact were husband and wife, Matthew A. Parkinson and Amelia Parkinson. The cause of death was declared as lethal traumatic blunt force trauma from being struck by the vehicle.
KTVB-TV reports following Verwer's Wednesday arrest last week, facing two counts of second-degree murder. He faces 10 years to life in prison and a $15,000 fine on each count.
Prosecutor Ross Pittman told of a witness seeing Verwer speeding when he abruptly swerved into 22-year-old Matthew Parkinson and his 17-year-old wife, Amelia.
At no point told the witness did he observe Verwer brake.
Following his arrest, the driver was sent to a mental health facility.
Prosecutors said they were not aware of any connection between Verwer and his victims.
Judge did not reduce (or raise to $2 million, as suggested by prosecutor) the $1 million bond on Jason L. Verwer, accused of running over, killing 2 people intentionally. Public defender asked for psych evaluation. When that's done, judge decides if he'll go to prelim hearing. pic.twitter.com/lAspVtQY88

— Katy Moeller (@KatyMoeller) January 30, 2018
Jason Verwer a previous history involvement with the courts of law:
A judge on Tuesday issued an order appointing a public defender, but it's not clear if one has been assigned. Payette County officials didn't immediately return calls from The Associated Press.
Verwer's preliminary hearing will be scheduled after he undergoes a psychiatric evaluation reported khq.
According to the Idaho courts repository, Verwer previously faced two counts of child sexual abuse, which were dismissed in Twin Falls County District Court in 2016.
A GoFundMe account has been set up to raise money for their families of Matthew and Amelia Parkinson.
The Idaho Statesman reported a funeral service for friends and family having been set for 11 a.m. Friday, Feb. 2, at Holy Apostles Catholic Church in Meridian.
Verwer remains in custody pending a $1 million bond.