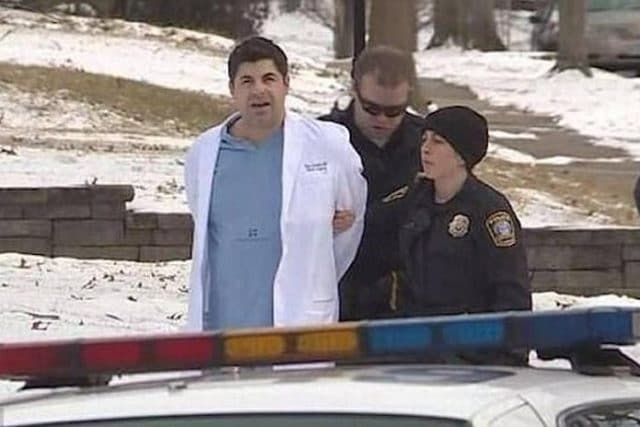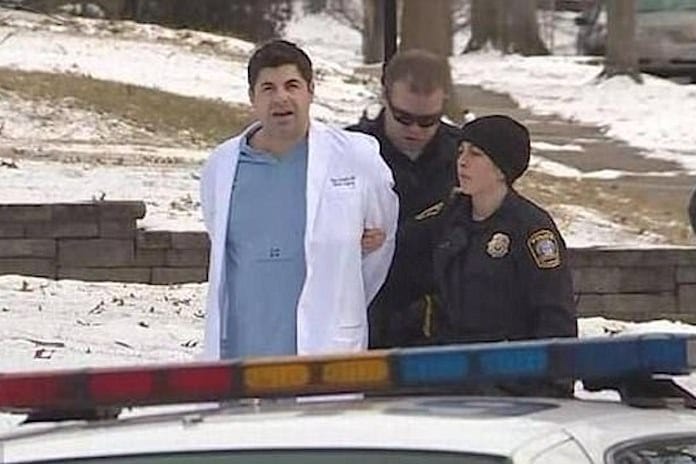 Dr. Theodore Gerstle a Kentucky plastic surgeon is arrested after turning to perform surgery 'drunk' at Baptist Health Lexington. A history of inebriation on the job?
Dr Theodore Gerstle a Kentucky plastic surgeon has been arrested after allegedly showing up drunk to perform an operation Monday early afternoon.
The Lexington Herald Leader reported the plastic surgeon's arrest coming after hospital staff at Baptist Health Lexington became suspicious that Gerstle might be intoxicated upon arriving for the only surgery he had scheduled that day.
The chief medical officer on duty reportedly confronted Dr Gerstle about his apparent state before the surgeon got into the operating room. 
The 'incident' led to the Kentucky doctor fleeing the hospital on foot only to be arrested blocks away after the hospital staff notified police.
At the time, Gerstle was observed leaving the medical facility in full surgical scrubs and lab coat, but no outerwear, with temperatures hovering in the upper 20s. 
The officers took him to the Fayette County jail, where he is now being held on public intoxication charges.  
Dr. Theodore Gerstle previous complaints lodged:
Told Ruth Ann Childers, a spokeswoman for Baptist Health Lexington via WKYT:
"Patient safety is always our number one concern, every day,'
Adding, 'We take these things very seriously and it will be thoroughly investigated.'
It is unclear if the plastic surgeon had a track record of drunkenness on the job. 
However, at least one Lexington resident, Alexander Sterling, had complained about the surgeon on Facebook. 
'Transmen do not go to Dr Theodore Gerstle MD of Lexington KY for top surgery. He royally f***** up Bryson Thompson's chest and is not taking responsibility,' Sterling wrote last March according to a report via the dailymail.
The warning accompanied a graphic picture of a bare chest – presumably Thompson's – with jagged scarring around the nipples, one of which has signs of infection.
The scars look nothing like the straight straight-lined scars below the area where breast tissue would have been that typically remain after top surgery.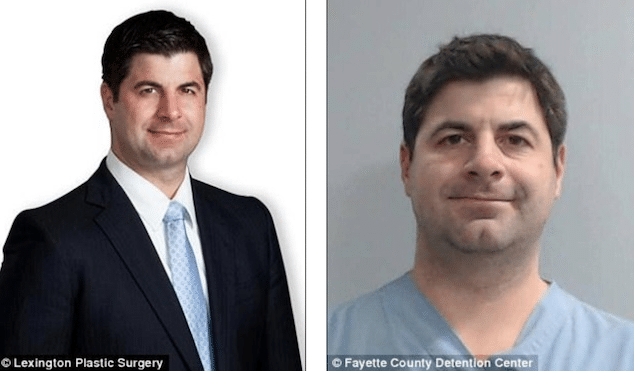 A prevalence of alcoholism amongst American surgeons:
According to his practice's website, Dr Gerstle is board-certified and is 'the only Harvard-trained' plastic surgeon in Lexington, though he completed medical school at the University of Louisville in Kentucky. 
Dr Gerstle's speciality according to the site includes the treatment of migraine headaches. He also performs facial rejuvenation, breast surgery, body contouring and other reconstructive surgeries.
Noted one recent review: 'Dr. Gerstle's advanced surgical training and unmatched level of skill have made me a life-long patient for any future procedures. Not only are his results impeccable, but he is completely focused and takes as much time as anyone could possibly need for consultations and post-op visits. Moreover, he is extremely detail oriented and holds himself to the highest standards.'
Of note, drinking problems are surprisingly common among surgeons. 
A study of more than 25,000 American surgeons conducted in 2012 revealed that more than 15 percent of them probably struggled with some form of alcohol dependence or abuse. 
Baptist Health has since suspended Dr Gerstle's permissions to work at the hospital. 
His license status remains active in the Kentucky Board of Medical Licensure's database, but substance abuse is considered a violation of the state's Medical Malpractice Act, warranting 'discipline,' the site says.