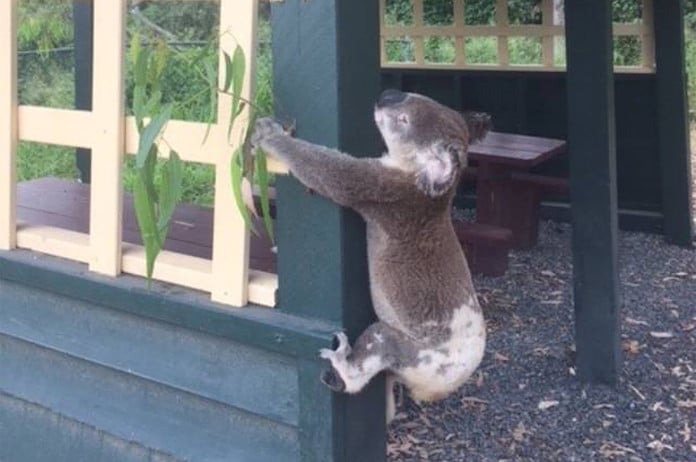 Dead Koala screwed to post: Authorities launch investigation after a Queensland koala was found screwed to a post in an exhibition of animal cruelty that has shocked a nation.
The death of a koala found screwed to a post in south east Queensland, Australia has sparked public outcry and prompted a police investigation.
Koala Rescue Queensland in a Facebook post said the koala may have possibly been alive when it was 'cruelly attached' to the post of a wooden shelter using building screws.
Wrote the animal rights group, alongside an image of a a small koala, its limbs wrapped around one of the shelter's wooden supports, appearing to clutch a bunch of gum leaves: 
'All is not as it seems in this photo. This poor koala has been screwed to the pole with building screws, he is deceased, but whether or not he was when cruelly attached to the structure is unknown,' 
Adding, 'If anyone can help find the culprits please contact us or police. Incident took place at Brooloo Park Lookout today.'
It was discovered that the animal had signs of head trauma, but the cause of death is unknown.
Brooloo Park, is 85 miles north of the city of Brisbane in Queensland state.
'It's just sick, it makes me want to throw up,' Murray Chambers, from Koala Rescue Queensland, told the BBC.
'I've been doing this job for 10 years and I've never seen anything like it.'
Told Senior Sergeant Pierre Senekal, 'Police are currently investigating the matter'.
He said the Royal Society for the Prevention of Cruelty to Animals (RSPCA) will organize an autopsy of the animal to determine the cause of death.
Told Queensland RSPCA spokesman Michael Beatty, 'This is very disturbing,'
Adding, 'Whether or not the koala was dead, how somebody would think this was in some way humorous when little kids go to that lookout area, is beyond me.'
Animal cruelty can attract a maximum penalty of seven years jail or fines of up to $200,000 in Queensland.
Dead Koala screwed to post: Social media speculates as to motive.
In the wake of the incident some commentators have wondered whether the marsupial had been struck by a passing car, with many wondering, even if it had been the case why had someone gone the extra length to then go the extra distance and attach the animal to a post? Had this been an attempt to be morbidly funny?
While some even wondered whether the animal was dead in the first place when it was 'screwed' on to the post. While others, including this author wondered whether the displacement and defilement of the defenseless and rare 'iconic' animal only found in Australia was a political/cultural statement of the state of local affairs?
Koalas are one of Australia's major tourist attractions and classified as marsupials, a mammal whose young are suckled in a pouch.
The koala was listed as a 'vulnerable' species under an Australian conservation law in 2012. There are fewer than 100,000 of the animals left in the wild, perhaps even as few as 43,000, according to Australian Koala Foundation estimates.