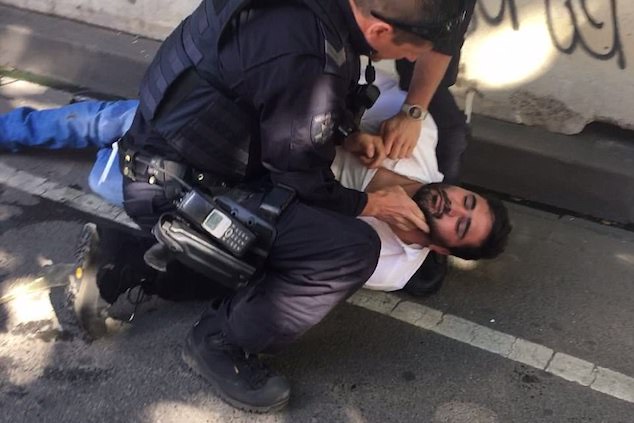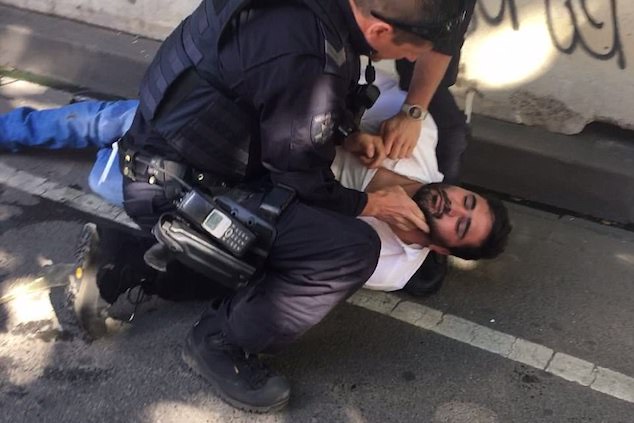 Flinders St Melbourne Car attack: What led to Saeed Noori with a history of mental illness and substance abuse issues plowing into pedestrians?
Pandemonium has struck Melbourne, Australia after a 32 year old local man described to have a history with mental health issues and drug dependency plowed his SUV vehicle into a group of pedestrians along the city center intersection of Elizabeth and Swanston streets, near Flinders train station circa 4.45pm local time.
The 'peak hour' incident which police described as a 'deliberate act' led to at least 19 persons injured with two individuals taken into custody (including the driver). Several of those injured are said to be in critical condition.
Along with the driver, since identified as Saeed Noori, being taken into a custody, a second man was also apprehended along the steps of Flinders St station. It wasn't immediately clear what role if any that individual played during Friday's Flinders st car attack.
Told Victoria Police Commander Russell Barrett during a press conference, 'At this stage we believe it was a deliberate act, but we don't yet know the motivation'.
The car came to a halt after hitting what The Sydney Morning Herald describes as a 'metal bollard.'
Upon the Suzuki Vitara coming to a halt, bystanders rushed to restrain the driver.
Little was immediately known about Noori except that he was an Australian citizen of Afghan descent. That said, Victorian Police said the man was known to them due to 'historical assault matters' and a history of drug use.
Told Acting chief commissioner of Victoria Police Shane Patton, 'We understand he is on a mental health plan and receiving treatment for a mental illness'.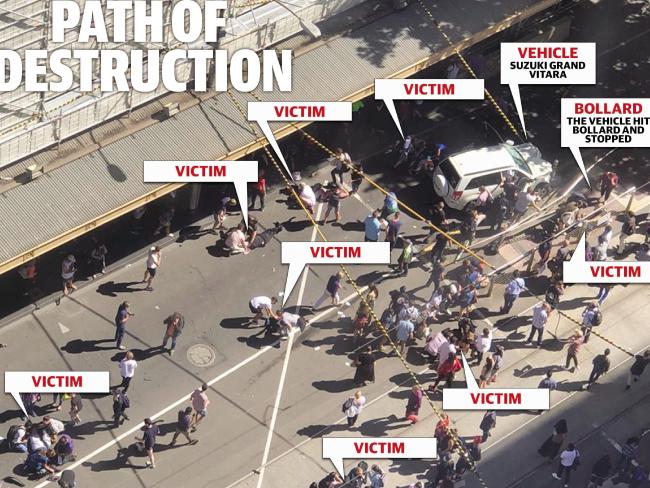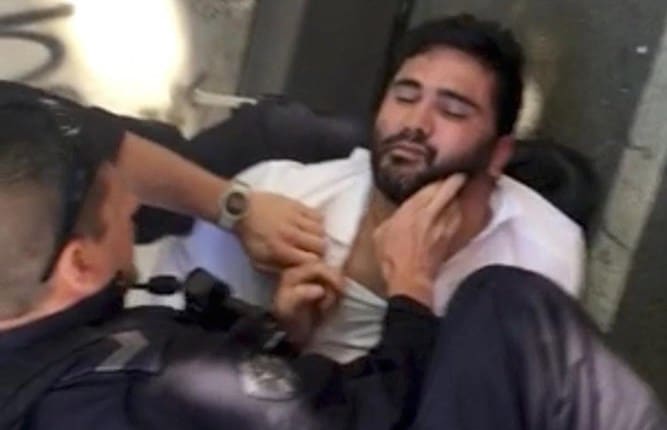 @tisBearing What looks like a car attack happened at Flinders st. Tons of police. pic.twitter.com/UnZHcJhSxR

— Household Dog (@householddog) December 21, 2017
Flinders St Melbourne car attack: Saeed Noori was driving at high speeds
Asked whether terrorism was being ruled out as a possible motive, Barrett declined to elaborate, saying only that 'it's too early in the investigation' to provide such information.
Witnesses described the vehicle with P provisional plates, appearing to have run a red light before striking pedestrians. 
'I saw a car, a SUV coming at high speed and really just heard the collision with people with bags and what must be shopping trolleys — and I hope not prams,' a witness identified only as John was quoted by the Australian Broadcasting Corporation.
He said the vehicle was traveling 'at high speed,'.
Told another witness, 'I was crossing Flinders Street on the way to the train station. I heard an engine rev behind me and heard a thump,'
Upon turning around the witness saw 'people literally getting thrown into the air as it hit them.'
Melbourne car attack: Driver had mental health issues, no terror connection https://t.co/VA3JZovQaP pic.twitter.com/gvb05yqjKD

— FOX 61 (@FOX61News) December 21, 2017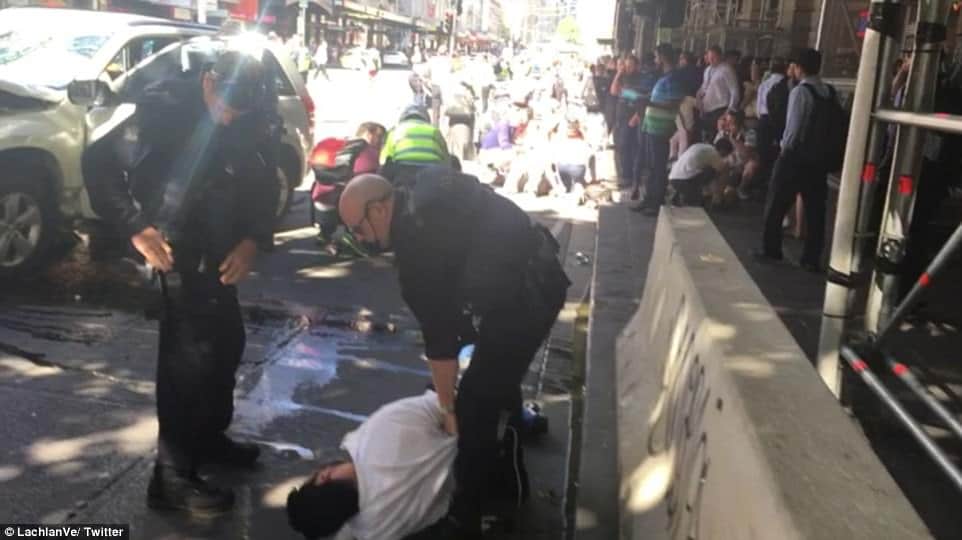 Flinders st Melbourne car attack second man filming incident with knives in his bag arrested.
Of the 14-19 individuals injured, the Herald reported a pre-school aged child sustaining a serious head injury.
Reported the Herald, 'Up to seven have been taken to hospital … Officers are holding up tarps around some victims.'
Another witness told of having heard screams before they saw 'people flying everywhere.'
'We could hear this noise, as we looked left, we saw this white car, it just mowed everybody down,' told the witness via 3AW radio. 'We heard thump, thump. People are running everywhere.'
A 24-year-old man was also arrested at the scene, after he was seen filming the incident on his phone. Police found three knives in his bag. The man is being interviewed by police, with police saying 'we don't yet have any relationship established between the 24-year-old man and the driver… in fact, there may be no relationship between them.'
The location of Thursday's incident is near where a vehicle attack occurred in January where 26 year old Melbourne man, Dimitrious Gargasoulis struck up to 20 pedestrians, killing four people. The driver was reportedly fleeing police after stabbing his brother and it was not deemed a terrorist attack. It wasn't immediately understood whether Friday's attack was influenced by the previous attack. 
In December 2016, Australian police announced they had foiled a plot to blow up improvised explosive devices around Melbourne's city center on Christmas Day, including Flinders Street Station.
It was described as 'one of the most substantial terrorist plots that have been disrupted over the last several years.'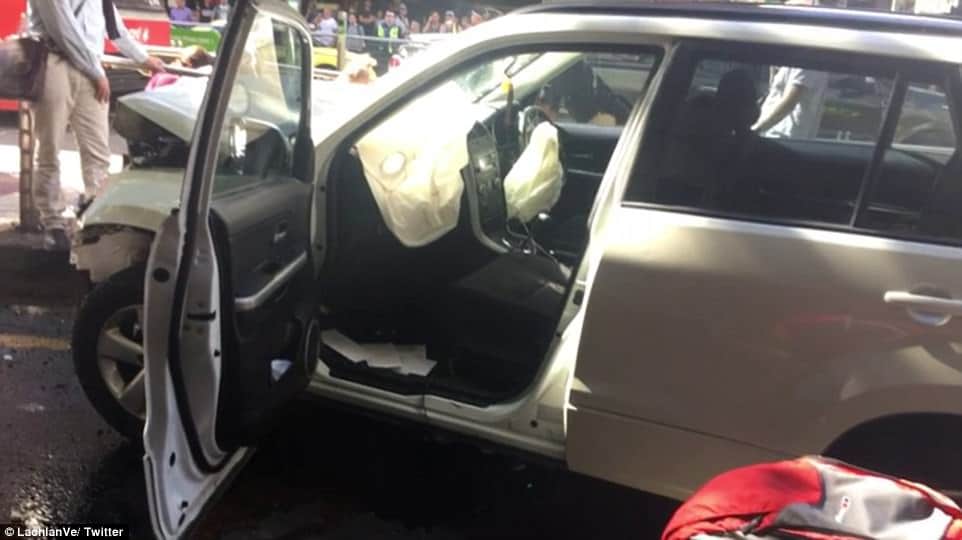 Significant to note that the car didn't appear to mount the curb on Flinders St (per reports). It went through the pedestrian crossing. Driver arrested immediately. Not the usual MO for an attack.

— Reagan Ward (@WardReagan97) December 21, 2017
…this is reality! You read this : A second man arrested after the car attack in Melbourne had been filming on his phone at the scene & three knives were found in his bag.

— Branislav Melis (@Branislav_Melis) December 21, 2017
Okay I'm calming down the driver from #MelbourneCarAttack is from Afghanistan!! and has a history of drugs and drink :/ the usual excuses #JihadiRat https://t.co/rni5Sgd1UO

— Red Barnett (@yehezkell) December 21, 2017