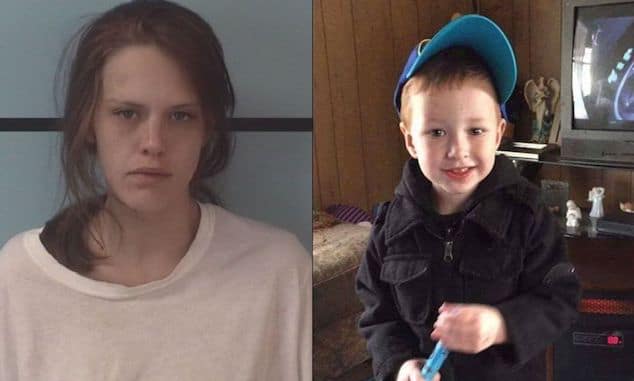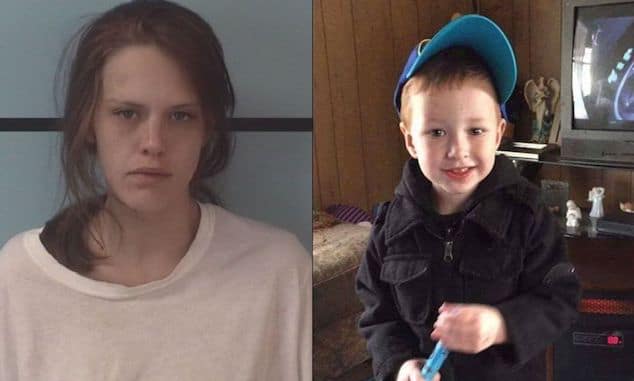 Jamie Lyn Basinger a 

Morganton, North Carolina mother is spared prison after her three year old son froze to death after being locked out while she was high on drugs.
Jamie Lyn Basinger a 24 year old North Carolina mother has been spared jail after pleading guilty to involuntary manslaughter in the death of her 3-year-old son, who froze to death on the front porch of their home after she 'passed out' on drugs.
The Charlotte Observer reported the Morganton mom receiving a suspended sentence of 19 to 32 months with 3 years of supervised probation after pleading guilty in connection to the death of Landyn Michael Melton in March.
Jamie Basinger, who'd already spent eight months in jail after being charged in April, was ordered as part of her plea deal to comply with all conditions of a substance abuse assessment, perform 72 hours of community service and adhere to all orders from the Department of Social Services regarding her other child.
Prosecutors said Basinger's usage of methamphetamine two days before the child's death, as well as smoking marijuana the night before, led to the boy's death.
'While she was passed out inside the home, by her own admission sleeping harder than normal, Landyn was freezing to death,' Assistant District Attorney Michelle Lippert told Judge Nathanial Poovey.
The boy was found dead on March 15 – one day after celebrating his third birthday — after a neighbor called police to report a toddler lying outside on the porch, reported the Morganton News Herald. 
Basinger's boyfriend, Joshua Steffey, answered the door before getting Basinger from inside the residence. Both Steffey and Basinger later admitted to smoking meth two days earlier and marijuana the night before.
#BREAKING Jamie Basinger gets 36 months probation after pleading guilty to involuntary manslaughter for the death of her 3-year-old son, who froze to death in March. Felony child abuse charge dropped. pic.twitter.com/EqvDGIwecI

— Ryan Wilusz (@MNH_RyanW) December 11, 2017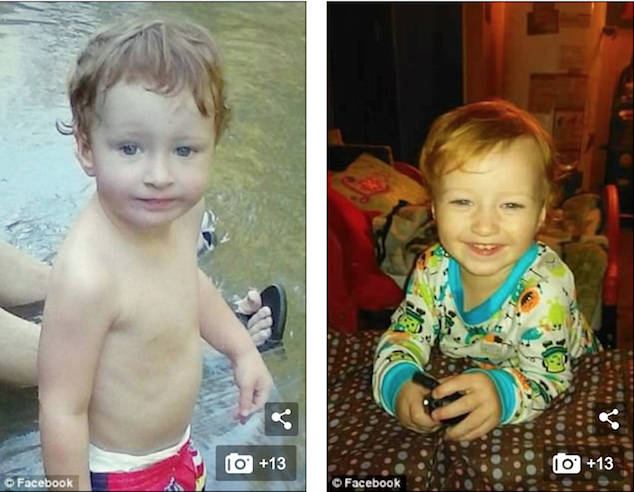 Smudged fingerprints revealed three year old boy Landyn Melton trying to get back in the house.
Frank Webster, Basinger's attorney, said she admitted this to authorities and cooperated because, 'she wanted answers, herself.'
'She didn't understand this — it didn't make sense to her,' Webster said in court. 'When this happened, when she saw Landyn laying on the porch, she broke down in tears — falling on the ground. She's really never stopped crying since, your honor.'
Smudged fingerprints on the porch's glass door indicated that the boy had tried to get back inside the home after getting out of the house the previous night. Lippert said temperatures at the time were roughly 21 degrees without a wind chill, arguing that the child's death was the result of the mother's negligence.
'She was supposed to be supervising this child,' Lippert said. 'He had just turned 3, he was outside. By her own admission, she was sleeping harder than normal. She didn't hear him — didn't hear him leave the room, didn't hear him leave the house, didn't hear him banging on the door. She was asleep while he was freezing to death.'
Responded Webster, '(Jamie is) here to take responsibility for this, but at the same time, no amount of punishment is going to take away what's in her heart for Landyn — how much she loved and loves him,'
Adding, 'The court system, all of us will move on. We'll go on to other things. She'll never go on. She'll never be able to move past this.'
As part of a plea deal, prosecutors dropped a felony child abuse charge against Basinger.
Following Monday's hearing, Basinger's mother said the sentencing did little to provide closure.
'She's going to have to live with this the rest of her life,' Brenda Basinger told the News Herald. 'She's going to have a battle – we all are.'
Still, Brenda Basinger said her grandson would be pleased by the outcome, saying, 'If Landyn was here, he would be happy right about now,'
Adding, 'Happy that mommy gets to come home.'