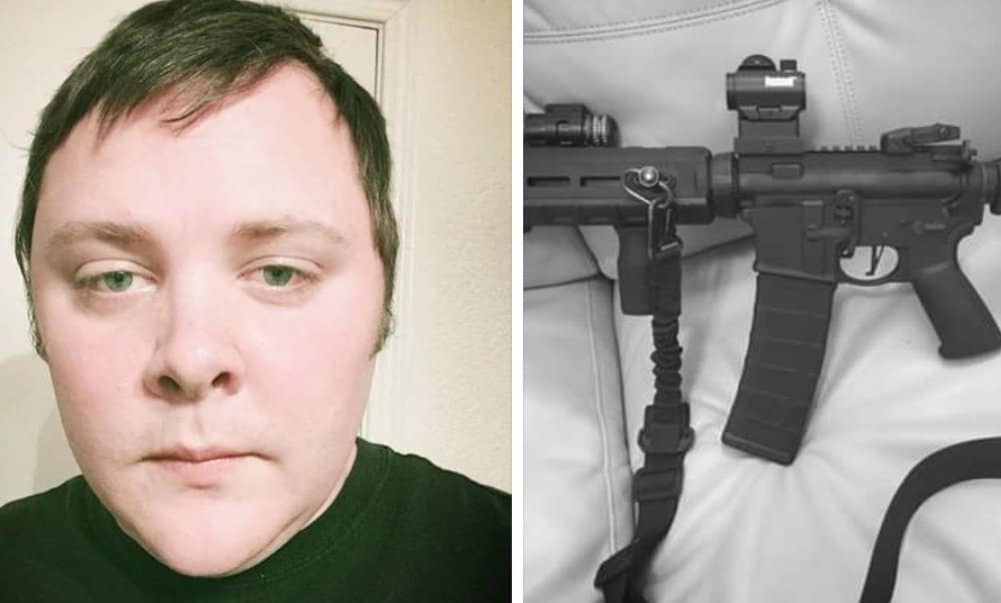 What led to Devin Patrick Kelley a former bible teacher shooting 26 people dead at Sutherland Springs First Baptist Church? Had left ominous warnings on social media.
Devin Patrick Kelley a 26 year old New Braunfels, San Antonio man has been identified as the gunman who Sunday morning opened gunfire inside a Sutherland Springs First Baptist Church killing 26 and injuring 20- 30 persons.
The shooting came as the man, dressed in all black full combat gear entered late Sunday morning, circa 11.20am, carrying an AR-15 style weapon during church services before he began shooting at the 50 or so church goers.
Told Wilson County Sheriff Joe D. Tackitt Jr via CNN, 'He just walked down the center aisle, turned around and my understanding was shooting on his way back out. It's unbelievable to see children, men and women, laying there. Defenseless people.' 
The nytimes identified the gunman as a former Bible study teacher who'd been dishonorably discharged from the US Air Force some three years ago after assaulting his wife and child.
Kelley was killed after fleeing the crime scene after a neighbor gave chase.
Authorities said the local citizen, since identified as Stephen Willeford, 55, grabbed his rifle and confronted the armed suspect, who'd been carrying Ruger AR assault type rifle and wearing a ballistic vest as he left the church. The neighbor pursued the suspect, shooting at Kelley, who ran off the road and crashed.
Police found Kelley deceased in his SUV vehicle which he had crashed at nearby Guadalupe County. It was determined, Willeford had been able to fire off a gunshot that had pierced through a gap in Kelley's body armor.

'We are not sure if it was self inflicted or if he was shot by a local resident,' told Texas Department of Public Safety Regional Director Freeman Martin at the time of Kelley's initial death.
Following the mass shooting, San Antonio police raided Devin Kelley's home, Sunday evening, with K9 and bomb squad units, some 35 miles from the mass shooting. Of note, multiple weapons were found in Kelley's vehicle.
At  least 26 people were killed in the shooting, but the death toll is expected to climb, authorities say. Victims include a two-year-old girl and the 14-year-old daughter of the pastor, Annabelle Renee Pomeroy.
Devin Kelly sent threatening texts to mother in law prior to mass shooting
Stephen Willeford & Johnnie Langendorff First Baptist Church heroes
Bryan and Karla Holcombe id as Devin Kelley shooting victims
Devin Kelley atheist outcast who preached online non stop
Pastor Frank Pomeroy First Baptist Church, 'they were all close friends'
Why? Sutherland Springs First Baptist Church shooting leaves 27 dead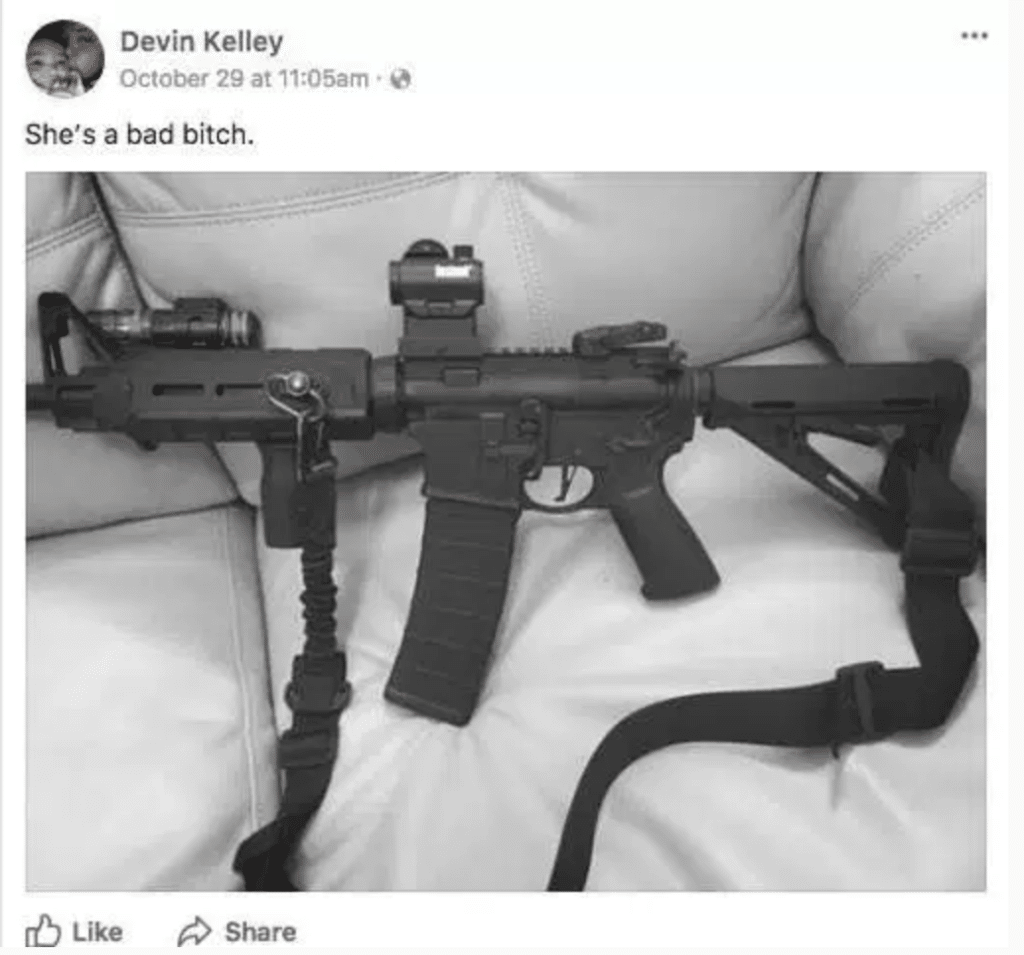 Devin Patrick Kelley Facbook post: 'Im not afraid of death.'
Kelley, who was reportedly married, had a week ago prior to the shooting, posted a photo of an AR-15 style gun on his (since) Facebook page with the caption: 'She's a bad b***h.'
In juxtaposition of the above cover image, a profile picture (see screen grab below) showed a young child, thought to be the Devin Kelly's daughter. According to The Daily Beast, 'Kelley was married and Kelley's mother-in-law listed a P.O. box in Sutherland Springs as a mailing address. San Antonio police reportedly raided Kelley's home on Sunday evening…he briefly taught at a summer Bible school.'
Kelley's wife was identified as Danielle Shields, with the woman having previously being a teacher at the First Baptist Church.
According to a profile on Indeed.com, Shield's had been a 'teacher for toddlers' at First Baptist of Sutherland Springs from June of 2009 to March of 2013. Her responsibilities included teaching the children about God, helping with 'their life stones that are needed,' and being a "positive influence in their life'.
Kelley lived at his parents' million dollar home with his wife and child, with neighbor Mark Moravitz telling ABC News he would sometimes hear gunshots coming from near that house late at night.
Along with a fascination with weapons, the former bible teacher's Facebook page showed Kelley liking pages devoted to atheism, as well as those on German Shepherds, Glocks, and karate.
Devin Kelley's social media accounts contained other warnings. His Facebook page contained a quote from Mark Twain about not fearing death. 'I do not fear death' it read. 'I had been dead for billions and billions of years before I was born, and had not suffered the slightest inconvenience from it.'
A LinkedIn account which appears to be Kelley's states that he joined the US Air Force after graduating New Braunfels High School in 2009. He worked in logistics and supply in the Air Force until he was dishonorably discharged in 2014 and was even court martialed in May 2014, CBS News reported.
Fox News reported Kelley serving at Holloman Air Force Base in New Mexico from 2010 until his discharge in 2014.
He was court-martialed in 2012 for assaulting his wife and his child. Kelley received a bad conduct discharge from the Air Force, in addition to confinement for 12 months and was reduced in rank.
Kelley worked as a security guard for a Texas waterpark this past summer, according to a resume under his name that appears online. The man's employer was identified as being Schlitterbahn Waterpark and Resort in New Braunfels with Kelley licensed by the Texas Department of Public Safety as a security guard at the venue.
Following leaving the air force, Kelley volunteered as a teacher for Bible studies at Kingsville First Baptist Church.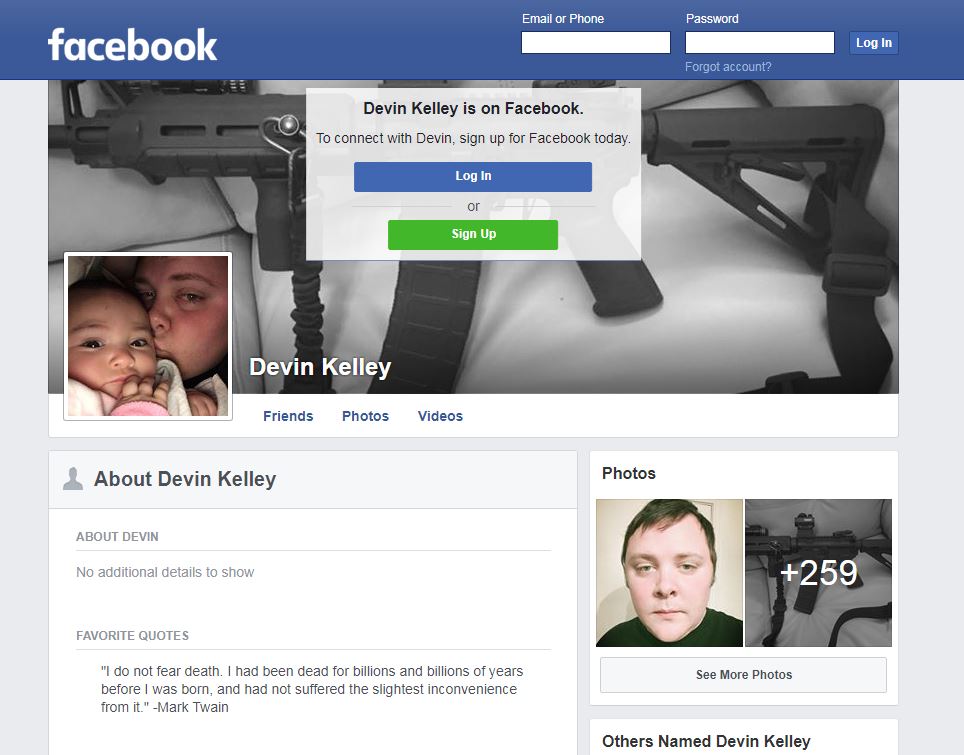 Devin Patrick Kelley part of an antifa activist movement? 
Wilson County Commissioner Albert Gamez Jr told CNN that at least 26 people have been killed in the shooting, but the death toll is expected to climb. The first responders on the scene were from local churches who began receiving texts from family and friends about the shooting.
The Connally Memorial Medical Center said 'multiple' victims are being treated. At least 24 others were injured in the shooting. The victims ranged in age from 5 to 72. 
Eight members of one family, including a five-months-pregnant mother and three of her children were killed, a community leader and relative told CNN without revealing their identities.
Officials said 23 people were found dead inside the church, two outside, one died after being taken to a hospital.
Speculation has mounted that the shooting at the small knit church had been the result of a family dispute…. with Kelly shooting members of his own family before turning on other church goers.
Of note, Kelley's mother-in-law, Michelle Shields, appeared to have been a parishioner at the First Baptist church and was friends on social media with the pastor's wife, Sherri Newman reported ABC News.
While it was later revealed that the in-laws were not at the church at the time of the shooting, speculation mounted whether Kelley had specifically arrived seeking to kill his in-laws. Furthering confusion, it wasn't clear whether Kelley was still married to his wife, with whom he shared two children.
In the aftermath of the mass shooting, which has been described as the deadliest mass shootings in American history, authorities were looking into whether Kelly had possible militia ties.
While authorities have yet to announce a motive, members of the right wing press began speculating that the mass shooting may have been part of an antifa activist mandate, with the shooting allegedly targeting the largely white denominated community ….
Tweeted Alex Jones of infowars, 'Was this part of the Antifa revolution against Christians and conservatives or a Isis op? [sic]," 
Shooting at First Baptist Church of Sutherland Springs, Texas. pic.twitter.com/FclGfvwOx9

— Ryan Saavedra ?? (@RealSaavedra) November 5, 2017
Devin Kelly was a soldier of #CNN #CNNisISIS #SUTHERLAND pic.twitter.com/W6EVvcQ6TI

— TrumpSoldier (@DaveNYviii) November 6, 2017