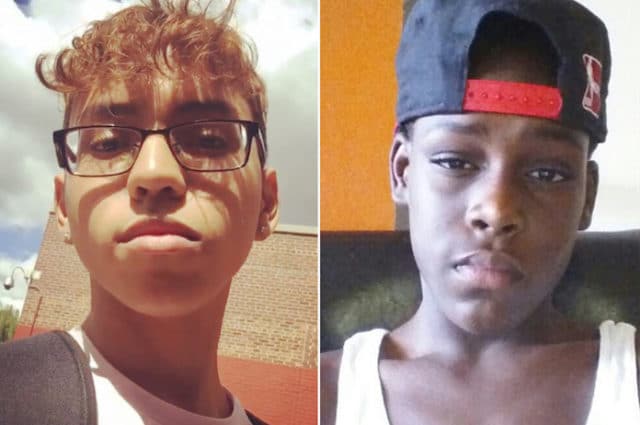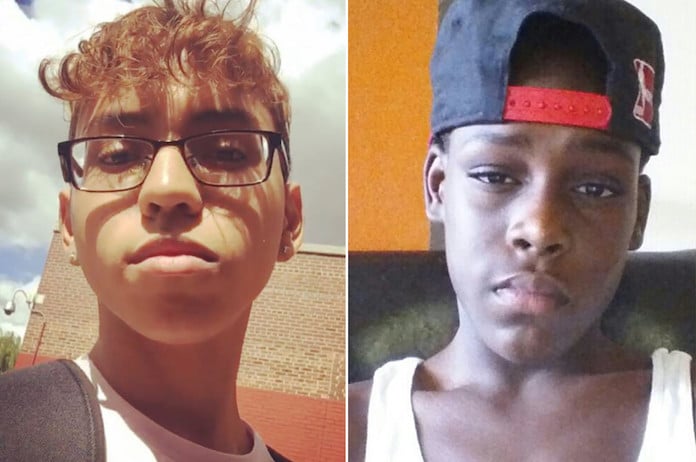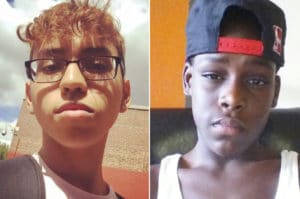 What led to Abel Cedeno a Bronx student fatally stabbing classmate Matthew McCree to death? Had ordered knife on Amazon 2 weeks earlier.
Abel Cedeno an 18 year old Bronx student has been taken into custody after allegedly stabbing to death fellow classmate Matthew McCree, 15, and seriously injuring another, Wednesday morning. Investigators now believe, bullying may have been the motive.
Seriously wounded was 16 year old boy, Ariane LaBoy, with police sources saying the stabbings happened on the fifth floor of the Urban Assembly School for for Wildlife Conservation on Mohegan Avenue in East Tremont, circa 10.50 a.m.
The stabbings reported the nypost happened in front more than a dozen classmates.
At the time, one of the victims was throwing pens across the room in the middle of a third-period U.S. history class when Cedeno was hit, according to witness Jomarlyn Colon, 16, who was in the classroom at the time.
Cedeno demanded to know who did it, and when the McCree stepped forward to tell him it was an accident, Cedeno pulled a knife out of his front pocket.
It wasn't immediately clear how or why the student brought, what was later described during a press conference, a three inch switchblade to school with him.
Abel Cedeno bullied Bronx student who bough switch-blade from Amazon charged with murder of classmate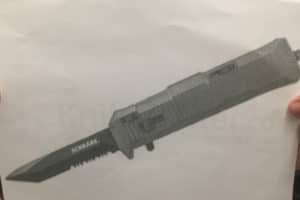 Abel Cedeno Bronx double stabbing: He pulled out the knife and there was confusion
From there, McCree moved in to strike Cedeno, with Cedeno plunging the blade into the student's chest, Colon said.
In turn, LaBoy confronted Cedeno, only for the 'crazed student' stabbing him in the chest too.
Told Colon, 'He went crazy'.
Students tried to render aid to their bloodied classmates as the teacher tried to restrain Cedeno.
'We were just holding Matthew,' Reiterated Colon. 'When Ariane got stabbed they were holding towels on him. All the kids were crying. Mr. Kennedy tried to hold Abel but he broke free. They didn't hold him tight enough.'
Another pupil in a nearby classroom recalled the ensuing fear and confusion.
'We heard screaming from the hallway,' said 10th grader Steven Nunez, who was in a classroom down the hall. 'The teacher opened the door and people were screaming and running down the hall. Someone came in and said someone got stabbed and there's blood in the hallway. The teacher locked the door and we were on hard lock-down for almost an hour.'
Soon after, Cedeno walked out into the hallway, where he handed the knife to a school counselor — then calmly strolled into an assistant principal's office and sat in a chair while police were called.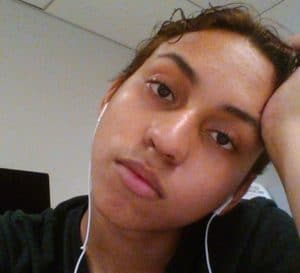 Abel Cedeno Bronx student: He finally snapped.
During an ensuing press conference, Police Chief Robert Boyce told of McCree having been pronounced dead on arrival at St. Barnabas hospital. LaBoy he said remained in critical but stable condition. 
Cedeno was arrested and taken to the 48th Precinct, where he told cops that an ongoing tensions with his victims made him snap, according to Boyce.
'They were going back and forth for about two weeks — since school started,' he said. 'It escalated today after some back and forth in the classroom.'
Following the stabbings, a friend and former schoolmate of Cedeno's said the 18 year old snapped after being continuously bullied for his 'flamboyant' personality.
Said the 18 year old girl who only would identify herself as Tanaisha B, 'They were harassing him and that's when he did what he did.'
Tanaisha went on to say the 'outburst was uncharacteristic.'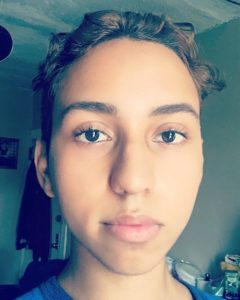 Abel Cedeno Bronx double stabbings: They were always the bad boys.
A regard of Cedeno's Instagram feed is full of selfies and videos of him singing along to popular songs.
Of note, dnainfo reports friends saying that Cedeno bought the knife about two weeks ago off Amazon and sent videos to them of himself opening it.
'Why do you n—-s think I'm a p—y?' Cedeno said in a video a friend showed the outlet.
Told Yanique Heatley, 18 of Cedeno's victims, 'They were the school bad boys. They disrespected teachers. they'd throw trash cans, textbooks, markers. They skipped school. There were a whole lot of incidents with them getting kicked out of class.'
Mayor de Blasio pledged Wednesday to tighten security at the school, which does not have scanners, and implement scanning tomorrow.
Told de Blasio during a follow up press conference, 'My heart goes out to the families,'
Adding, 'Every parent every morning worries about the safety of their child.'
I'm with the NYPD at the 48 precinct in the Bronx with an update on today's tragic incident. https://t.co/V3hsnYm9rh

— Bill de Blasio (@NYCMayor) September 27, 2017
Abel Cedeno Bronx double stabbings: No one felt safe at school, including the teachers.
The school serves sixth through 12th grades and is co-located with elementary school PS 67. It's also a low performer, and kids have told the city they do not feel safe there.
Just 5 percent of pupils there are proficient in math and 13 percent in English, according to last year's state exam results. And less than half of students polled at the school last year — 47 percent — said they felt safe on campus, well below the city average reported the nypost.
Of note, the nydailynews reports just 19% of teachers reported feeling safe at the school in 2016, far below the city average of 75%. And just 55% of students said they felt safe in school hallways in 2016, far below the city average of 84%.
Responding to the double stabbings, New York City Parents Union president Mona Davids blamed NYC Mayor Bill Blasio saying, 'He removed most of the scanners from schools. Then he made it just about impossible for principals to suspend students.'
Adding, 'He endangered the lives of the majority of the students in the public schools. And now a life is gone.'
Yet to be necessarily understood is if Abel Cedeno had brought the knife with him as a measure of defense or whether he premeditatedly planned to use it against his agitators? While others wonder what more the school could have done to have preempted the escalation of violence and ongoing tension that seems to be par for the course at the Bronx area school….
Photo of the switchblade a 18 yrold student allegedly used to kill a 15 y-o student in a Bronx school today (Deleted prev. tweet w/o ALLEGED pic.twitter.com/eJGvmF2lzJ

— Zolan V Kanno-Youngs (@KannoYoungs) September 27, 2017