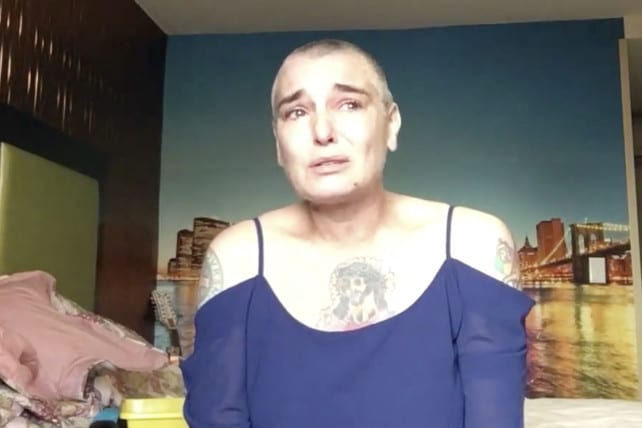 Sinead O'Connor living NJ motel mental illness: Famed Irish singer is on the verge of a nervous breakdown as fans fear for the performer's well being.
Also making her tabloid appearance is troubled Irish singer Sinead O'Connor who on Thursday posted an online video saying she she's suicidal — and living in a motel 'in the arse end of New Jersey.'
In the video (see below) the former 80's "Nothing Compares 2 U'' hitmaker explains she was all by herself and fighting to stay alive every day.

Reveals the troubled singer, in part,  'I'm all by myself. And there's absolutely nobody in my life except my doctor, my psychiatrist, the sweetest man on earth, who says I'm his hero, and that's about the only thing keeping me alive at the moment … and that's kind of pathetic,'
Adding, 'I am now living in a Travelodge motel in the arse end of New Jersey, Hackensack,'
'I want everyone to know what it's like, that's why I'm making this video.
'Mental illness, it's like drugs, it doesn't give a s–te who you are, and equally what's worse, it's the stigma, it doesn't give a s–t who you are,'
"And suddenly all the people that are supposed to be loving you and taking care of you are treating you like s–t. It's like a witch hunt.'
The troubled singer-songwriter said she was 'fighting like all the millions of people' battling a mental illness.
'If it was just for me I'd be gone. Straight away back to my mum… because I've walked this earth alone for two years now as punishment for being mentally f**king ill and getting angry that no one would f***ing take care of me,' she said.
'I'm a 5'4′ little f***ing woman wandering the world for two years by myself.' 
The footage has since sparked fear among her fans.
Wrote one woman in part, 'Sinead, I go to bed every night worried about you. I wake up and tentatively log onto Facebook because of my worry for you. If you need someone to come get you, I will drive from Fredericksburg VA and bring you back with me. We can find a place for you here. I am going to PM you my number, call me if you need an ear.'
While another wrote, 'Your doctor is not the only one that thinks you are a hero, so do I. We, the people, who you don't know personally, but love Sinead O'Connor, are here reaching out to you. Daughter in New York working in a hotel. Just reach out and talk if you want. PM if you need details of email address.'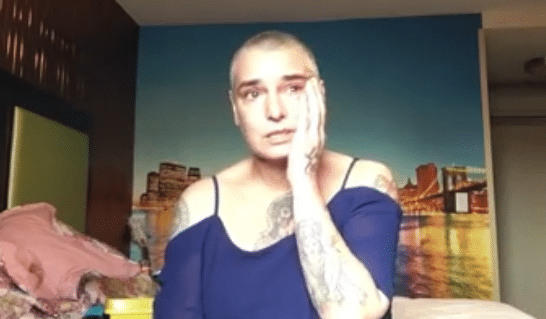 O'Connor, who was diagnosed with bipolar disorder more than a decade ago, has spoken of her mental health problems previously.
In a 2007 interview, the singer told Oprah Winfrey that before her diagnosis she had struggled with thoughts of suicide and overwhelming fear. She said at the time that medication had helped her find more balance, while adding, 'it's a work in progress.' 
Of note, O'Connor's latest concerns comes after failing to return from a bike ride in suburban Chicago last May, sparking a police search.
About two hours after she left on the ride, a rambling message was posted on her official Facebook page that referred to emotional trauma she had been through over the years, prompting fears she had disappeared to take her own life.
She was found by police later that day at an unidentified hotel.
Notes the dailymail, 'O'Connor, who is a mother to four children from different relationships, took to Facebook in 2015 to say she had taken an overdose at a hotel somewhere in Ireland. Irish police later said she had been found safe. 
The next month, she posted on Facebook that she had been detained in a hospital for mental health evaluation.'
The singer's 'nervous breakdown' also follows comedian Arsenio Hall dropping a $5million lawsuit against the singer earlier this year after she apologized and retracted comments she made, accusing Hall of supplying drugs to Prince.