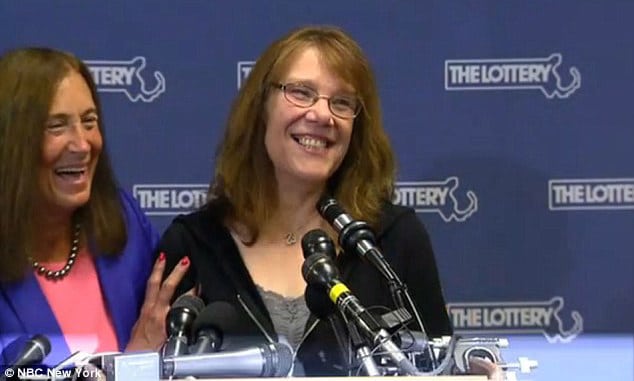 Meet Mavis Wanczyk the Chicopee hospital worker who won the 

Massachusetts State Lottery's Powerball who quits after winning $758 million. 
Mavis Wanczyk a 53 year old hospital worker from Chicopee has been revealed as the $758.7 million winner of the Massachusetts State Lottery's Powerball jackpot.
Told the woman during a Thursday afternoon press conference, 'My pipe dream came true.'
Do you suppose? Yours, hers and just about anyone who has the temerity to gamble at odds so beyond any chance of winning, that to win any substantial amount, let alone close to three quarters of a billion is mind boggling.
Wanczyk's win came after her 'lucky' ticket (define lucky?) matched all five Powerball Jackpot numbers –  6, 7, 16, 23 and 26 – and the Powerball, 14, at the Pride Station and Store in Chicopee, Massachusetts.
Answering reporter's questions, the mother-of-two said she chose the winning numbers based on her family's birthdays.
Wanczyk, who was joined by her mother and two sisters, also said she doesn't plan to return to work. She said her dream of early retirement has finally come true.
Pause. Inhale, reflect even for three seconds what you would do with $758M?
Exhale, pinch yourself and sigh ever so stoically….
Told a laughing Wanczyk, 'I called them and told them I will not be coming back'.
News of the big win as Wanczyk and a colleague were driving home from work Wednesday night. 
The pair were leaving work from Mercy Medical Center where Wanczyk has worked for 32 years, when they started discussing the Powerball.
A casual regard of the winning numbers led to Mavis Wanczyk being informed by her colleague that she'd just won.
Unable to drive anywhere or do anything due to shock, Wanczyk said he made sure she got home safely.
And what does one do with so much money?
According to Wanczyk, who confessed to being a regular lottery player, 'sit back and relax.' At the very least. 
Mavis Wanczyk, 53, is the winner of the $758.7M Powerball jackpot, the largest single winning jackpot in US history https://t.co/QCAXw2Hy2Y pic.twitter.com/JSzqM2fvZ7

— CNN (@CNN) August 24, 2017
The Massachusetts State Lottery wouldn't identify Wanczyk ahead of the press conference, but earlier in the day executive director Michael Sweeney described her as 'a prototypical Massachusetts resident'.
'I think she has a good story,' Sweeney said. 'My perception of her is someone who's a hard-working individual. Clearly she's excited.'
Pride Station and Store owner, Bob Bolduc, said Wanczyk bought the ticket around 2.30pm on Wednesday. 
And what does Bolduc intend to do with the $50,000 commission he'll collect for selling a jackpot winner?
Being a firm believer in the community, Bolduc said he would donate his check to local charities with a primary focus on education and children. 
Wanczyk, who has two adult children, ages 31 and 26, chose to take a lump sum payment of $480 million, or $336 million after taxes, according to lottery officials.
If Wanczyk had chosen to to take the total jackpot sum, rules would have required her to have been paid out in over a 29-year annuity. No thanks, I'll take my dream money now. 
An annuity payment would have meant a $26.2million payment every year.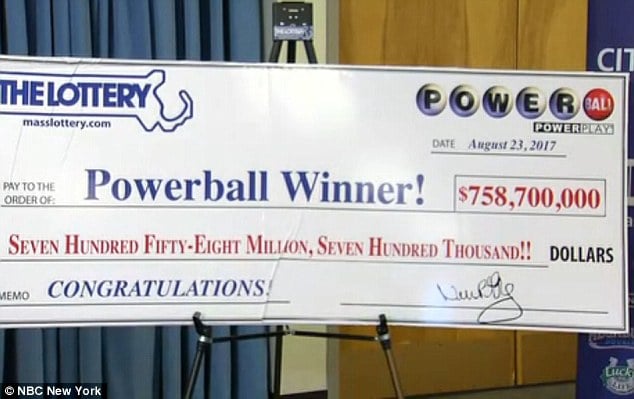 To be sure, the chances of winning the state Powerball is one in 324 million (almost the entire population of the US to put into perspective) according to Tom Rietz, a professor at the University of Iowa who researches probabilities. Which is to say, Wanczyk through sheer fate, dumb luck and wanton jealousy of all of those who took their chances is the face of wonder lust.
Players have much better odds – of one in 25 – of winning a lesser prize. 
Those odds range from one in 11.7 million of winning $1million for matching the five regular balls to one in 38 for matching the Powerball and winning $4. 
In the 44 states where the lottery is held, the money raised is used to fund government programs.
Wednesday's jackpot was second only to a massive $1.6billion prize that was dished out in January 2016.
Last year, national lottery ticket sales added up to more than $80billion, according to reports – a $7billion increase from 2015 revenues.  
Powerball is played in 44 states, as well as Washington, DC, Puerto Rico and the US Virgin Islands.
Powerball's white balls are numbered one through 69. The red 'power' ball is numbered one through 26. Tickets for the twice-weekly draws cost $2 each. Of course expect never to see that $2 ever again, but then again that might be the only rational time one should consider gambling, as the odds are always stacked in the house's favor. But dreams as Mavis Wanczyk can attest are priceless.
Mavis Wanczyk is the Jackpot winner from Chicopee! The state's newest multi-millionaire! #nbcboston pic.twitter.com/IQ9PrVBSZk

— Abbey Niezgoda (@AbbeyNBCBoston) August 24, 2017