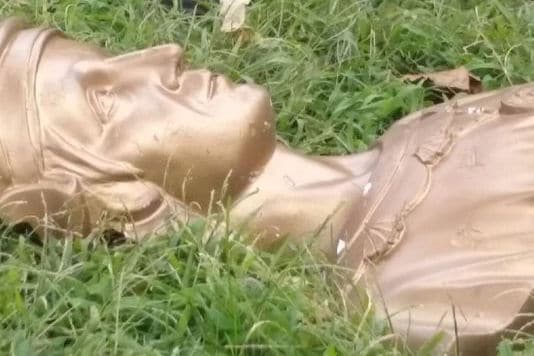 Christopher Columbus Yonkers statue vandalized: What's driving the rabid rise of vandalization of historical monuments in the USA? 
Who vandalized the Christopher Columbus statue in Yonker's Columbus Park, off of Park Hill Avenue? This was a bronze and plaster artwork on display for all the public. 
Is the damage wrought by Antifa? Is it by Black lives matter? Is it by ISIS or jihadis? Is it by a Native American Indian group? Nobody has claimed responsibility.
As police begin investigating, caucasians in general are having to go on the defensive.  
Patsy Gambardella, Jr., as an Italian-American proudly relating to the European origin of fellow Italian Colombus, was interviewed by NBC New York. He could only but voice his shock at this highly-charged, radical, political ploy.   
'It's very upsetting that American values have sunken to the level they are today,' Pat Gamberdella, who called the police when he saw the destroyed statue said.
Yonkers police believe that it's just kids 'engaging in criminal mischief'. 
But they still plan to conduct a thorough investigation of the incident.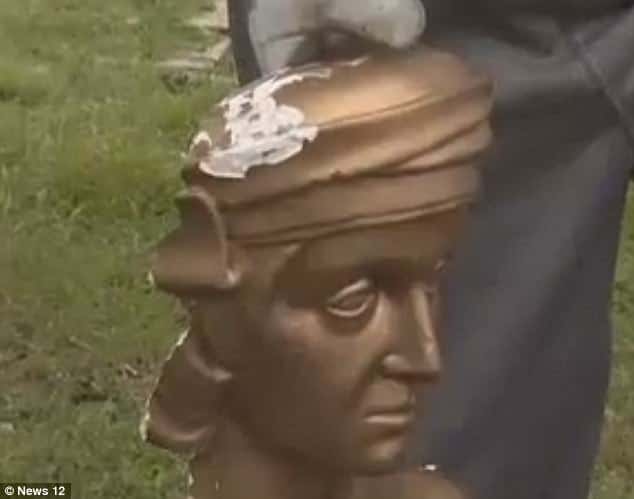 This latest attack in a New York City suburb underscores the escalation of violence against inanimate objects across America.  
We may logically point the finger at that movement, which is against Western civilization as a whole. This movement is an amalgamation of all those malcontents seething and lashing out against the core of this civilization.  
The anger seems to be rising up this year, all the more, since African-American President Obama bowing-out and President Trump ushered-in.  Trump is being perceived as a return of white nationalist power. Trump is being conveniently used as a symbol of all that this movement has come to believe as the evil within the U.S.A.  So the trend is to vent frustration upon statues and monuments.  
Trump as the current white figure, is well-protected, yet the statues of past white figures are open targets, especially undercover of darkness when most of these incidents are occurring.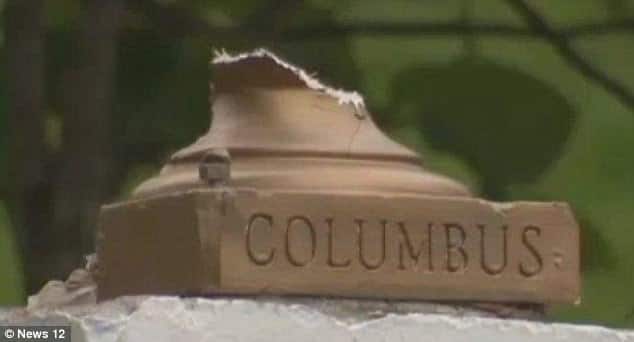 The New York Post has headlined the incident in Yonkers, as a 'beheading'. This is a rather sensationalistic description, due to the fact that the monument was a bust-style construct, having no body anyhow. Nonetheless, the vandalism involves breaking, smashing, or toppling as much of the artifact, including its head usually.  
In other cases, the statue has been defaced with a splattered paint simulation of red blood, as in Houston, Texas prior to August 18 and in Buffalo, New York on August 25.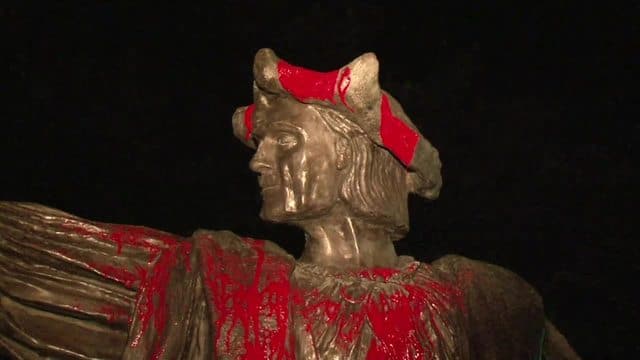 In the most dramatic fashion, there was a staged attack on the iconic Columbus monument in Baltimore, Maryland on August 20. It was damaged by a masked perpetrator with a sledge hammer and video-recorded for broadcast.
Why is this trend happening now? What do these anonymous activists hope to gain? For one, their swarm of reactionary strikes, seem to be bringing these issues to the attention of the public. So are they expressing dissent in an acceptable manner? It is a relatively victimless crime, with no living person being directly affected. Yet having said that, it still is crime and it may lead to increasingly extreme violence. It may be a gateway leading to direct confrontations.  
Is there an element of historical revisionism behind this trend? Does the movement involve a modicum of intelligible messages to the larger society? It appears that their angst is against the seemingly systemic racism, classism, and imperialism of Western, Eurocentric ethnicity. That is not to say that such a theory is correctly identifying humanity's ills.  
That the mind of the common, average person is thinking and behaving in this way, probably has more to do with covert political and media programming. Such influences are telling the masses that our world has been built and ruled by predominantly sexist, patriarchal blood-lines, which control all the money and power in the nations and governments. But this information may merely be propaganda to continually divide and conquer the general population.
What is understood of history from this time forward may have to be questioned, yet will take much time and discussion in order to successfully revise. The revision could happen if we all get together to study and analyze what lies at the foundation of our culture and whole civilization. But it's not going to be accomplished very easily if we destroy monuments haphazardly out of anger and illegal antics.  It can be accomplished neither by vandalism nor book burnings nor banning free speech (dreaded censorship).
There's something about history that needs to be protected, so that we can always study it. What came before us will ominously repeat itself, if we do not realize at least that we are required to do its preservation, not its destruction.  
Monuments do not have to be used to glorify or worship, they can be used for contemplation. More importantly, who has the right to judge who is right and wrong from the historical past (as they, who's on the right side of history)? Did we have a nation-wide collective agreement about all those fundamental historical figures and events? Not as of yet. Let's do with an open mind.