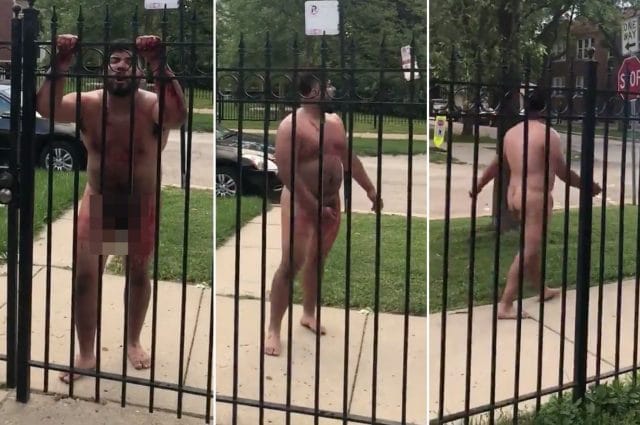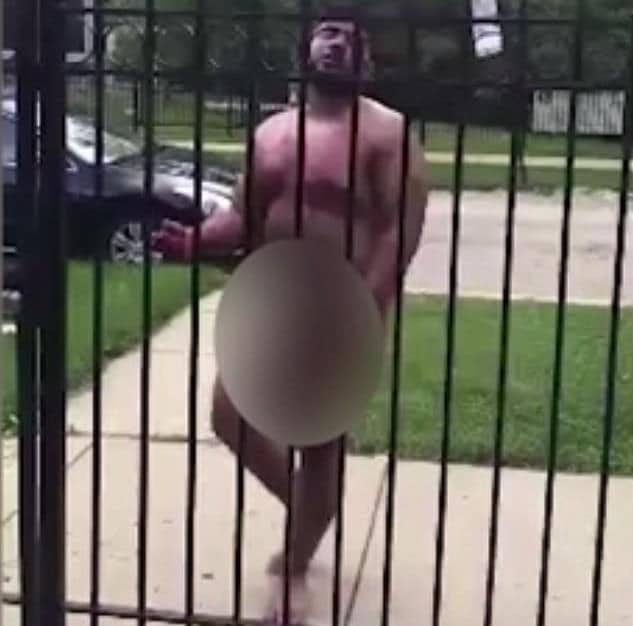 Chicago man high on acid cuts off penis: An unidentified man takes off his clothes, severs his crotch area before going on a wild drug craze bender before being tasered. 
Video footage has emerged of a naked Chicago man screaming at people and covered in blood after having severed off his own penis, Monday evening.
The unidentified man appears to be high on acid, LSD or synthetic drugs in the video clip filmed on Monday evening near the intersection of Grace Street and Drake Avenue in the Irving Park community.
The footage begins by showing the man, who is bleeding heavily from his crotch, shouting and swearing at residents behind a large metal gate in the Irving Park community of Chicago.
Witnesses can be heard telling the deranged man to 'calm down' before he charges toward a female Chicago Police Department officer standing in the middle of the intersection. 
The deranged man screams, 'get outta here b****' at the female officer, who draws her taser as she shouts at him to 'get on the ground' before firing it at him.
The man, who appears to be in his 20s, falls to the ground. 
The person filming the video can be heard shouting, 'Oh my God, bro. Shoot his a**. Shoot that mother f****r. This is a time when you shoot people!'.
A police vehicle arrives to the scene and an officer gets out of the van. The man tries to stand up again and appears to charge the second officer, leading to the deranged man being tasered again. 
The video clip ends with the man lying on the ground surrounded by officers. 
It's unclear if the man was arrested; his condition is unknown at this time.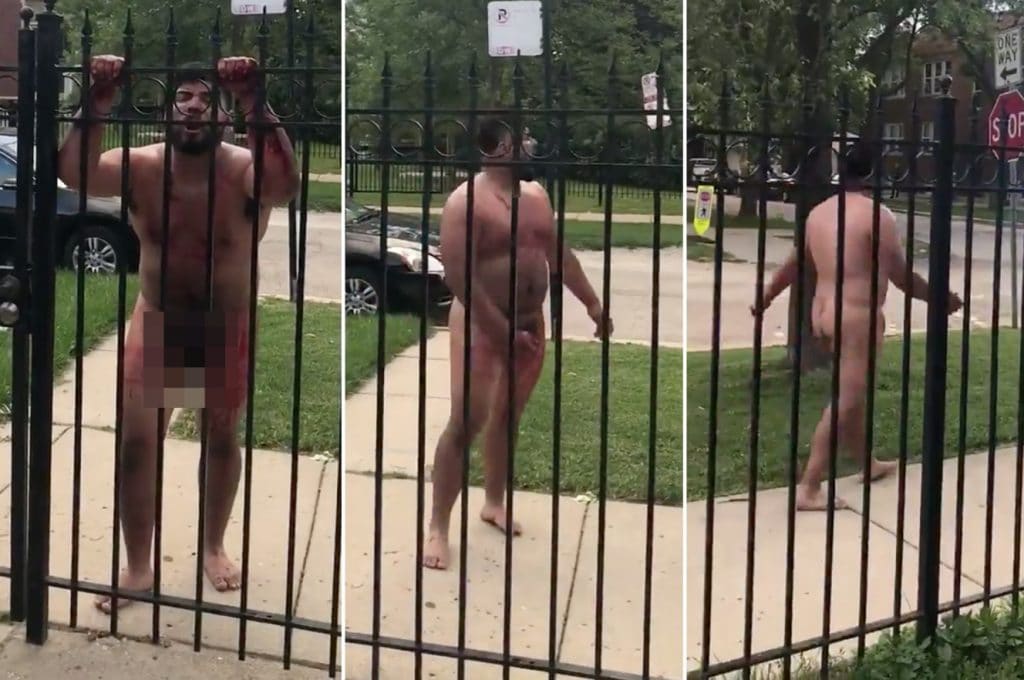 Told a witness: 'This is literally across the street from an elementary school, where kids were present.
'He went to random people's houses, broke their windows and started hitting and bashing windows of a randomly parked car, naked of course.'
At the end of the footage, the cameraman speculates the man could be on bath salts.
A second witness said the man had been rolling around on the street while still clothed prior to taking his clothes off.
"People were around him and he started cussing him out and pushing them,' Eriz Gonzalez said via the UK's sun. 'They left, and he stripped … ass naked in the middle of the street.'
Not yet understood is how the man came to cut off his own penis and where he had immediately been prior to going on his rampage in the middle class neighborhood known for its low crime rate.
The man was taken to Swedish Covenant Hospital for a mental evaluation, police said.
Authorities described his injuries as 'minor.'