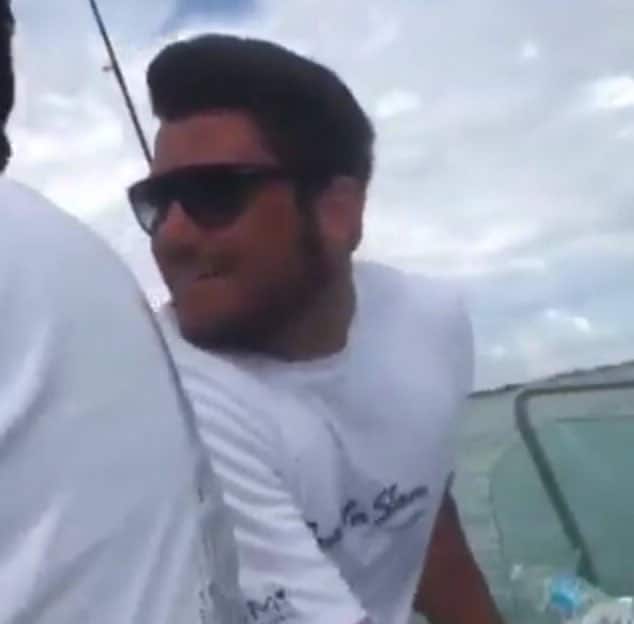 Michael Wenzel dragged shark speedboat video leads to one Palmetto, Florida fisherman becoming the most hated man on the internet. All four men identified. 
A video showing a Florida shark being dragged at high speed behind a speed boat has caused disconcert.
The video initially came about after 51 year old Palmetto, Florida man, Michael Wenzel and three other men set out on Wenzel's speedboat on July 24.
At some point during their trek, the fishermen filmed a ten second scene showing a shark being dragged at high speed along a tethered bait line from the stern of the boat.
The men look on, wildly gesticulating as the shark violently bounces against the waves, as its body flails from one side to the other.
Says one of the grinning men at one point, 'looks almost dead'.
Thinking that noted sports fisherman and shark hunter Mark Quartiano, 'Mark the Shark' might get a rise from the video, Wenzel sends the video along.
It wasn't soon after that Michael Wenzel found himself becoming the latest hated man on the internet, after this week's earlier most hated man on the internet.
Horrified at what he had seen, Quartiano told CNN he posted the clip in the hope the men in the video would be identified, along with taking a stand against what he said was outright animal cruelty.
Told Quartiano, 'I've been shark fishing for 50 years and I've never seen a disrespect for an animal my entire career that was that evil'.
'There's no sportsmanlike conduct with these guys,' Quartiano reiterated via WPLG. 'They just want to kill something, display it on their Facebook, get more followers. It's just a horrible act.'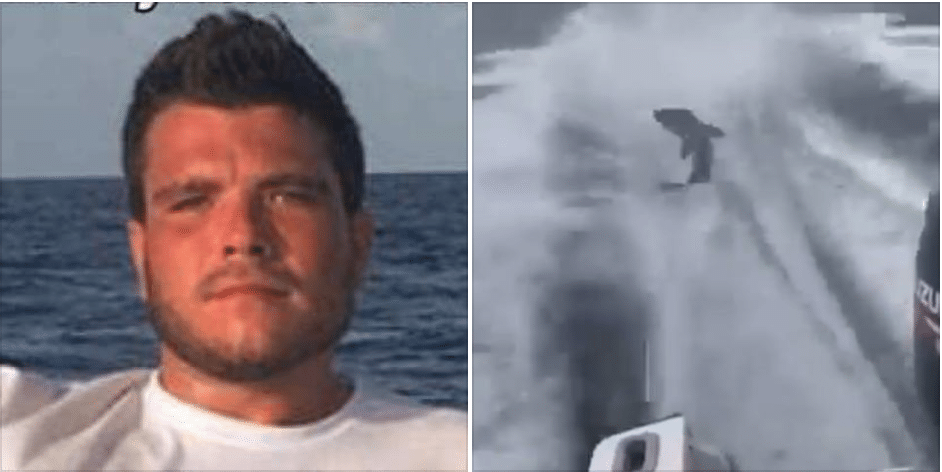 Tens of thousands of people watched the video in just a few hours and voiced outrage at the apparent animal cruelty.
'Only sick in the head people can get enjoyment out of watching an animal be tortured and killed. How shameful and embarrassing for grown adults to be doing this and what a poor example to society!' said one user.
Several people called for the arrest of the men in the video.
Posted one user, 'Michael Wenzel, you're a spoiled brat who thinks you can get away with anything you want, probably because your mommy and daddy had no backbone to discipline you. You should be dragged behind the back of a boat just like you tortured this shark.'
While another posted, 'Apparently you are a little rich boy, spoiled rotten with no feelings for animals or and other living thing. Apparently you have a mental problem. To kill and torture living things. I know your parents must be so proud of you and your friends. '
Florida Fish and Wildlife Conservation Commission confirming it had identified the men responsible for the video shortly after it was posted.
Along with Michael Wenzel, the three other men have since been identified as Robert Lee "Bo" Benac,  Spencer Heintz​, and Nicholas Burns Easterling​.
Of note, Benac's mother is chairwoman of the Manatee County commission.
Come Thursday evening, more than 3430 people signed a Change.org petition calling for Florida wildlife officials to revoke the men's fishing licenses and order them to perform community service.