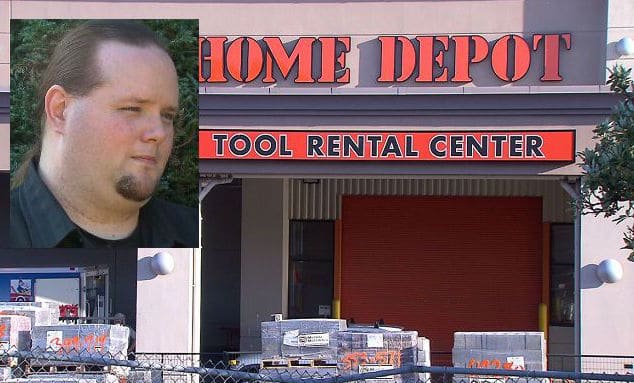 Dillon Reagan Home Depot employee: Was a worker unfairly fired after assisting in what they believed to be a child kidnapping? Exposing corporate America.
Dillon Reagan a 32 year old Oregon man has claimed that he was 'unfairly' fired from his Portland Home Depot job after allegedly violating a company's safety policy whilst trying to thwart what he believed at the time to be a child kidnapping.
The incident led to the man being let go in June, a month after Reagan's well meaning intervention took place at Home Depot at Mall 205.
Matters came to the fore, May 12, as Reagan was nearing the end of his shift at the Home Depot's tool rental center when a co-worker alerted him to a disturbance in the parking lot.
Reagan and the other employee came across a woman outside the store crying, claiming that a man had assaulted her, reached into the backseat of her car and grabbed her child, reported KATU.
The two employees called 911 and the emergency dispatcher instructed them not to approach the suspect, but to follow him until police arrived. Officers responded to the scene a few minutes later and returned the child to the mother.
Reagan and his co-worker gave their witnesses statements to the police and returned to the store 10 minutes later.
But that's not where it ended for Reagan.
According to the employee, the man's supervisor rebuked him for intervening, saying he should have gone back to work at once.
@HomeDepot fires an employee for saving a child from being kidnapped and here's their response. Dillon Reagan ur a hero @realDonaldTrump pic.twitter.com/6y2KWsOlbs

— Independent (@Schnukum7) July 5, 2017
Come June 19, after multiple meetings with his manager, Reagan was terminated from Home Depot, where he had worked for four years as a sales associate.
The May 12 incident was his second strike at work, with the first involving the employee using foul language during an argument with a colleague a few weeks earlier. Could one perhaps argue that effrontery had been enough to color management's view of Reagan? 
Despite losing his job, Reagan says he does not regret stepping in to protect a child.
Told the former employee via kgw: 'It was still the right thing to do,'
'I was kind of in a Catch-22 situation: I'm damned if I do, damned if I don't.'
Police would later conclude that what Reagan witnessed was not a kidnapping but a domestic dispute, and that no crime was committed.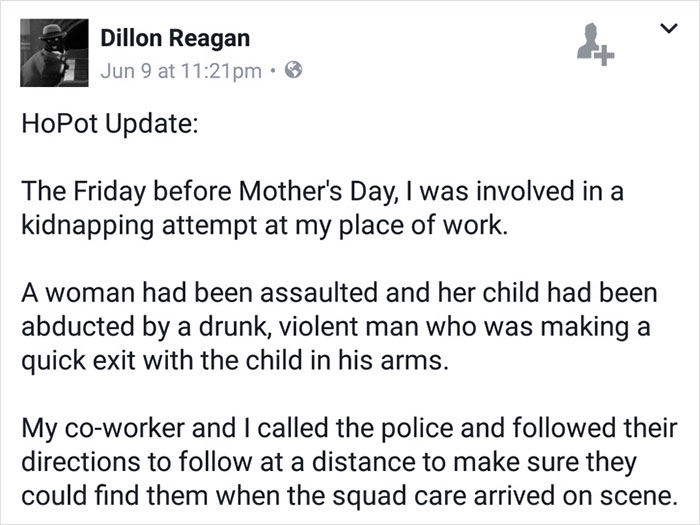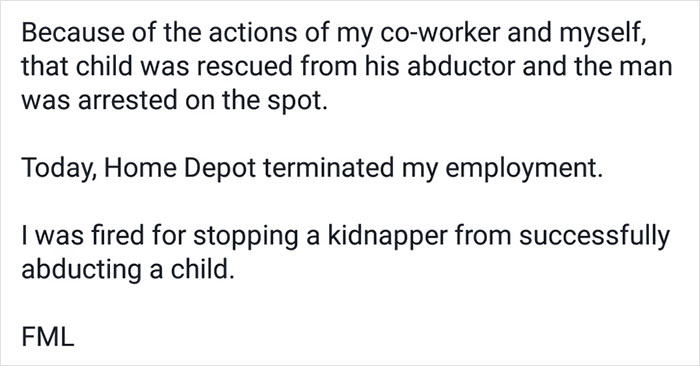 On his Facebook page, Reagan shared a copy of a letter he received 10 days after his firing from the Oregon Employment Department approving his unemployment benefits.
The state agency has found that assisting the police in preventing a kidnapping 'was not a wilful or wantonly negligent violation of the standers of behavior an employer has the right to expect an employee.'
Below the post, Reagan also had written, 'F*** you, Home Depot!'
On Wednesday night, the Home Depot issued a statement offering to reinstate Reagan.
'We took a second look at this and have let Mr Reagan known that we've decided to reverse our decision, based on the circumstances. We always do our diligence to make sure associates are treated fairly, which we've done in this case.'
The offer according to Reagan, 'was too little, too late.'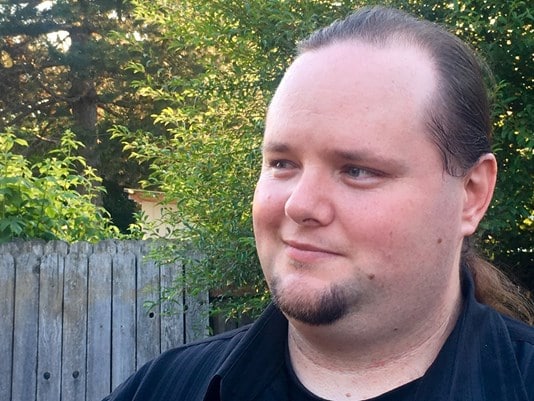 Reagan says he has no plans to resume his employment at the store, or even shop there in the future.
Reagan has hopes that his next employer will have no qualms about the way he responded to the suspected abduction.
'We should be doing the right thing regardless of what company policy is, regardless of what consequence is,' he tells KGW. 'What's good and what's right supersedes what's policy and what's orders.' 
What do you think? Was Home Depot wrong to fire Reagan who had acted in good faith, or should an employee accept that no matter their good will or intention, an employer's overriding mission statement and expectation of protocol will always take precedence, even in instances of kindness and compassion….
Welcome to a brave new corporate America where employees, morality, and human good will are so often disposable and collateral after thoughts….