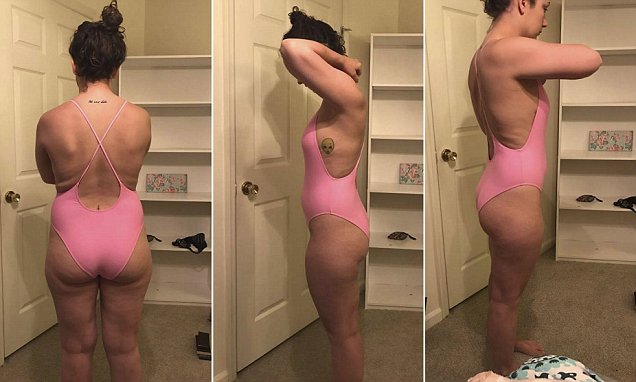 Tori Jenkins bathing suit causes her to be kicked out of public pool cause it might excite teen boys: Is a woman responsible for how a man might react to her appearance?
Disconcert has come to the fore after Knoxville, Tennessee woman, Tori Jenkins was ordered out of a communal swimming pool at her residence after being told her swimsuit might 'excite teen boys'.
Matters came to the fore when Jenkins, who'd been swimming at the pool at the Smoking Cross Apartments with five of her friends and her boyfriend when the leasing consultant said her 'thong bathing suit'  was inappropriate.
The leasing agent wen on to say that a normal bathing suit 'covers the whole butt'.
The curvaceous woman went on to be told she was effectively inciting young men to behave in a way that they might not otherwise. Do you suppose? Does this perhaps say more about some people's preconceptions about body image and rape culture? 
Outraged, Jenkins' boyfriend, Tyler Newman shared her story on social media, where Tori's travails went viral, with many offering the woman their moral support.
Responded Tara Mash: 'You look amazing! I'm so sorry people can be such a-holes! You didn't deserve anything that happened to you that day.
' I hope you won't let that awful woman's words change the way you view yourself or your body. Hugs to you!! 
Wrote Jenkins in her own Facebook post: 'Thank you all, you really don't know how much it means to me. It hasn't even been that long since it happened but I can tell you that I've felt really shitty about myself since. Being distracted by friends and work and your wonderful comments have made this process a whole lot easier.'
Adding, 'The ENTIRE POINT of this post is that no man or woman has the right to make me feel uncomfortable in my own skin, No right to police me or any other human.'
What do you think? Was Tori Jenkins out of line with her bathing suit? Should she be held responsible for how anyone might respond or react to her choice of clothing? And what exactly do we mean by appropriate dress sense when it comes to using a swimming pool which effectively requires one to take off most of their clothing in the first place….?
Update June 25: The apartment complex released a statement saying:
'Smoky Crossing is a welcoming family community. Multiple residents within our community complained and expressed concerns regarding Ms. Jenks' swimwear. In accordance with our pool policies, which are posted near the swimming area, one of our leasing consultants requested Ms. Jenks wrap a towel around herself when she was walking around the pool.
'Ms. Jenkins was never asked to leave the pool. In addition, our leasing agent did not state that Ms. Jenkins swimwear would 'excite teenage boys.'
Ms. Jenkins and Mr. Newman are valued members of our community. However, we feel it is inappropriate to equate requesting Ms. Jenkins to cover up with sexual harassment or 'rape culture.' Smoky Crossing denounces harassment in all forms." — Smoky Crossing spokesperson