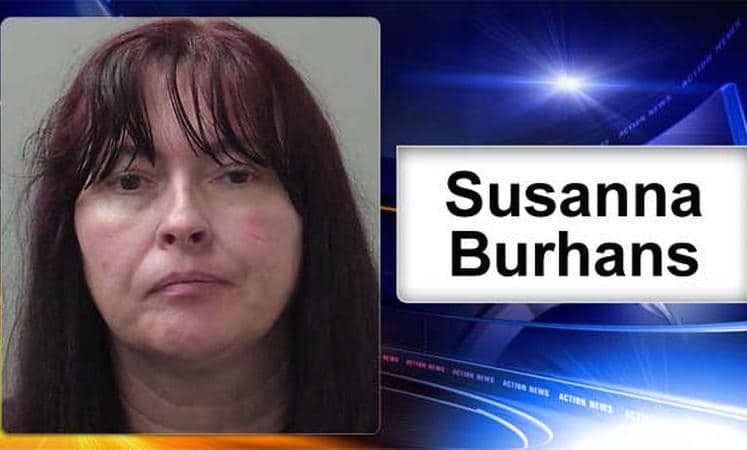 What led to Susanna Dawn Burhans an Alabama mail carrier feeding a dog meatballs laced with nails? Postal worker faces 10 years jail if convicted. 
Susanna Dawn Burhans a 47 year old Alabama mail carrier faces up to ten years jail if convicted of feeding a dog meat balls that contained nails.
Upon her arrest on Thursday, the U.S Postal Service worker was charged with aggravated cruelty to animals, a Class C felony. A report via AL told of the mail worker since released from the Madison County Jail after posting $2,500 bail.
Susanna Burhans was arrested after a joint investigation by the Madison County Sheriff's Office and the Postal Service. The investigation determined the postal worker feeding the meatballs with nails to at least one dog in the Woody Circle area of the New Hope community, said sheriff's Capt. Mike Salomonsky.
The investigation began with a complaint nearly two weeks ago, Salomonsky said.
Ed Glover, a resident on Burhan's mail route, told WHNT News 19 that he became suspicious after finding a nail-filled meatball on the ground next to his mailbox. He took his dog, Missy, to the veterinarian, where staff X-rayed her stomach and saw that she had consumed nails.
The dog's condition was not reported.
Reiterated Salomonsky: 'We gathered intelligence from the Postal Service and put everything together,'
'Right now, we know for sure there's one dog. But there's another neighbor that had a complaint, so there might be two or more.'
USPS spokeswoman Jeldrys Lowry told of Burhans, a USPS employee of more than 21 years currently on non-duty status.
Told Lowry via the nypost: 'This type of alleged behavior within the Postal Service is not tolerated and the overwhelming majority of Postal Service employees, which serve the public, are honest, hardworking, and trustworthy individuals who would never consider engaging in any type of criminal behavior'.
It wasn't necessarily clear whether the woman had been previously censored for other behavior or if she had been in trouble with the law before.
To date authorities have yet to reveal what may have motivated Burhans.