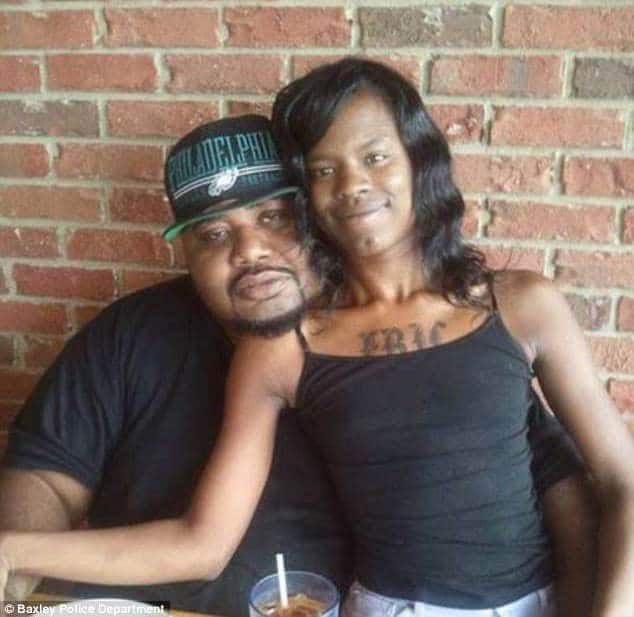 Nathaniel Eric Smith and Latasha Smith remain on the run after beating Baxley, Georgia Qwik Chick, restaurant owner, Jeanette Norris and her teen daughter. 
Baxley, Georgia authorities are on the hunt out for a couple after they were caught on video beating a fast food restaurant owner and her 15 year old daughter because they weren't happy with their meal.
Wanted are, Nathaniel Eric Smith and Latasha M Smith who were identified as the wanted couple over an incident that took place at a local Qwik Chick takeout stand, Thursday circa 3pm reported WTOC.
According to the store's owner, Jeanette Norris, the couple complained that their chicken was cold along with not having enough fries.
I know. Don't you hate it, when they never give you enough fries. Or ketch-up. Or mustard. Etc. 
At the time Norris refunded the couple's money only for the couple to go 'berserk' anyway and beating on the store's windows.
'We said we don't like cold chicken and you didn't give us enough fries!'
From there, Norris, perhaps having discounted who exactly she was dealing with, walked outside to tell the pair police were on their way only to find Latasha Smith rushing at her and punching her several times.
Yes kids, fries will always do it. That and all the other myriad problems buried deep in one's tremendous psyche.
But it wasn't over yet.
It's at this point that Norris' 15 year old teen daughter gets out of a car to help her mother. It's then that Nathaniel gets his share of the 'fun' after assaulting the girl, sending the teen flying backwards. The man is then observed on surveillance tape walking off.
At the time, customers rushed to offer support to the fallen girl.
Told Norris, 'One of my employees yelled, "He's got her," and that's when I realized he had hit her',
Adding, 'Who does that? Who punches a child like she's a grown man standing there? He needs putting in jail.'
The assault left both mother and daughter with two black eyes each. The mother also suffered a broken nose with the daughter a concussion.
Damn more fries!!
Responding to the brutal beat-down, Chief James Godfrey of the Baxley Police Department said he hadn't seen anything like this in his 41 years on the force. 'That's just pure brutality,' he said.
Police released the surveillance video and were inundated with tips, which led to the department identifying the suspects, who are still on the run.
Police say both Nathaniel Smith and Latasha Smith left in a cream or silver-colored 2007 Cadillac Escalade with tag number REU8495. 
Officials say the two have access to two other vehicles described as a silver 2004 Cadillac Deville 4s with Georgia tag number PVK5483, and a green 1996 Cadillac Deville 4s with Georgia tag number BXQ1673. 
There are active warrants of aggravated battery and cruelty to children out on the couple.
Norris said that she's been touched by the outpouring of support from the community.
'You hear the old saying, "people don't want to get involved." They got involved,' she told the outlet. 'Between Facebook, social media, and you guys at WTOC, it has been amazing the response we have gotten from people.'
Welcome to a brave new America where beat-downs are part of the daily social fabric when a fast food meal fails to equate the god forsaken standard you've come to expect. And then some…